Bacon, Chorizo, Dates – Some Last Minute Fun For New Year's
Don't look now, but we are out of squares on the calendar.  The holiday season has been one big party.  People coming, people going…   It's a giant mess of holiday hoopla.    Before we call it good and put a wrap on all that was, here are a few ways to have some fun sending out the old and ringing in the new.   If you are lucky enough to be the hosting house and are staying in to celebrate with family and/or friends, here are some easy to do ideas for making merry right into the New Year.
Hummus and Veggies 
That very ignored veggie plate gets a whole lot more interesting when you make these cute little self-serve cups.  Everyone gets their own, so there's no double dipping, and any that are left over can stand front and center in the fridge, so there's no wasting.  Use any small cups or glasses that you have.  Add enough hummus to generously cover the bottom and then add celery and carrot sticks, cucumber, snap peas, and bell pepper slices.
Stuffed Dates – Two Ways
Don't just put out a cheese board and call it good:  make something hot.  Sure, we've all been surviving on a heavy meat and cheese rotation for the past week or so, but nothing snaps people to attention faster something hot being passed around on a plate.  These stuffed dates are easy to make and once you try making them, you'll be doing it again and again.  Just wait till you see how good they are.   The first recipe is from Quick and Easy, The Costco Way.  When I made these, I used cubed Havarti from the deli and forgot about using the green onion, because I was making them from memory.   Delicious just the same!  I was able to wrap 3 dates with each slice of bacon.
The second recipe is basically stuffing a date with a bit of chorizo and wrapping it in bacon.  How can this not be good?  You can find organic, pitted dates right now at Trader Joe's.  One box has enough dates that you can trying making some of both recipes.  They are fast, easy, and delicious.
Bacon-Wrapped Dates with Havarti Cheese and Green Onions
1 lb dates, pitted
3 oz Havarti Cheese, sliced
1 green onion, finely chopped
1 lb bacon, sliced in half
20 small skewers or toothpicks
Preheat oven to 400 F. Stuff dates with cheese and green onions. Cut bacon in half. Tightly wrap one bacon piece around each stuffed date and secure with a skewer or toothpick. Place bacon-wrapped dates on sheet pan. Bake for approximately 10 to 15 minutes, or until bacon is crispy and cheese is melted.
Chorizo Stuffed Bacon Wrapped Dates 
1 cup pitted dates (about 20)
5 ounces chorizo
10 slices bacon, cut in halves or thirds depending on size
Preheat oven to 400º F.  Line a baking sheet with parchment paper.  Stuff each date with a small amount of chorizo.  Wrap with a piece of bacon and secure with a toothpick.  Place dates on sheet pan and bake until chorizo is cooked through and bacon is golden brown, about 20 minutes.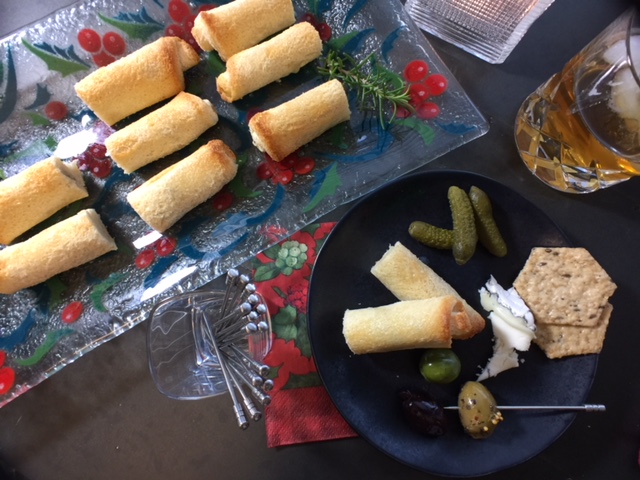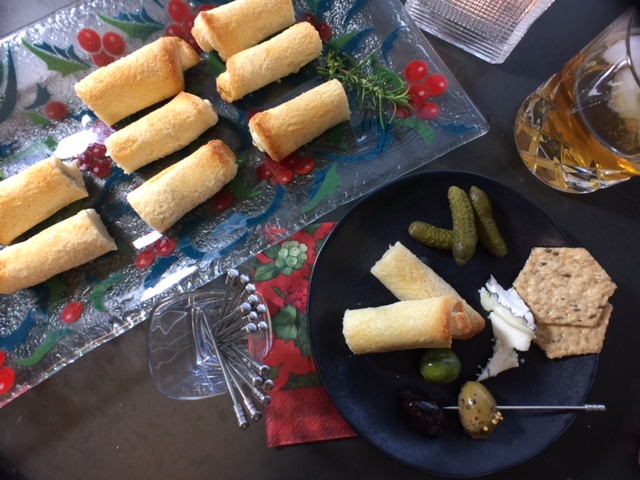 Retro Roka Blue Appetizers
This is a recipe I posted last year around this time.  They feel very fancy, even though they are made with some pretty unpretentious ingredients.   I think these belong in the appetizer hall of fame.
Retro Roka Blue Appetizers
4 tablespoons butter, melted
13 slices white sliced bread, crusts trimmed
1 – 5 ounce jar Kraft Roka Blue Cheese Spread
1/3 – 1/2 cup finely crumbled blue cheese (optional)
Preheat oven to 375º F.  Line a baking sheet with parchment paper and brush lightly with butter.  Flatten bread slices using a rolling-pin, both horizontally and vertically, pressing well until very thin.  Return flattened slices to bag to keep from drying out.  Working 2 slices at a time, spread Roka Blue in a thin layer over entire surface of bread taking care to spread cheese to all the edges.  Sprinkle cheese lightly with blue cheese crumbles if using.  Roll tightly lengthwise, cigar style, pressing and pinching while rolling to form a neat, tight roll.  Place seam side down on prepared baking sheet.  Repeat with other slices of bread, working two slices at a time, using rolling-pin to re-flatten any slices, if needed.  Brush rolls with melted butter.  Bake for 13 minutes, or until lightly toasted and golden brown.  Cut each roll into two halves.  Serve warm.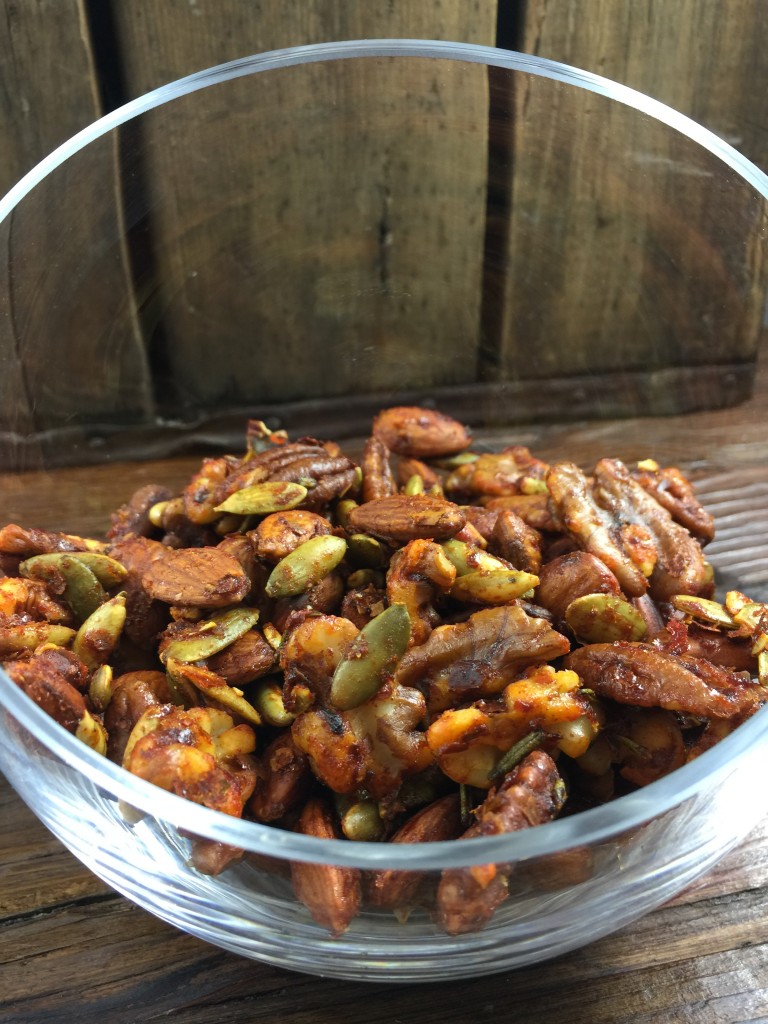 Spiced Nuts
I cannot stop making big batches of these.  Without a great bowl of nuts, and a big batch of Chex Mix, it is just not a party.  Sorry, but I really feel this way.
Sweet-And-Spicy Mixed Nuts
1 cup blanched almonds
1 cup pecans
1 cup walnuts
1/4 cup raw pumpkin seeds
1/3 cup pure maple syrup
2 tablespoons olive oil
2 tablespoons rosemary leaves
2 teaspoons crushed red pepper flakes
1 teaspoon hot smoked Spanish paprika
1 teaspoon kosher salt
Preheat oven to 350º.  Toss almonds, pecans, walnuts and pumpkin seeds with maple syrup, olive oil, rosemary, red pepper flakes, paprika, and salt in a medium bowl.  Roast on a rimmed baking sheet, tossing occasionally, until nuts are toasted, about 20-25 minutes.  Spread out on parchment paper, breaking up clusters.  Let cool.
Nuts can be candied 2 days ahead.  Store airtight at room temperature.
Potato Chips  (They are just what you need.)
This great article from Epicurious had some fun ideas for easy things you can do with a potato chip.
Raise that glass – it's going to be a great year.  Here's to a fabulous 2019.  Stay safe out there and enjoy the party.