Apple-Spice Muffins with Oat Streusel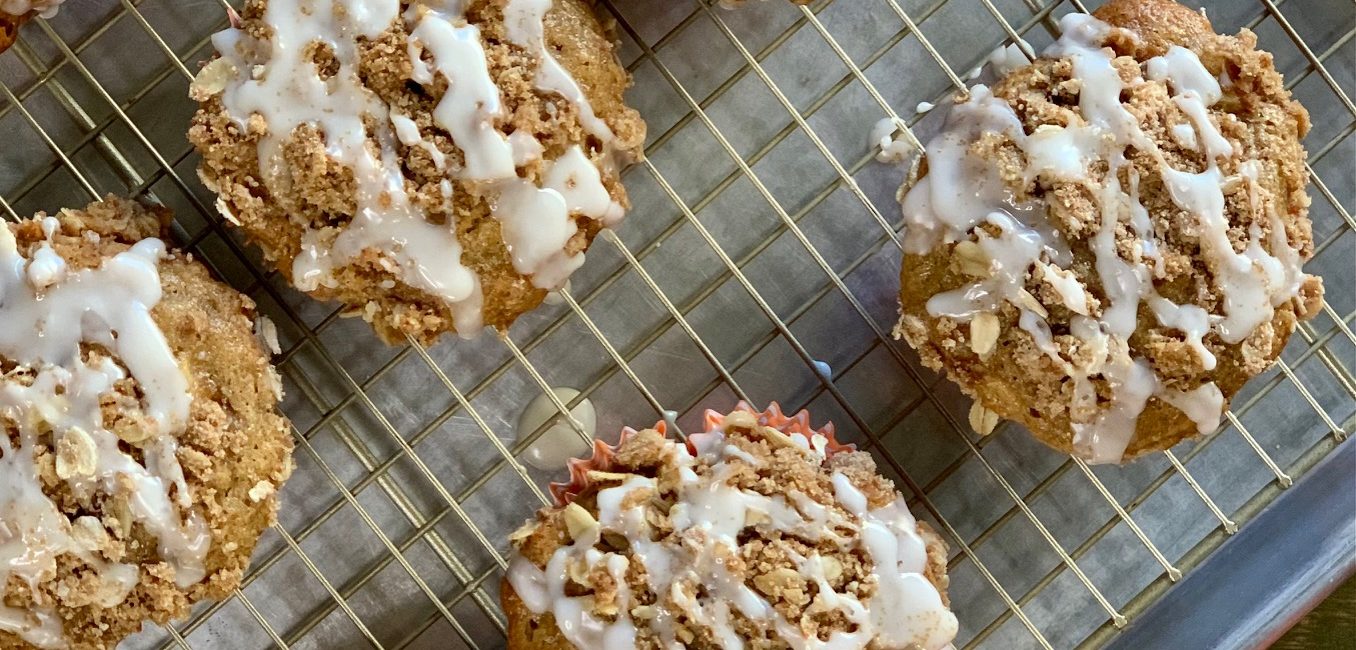 This week, it's all about apples. Get back to baking and fill your house with the warm, welcoming smell of these Apple-Spice Muffins with Oat Streusel. Delectably studded with fresh apple, these moist, tender muffins are topped with oat and cinnamon sugar streusel, then drizzled with just a bit of apple cider glaze. They're just right for breakfast, sharing with a friend, or enjoying along with your coffee. 
You can't miss the arrival of the first Northwest apples every September. The sweet, fragrant aroma hits you instantly when you walk into the store, and it always seems to prompt me to grab a paper bag and take home a few more. Soon I am stirring ingredients together, measuring cups and spoons crowd the counter, the familiar smells of apple and cinnamon hit the air, and suddenly it's fall all over again. 
If you don't have buttermilk, start your prep by making some. Measure a scant teaspoon of white vinegar into a liquid measure, then add enough milk to measure 1/4 cup and stir well. Let this sit while you measure the other ingredients. The original recipe called for 1/2 cup of unsalted, softened butter, but I replaced it with an adjusted amount of oil because I like the lighter consistency it gives to baked goods. I used 1 1/4 cups of all-purpose flour and added in 1/2 cup of whole wheat flour, wanting to boost the fiber and nutrition a bit.
There are equal amounts of flour, rolled oats, brown sugar and pecans, one third cup of each, in the streusel. You can omit the pecans to make this nut-free if you like. I did this and the topping was still perfect, the oats lending a nice texture. Be sure that all of your muffins get their fair share of the streusel. Top muffins evenly with the crumble mixture by sprinkling one tablespoon over each of the muffins and then going back over them with the remaining mixture so that they are all coated. 
When you make the glaze, start by adding the vanilla and just one tablespoon of the cider. The recipe called for 2 tablespoons, and when I made it this way, it was too thin. After I drizzled it over the first muffin, it soaked right in and all but disappeared. I adjusted the consistency, adding more powdered sugar to make it more like a thin frosting, but one that would still drizzle.
The muffins baked up generously, spilling over the tops of the tins in a decadent, bakery muffin sort of way. They smelled so good coming out of the oven that I could hardly wait for them to cool so I could glaze them.
Bake something warm and delicious. Sit outside with your coffee and an apple-spiced muffin and enjoy the cooler air. It's fall at last. 
Apple-Spice Muffins with Oat Streusel
muffins
1 3/4 cups all-purpose flour

 

1 1/2 teaspoons apple pie spice or pumpkin pie spice
1 teaspoon baking powder
1 teaspoon baking soda

 

1/2 teaspoon kosher salt
1/4 cup whole buttermilk
1/3 cup canola oil
1/2 cup sour cream
1 teaspoon vanilla extract

 

2 large eggs
1 large (8-oz.) peeled Fuji apple, half chopped (3/4 cup) and half grated (3/4 cup)
streusel
1/3 cup all-purpose flour
1/3 cup uncooked old-fashioned rolled oats
1/3 cup packed light brown sugar
1/3 cup chopped pecans
1/2 teaspoon apple pie spice or pumpkin pie spice
1/4 teaspoon kosher salt
3 Tablespoons unsalted butter, softened
glaze
1 cup powdered sugar
1/2 teaspoon vanilla
2 Tablespoons apple cider
Preheat oven to 350º F. Line a 12-cup muffin tray with paper liners. Make streusel: Combine flour, oats, brown sugar, pecans, pie spice, and salt in a small bowl. Stir in butter and mix until combined and crumbly. Set aside.
Combine flour, pie spice, baking powder, baking soda, and salt in a medium bowl and whisk  together. 
In a large liquid measure, combine buttermilk, canola oil, sour cream, vanilla extract and eggs; whisk together. 
Add liquid ingredients to the dry ingredients, using a mixer set on low speed and scraping bowl as necessary until evenly combined. Fold in chopped and grated apple. Spoon batter into prepared muffin cups, about 5 tablespoons of batter per cup. Top each filled muffin cup with about 1 1/2 tablespoons of streusel.
Bake in preheated oven until wooden pick inserted in center comes out clean, 25 to 28 minutes. Cool in tray 10 minutes, then transfer to wire rack to cool completely, about 20 minutes.   
Make glaze: combine powdered sugar, vanilla and 1 tablespoon apple cider in a small bowl and whisk until smooth. Adjust, adding more cider if necessary, until drizzle is a thin frosting consistency. Drizzle over muffins. 
-adapted from Southern Living, September 2022