Apple, Bacon and Sweet Potato Mini Casseroles and Apple Pie Cake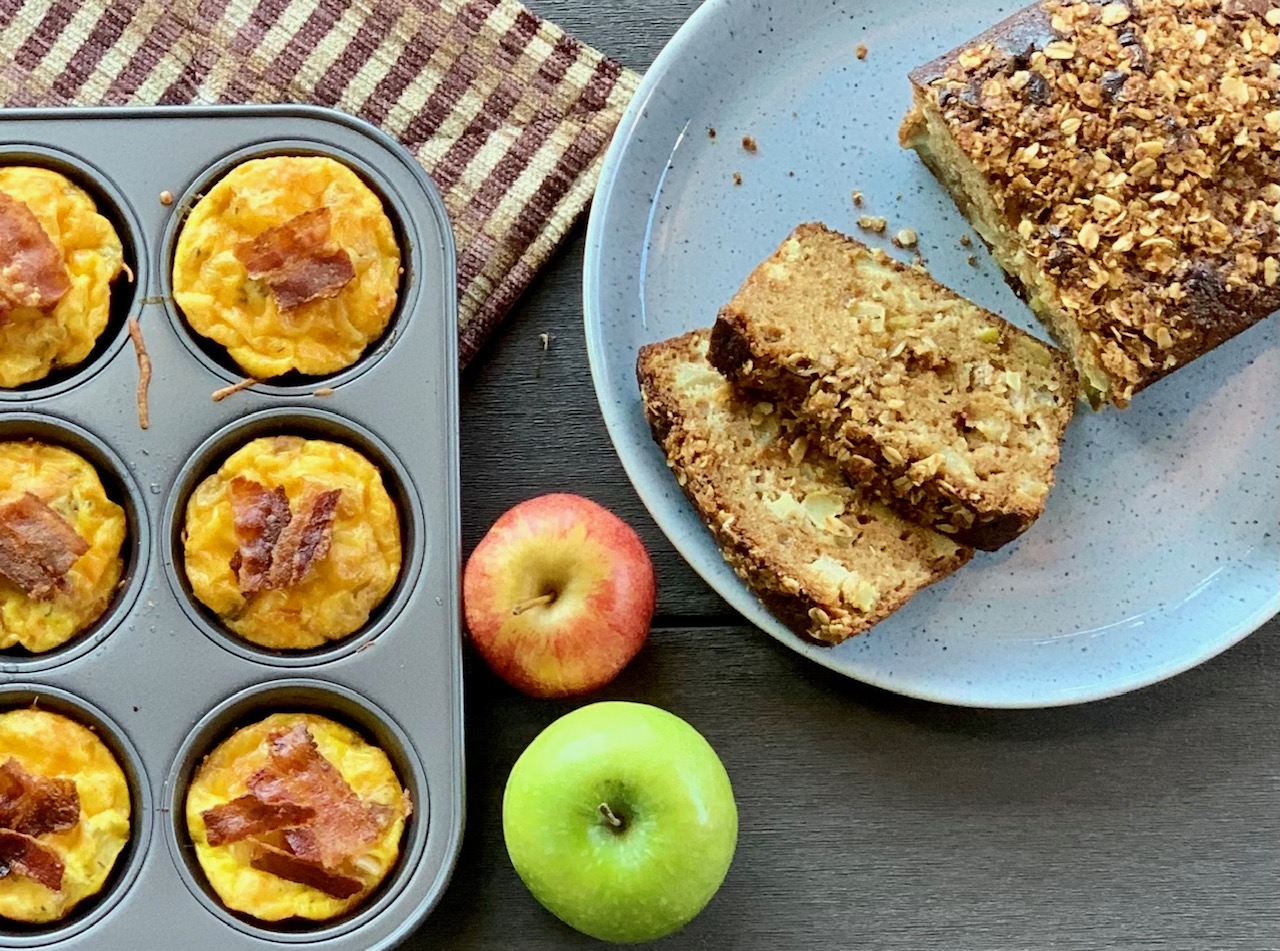 You can't think fall without thinking apples. New crops have hit the stores and the produce section is fully fragranced with the heady aroma of the first breath of fall. Apples are Washington's largest agricultural product and more than 90% of the nation's organic apple crop is grown right here. With crisp, juicy offerings so close to home, take advantage of the local abundance and enjoy fresh apples while you can. 
These Apple, Bacon and Sweet Potato Mini Casseroles are full of fall flavor. Packed with lots of healthy ingredients, you can make them ahead so you can have a healthy breakfast anytime, even when you're on the go. The prep is easy, mostly cutting and dicing the onion, apples and sweet potatoes, but the assembly is very quick. 
To speed things along, I opted to cook all of my bacon in the oven, leaving the slices whole and baking at 400º F on a foil-lined baking sheet. I removed about half of the slices when they were somewhat undercooked, draining them on a paper towel before tearing them into small chunks. I added these to the vegetables while they were sautéing, and continued to cook the rest of the bacon in the oven until it was done. 
The mini casseroles came out puffy, golden and perfectly cooked after 25 minutes. The sweet potatoes, apples and bacon gave them fabulous fall flavor and they were hard to resist while they cooled enough to eat. They popped easily from the muffin cups but were not so easy to wrestle away once everyone started eating. I did sneak some off to the freezer, which I am already thinking will be perfect for Thanksgiving morning. 
Next, make some Apple Pie Bread, and be sure to enjoy a warm slice of it with your coffee. Whether you're taking it to go, or just relaxing at home, it's a treat to have something freshly baked on hand. Delicious with a pat of butter or slathered with cream cheese, each slice is studded with tender bits of apple and spiced just like apple pie.  
If you don't have baking spray with flour, just grease and flour your bread pan as you would for baking a cake. I decided to not take any chances and made a parchment paper sling, covering the bottom of the pan and going up and over the sides, too. After my bread cooled for about 20 minutes, the overhanging edges made handy tabs for lifting the warm and delicate bread cleanly out of the pan. 
Making your own apple pie spice is simple and economical. Mix 4 teaspoons ground cinnamon, 2 teaspoons ground nutmeg (I used just 1), and 1 teaspoon ground cardamom together in a small bowl. Use what you need and store the rest in a sealed jar, which I guarantee you will use up over the next few months to add fall spice to just about everything. It's okay to be generous and add a little more when you add spices. Your baked goods will be all the more flavorful. 
I like keeping the 4-ounce individual servings of applesauce on hand for baking. You can open one, which is often enough for some recipes, and not have a big jar left over that might waste. They sell a pack of four at Trader Joe's that are organic and also have no sugar added.  
If you have an instant read thermometer, you can use it to ensure that your bread is cooked through and not overdone. When inserted into the center of your bread, the internal temp should read 200 to 205º F. I did this and my bread came out just right, very moist with no unbaked spots. And yes, thinking again about Thanksgiving morning, some of it is already well wrapped and in the freezer.
Apple, Bacon and Sweet Potato Mini Casseroles
makes 12 
nonstick cooking spray
10 slices lower sodium, less fat bacon
2 cups chopped cooking apples
1/2 cup chopped onion
1 10-ounce sweet potato, peeled and cut into 1/4-inch pieces
2 teaspoons snipped fresh thyme or 1/2 teaspoon dried thyme, crushed
1/4 teaspoon black pepper
1 1/2 cups refrigerated or frozen egg product, thawed, or 6 eggs, lightly beaten
3/4 cup fat-free milk
3/4 cup shredded reduced-fat cheddar cheese (3 ounces)
Preheat oven to 350º F. Lightly coat twelve 2 1/2-inch muffin cups with cooking spray. Cut four of the bacon slices crosswise into thirds; chop remaining bacon.
In a 12-inch skillet, cook large bacon pieces over medium until crisp. Drain bacon on paper towels; discard drippings. Add chopped bacon, apples, and onion to skillet. Cook over medium 5 minutes, stirring occasionally. Add sweet potato; cook 10 minutes or until potato is just tender, stirring frequently. Stir in thyme and pepper.
Divide potato mixture among prepared muffin cups. Combine egg and milk In a medium bowl; pour over potato mixture (cups will be full). Top with cheese.
Bake 25 minutes, until puffed and knife comes out clean. Cool in cups 5 minutes. Remove from cups. Top with large bacon pieces. Serve warm. 
-EatingWell Test Kitchen
Apple Pie Bread
12 slices
baking spray with flour
2/3 cup granulated sugar
1/2 cup plain whole-milk Greek yogurt
2 large eggs
2/3 cup unsweetened applesauce
1 teaspoon vanilla extract
7 Tablespoons unsalted butter, melted, divided
1 cup all-purpose flour, plus 1 Tablespoon, divided
3/4 cup whole-wheat flour
1 teaspoon baking soda
1 teaspoon apple pie spice
1/2 teaspoon salt
1 large Granny Smith apple, diced (1/4-inch; about 1 cup)
1/2 cup coarsely chopped walnuts
3 Tablespoons light brown sugar
1/4 teaspoon ground cinnamon
Preheat oven to 350º F. Coat a 9-by-5-inch loaf pan with baking spray. Combine granulated sugar, yogurt and eggs in a large bowl and stir together. Add applesauce, vanilla and 6 tablespoons melted butter; stir well to combine and set aside.
Whisk 1 cup all-purpose flour, whole-wheat flour, baking soda, apple pie spice and salt in a medium bowl. Add chopped apple and stir until the pieces are evenly coated. Add the flour-apple mixture to the egg mixture; stir until just combined. Spoon into the prepared loaf pan.
Combine walnuts, brown sugar, cinnamon and the remaining 1 tablespoon each melted butter and all-purpose flour in small bowl. Sprinkle evenly on the batter in the pan.
Bake until a wooden pick inserted in the center of the loaf comes out clean, 55 to 60 minutes. Cool in the pan for 10 minutes. Gently turn out onto a wire rack; let cook completely, about 1 hour. 
Make ahead: bread will keep, well wrapped, 3 days at room temperature or up to 4 months in freezer.  
-Jasmine Smith