La Center remains top team in Week 6 area prep football power rankings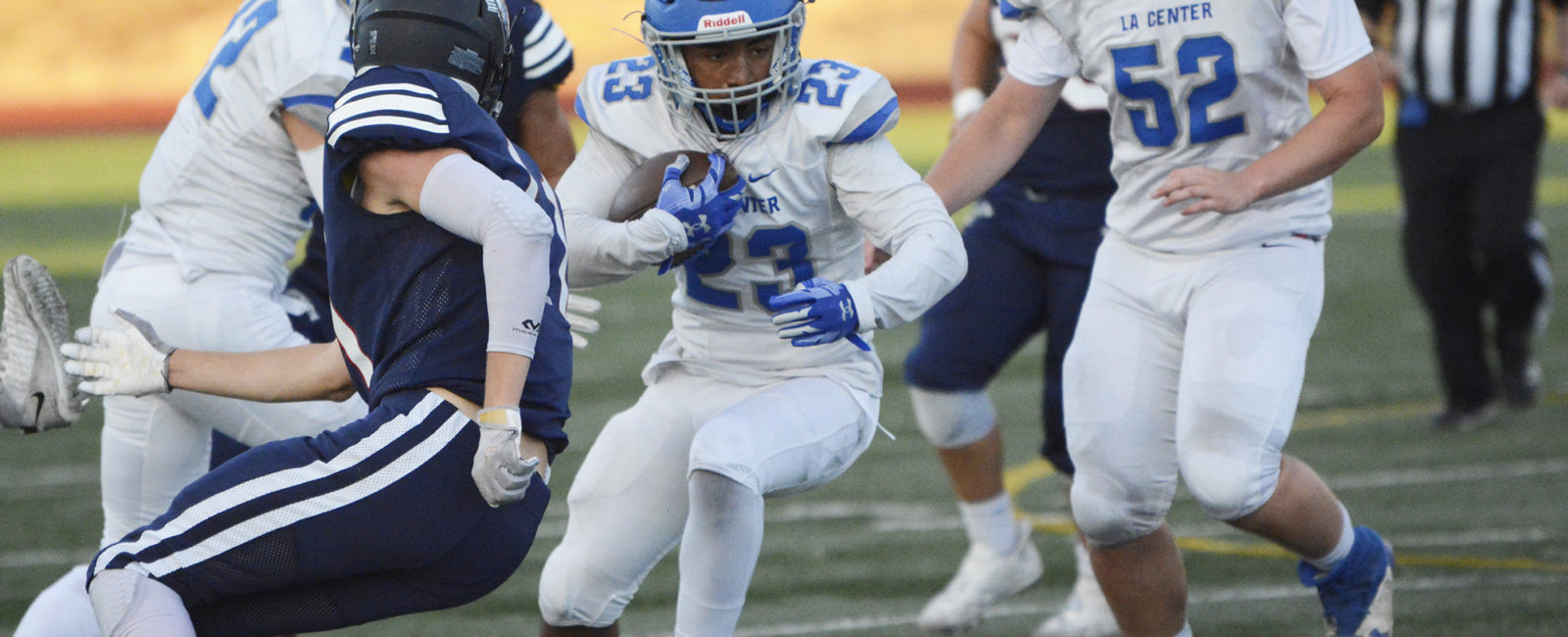 Big plays at the end of a couple of games last week changed the fortunes of teams in this week's Columbian prep football area power rankings.
Prairie drops out of the rankings. Union moves back in.
10. Union (2-3, 4A)
Back-to-back wins — in particular on the road at Coeur d'Alene — return the Titans to our top 10. A win over undefeated 3A Stanwood will provide Union with some staying power. (Last week unranked)
9. Ridgefield (2-3, 2A)
One errant pass caused the Spudders to topple three spots in our rankings. But they can turn things around with a road win at Mark Morris. (Last week No. 6)
8. Mountain View (2-3, 3A)
A former No. 1 team in our power rankings is now languishing toward the bottom of the top-10. It really feels like the Thunder's season will pivot on how they perform this week against Prairie. (Last week No. 4)
7. Mark Morris (4-1, 2A)
The Monarchs got back in the win column with an impressive win over Hudson's Bay. Deacon Dietz looked healthy again. The Monarchs will need all hands on deck against Ridgefield. (Last week No. 9)
6. Kelso (3-2, 3A)
Kelso got its league season off on a solid start as Connor Noah and Judah Calixte each rushed for more than 100 yards. (Last week No. 7)
5. Washougal (4-1, 2A)
Jayson Graham's interception return for a touchdown late against Ridgefield shot the Panthers up to the upper half of our rankings. Now, the toughest part of Washougal's league schedule could be behind them. (Last week No. 8)
4. Evergreen (5-0, 3A)
The Plainsmen are probably frustrated that their 5-0 record doesn't merit more attention statewide. With Camas up next, a solid performance should do that trick. (Last week No. 5)
3. Skyview (4-1, 4A)
Nothing against the Storm here. Skyview continues to play well. But the slip down one spot has more to do with Camas than Skyview (Last week No. 2)
2. Camas (2-3, 4A)
Camas dominated Kamiak, a team Skyview handled pretty well the previous week. The Papermakers have three losses, but those losses are to the No. 1 team in 4A (Glacier Peak), the No. 1 team in 3A (Yelm) and the No. 5 team in 3A (Lincoln of Tacoma) according to AP rankings. (Last week No. 3)
1. La Center (4-1, 1A)
The Wildcats opened league breezing past King's Way Christian. A non-league game at Mount Baker this week might be La Center's toughest test before the postseason (Last week No. 1).