Columbia River is No. 1 at Class 2A in state coaches volleyball rankings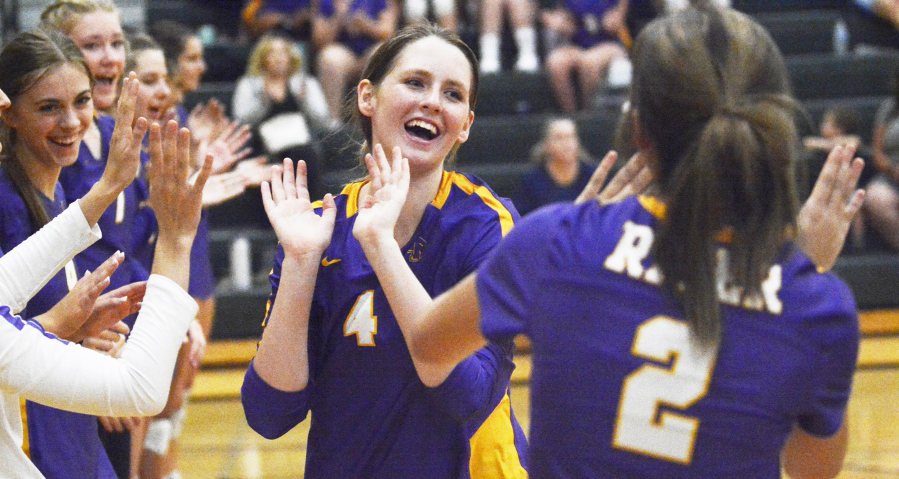 Defending state champion Columbia River is ranked No. 1 in Class 2A in the Sept. 21 state rankings by the Washington State Volleyball Coaches Association.
River tops the 2A rankings with Ridgefield coming in at No. 5.
Camas, ranked No. 4 in Class 4A, is the lone other local team to make its way into the top-10 at any classification.
Other teams listed for consideration for the top-10 included Kelso (3A), Prairie (3A), Mark Morris (2A), Castle Rock (1A) and Stevenson (1A).
The rankings were coordinated by Rene Ferran for the WSVCA.
WSVCA Coaches Poll, Sept. 21

 
Class 4A 
1, Curtis. 2, Puyallup. 3, North Creek. 4, Camas. 5, Graham Kapowsin. 6, Lake Stevens. 7, West Valley (Yakima). 8, Eastlake. 9, (tie) Kennedy Catholic and Mount Rainier.

Others (in alphabetical order): Emerald Ridge, Hanford, Kamiakin, Jackson, Richland, Wenatchee. 
Class 3A 
1, Mead. 2, Bellevue. 3, Lakeside. 4, Ferndale. 5, Ballard. 6, Mount Spokane. 7, Peninsula. 8, Cheney. 9, Garfield. 10, Auburn Riverside.
Others: Bishop Blanchet, Capital, Ferris, Kelso, Lincoln, North Thurston, Prairie, Ridgeline, Seattle Prep, Walla Walla. 
Class 2A 
1, Columbia River. 2, Lynden. 3, Ellensburg. 4, Selah. 5, Ridgefield. 6, Burlington-Edison. 7, Enumclaw. 8, White River. 9, North Kitsap. 10, Centralia.
Others:  Archbishop Murphy, Fife, Grandview, Mark Morris, Pullman, Sammamish, Shadle Park, Tumwater, Washington. 
Class 1A 
1, Meridian. 2, Chelan. 3, College Place. 4, (tie) Annie Wright and Freeman. 6, Charles Wright. 7, Omak. 8, Lynden Christian. 9, Hoquiam. 10, Nooksack Valley.
Others: Cascade Christian, Cashmere, Castle Rock, Connell, Eastside Prep, King's, Lakeside (Nine Mile Falls), Overlake, Seattle Academy, Stevenson. 
Class 2B 
1, La Conner. 2, Kalama. 3, Manson. 4, River View. 5, Okanogan. 6, Colfax. 7, Raymond. 8, Reardan. 9, Lind-Ritzville-Sprague-Washtucna-Harrington. 10, Warden.
Others: Adna, Auburn Adventist, Darrington, Goldendale, Granger, Kettle Falls, Liberty (Spangle), Napavine, Northwest Christian (Colbert), Toutle Lake, Tri-Cities Prep, Upper Columbia Academy. 
Class 1B 
1, Oakesdale. 2, Mossyrock. 3, Naselle. 4, Mary Walker. 5, (tie) Darrington and St. John-Endicott-LaCrosse. 7, Odessa. 8, Wilbur-Creston-Keller. 9, Pomeroy. 10, (tie) Almira/Coulee-Hartline and Republic.
Others: Entiat, Orcas Island, Shoreline Christian.