Kelso still on top as Week 3 football power rankings gets reshuffled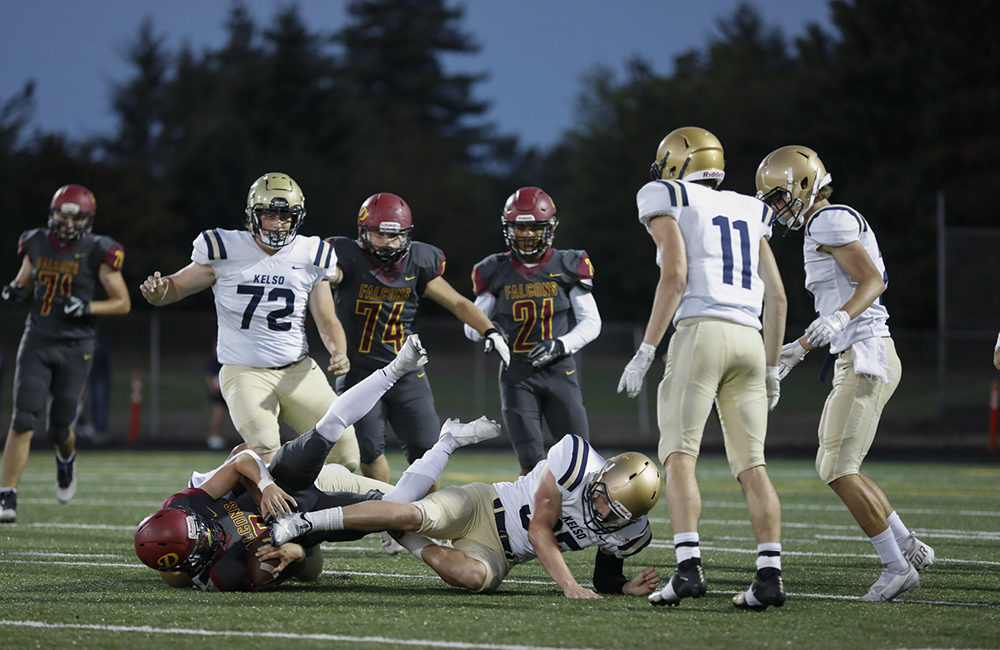 Ranking area high school football teams so far this season has been challenging.
Normally in rankings, when teams win, you move them up in rankings. And when they lose, teams fall.
But sometimes teams that lose play better than the teams that win. It all comes down to the opponent.
For example, Camas is 0-2. But the Papermakers accounted very well for themselves in a 34-28 loss to Glacier Peak, which the Associated Press ranked as the No. 2 team in Class 4A.
Last year, Camas started 0-4 and then made one of the deepest playoff runs of any local team. The Papermakers appear to be on a similar path this season.
So this week's rankings include some rapid changes. Three new teams are in, replacing three others.
Let's see what next week brings.
10. Mark Morris (2-0, 2A)
Battle Ground's Week 2 win at Centralia makes the Monarchs' win in Week 1 over the Tigers look that much better. (Last week unranked)
9. Union (0-2, 4A)
The Titans looked solid in Week 1 against Eastlake, narrowing missing a win. They looked completely overmatched against Yelm. They will need to rebound this week. (Last week No. 3)
8. Castle Rock (2-0, 1A)
Stephen Ibsen has led the Rockets to solid wins over R.A. Long and Kalama. Both teams are 0-2, so the Rockets are still looking for a big test. (Last week No. 10)
7. Ridgefield (0-2, 2A)
The Spudders came very close to upsetting Mountain View in overtime last week. Ridgefield is still working out some things, which was the plan for the non-league schedule. (Last week No. 5)
6. Evergreen (2-0, 3A)
The Plainsmen have back-to-back solid wins over Eisenhower and Hockinson. They are not yet at full strength and are still sorting out things, so this start is a good sign. (Last week unranked)
5. Skyview (1-1, 4A)
The Storm have started slowly in both games this season, but then finished strong. They will need to avoid that this week against Bothell. (Last week No. 9)
4. Mountain View (1-1, 3A)
The Thunder should consider themselves fortunate to be 1-1 after two weeks after slipping past Ridgefield in 3-OTs last week. It won't get any easier against Union this week. (Last week No. 4)
3. Camas (0-2, 4A)
It feels weird placing an 0-2 team so high. But after watching Yelm run over Union, the fact Camas hung with the Tornados for two-plus quarters coupled with a solid Week 2 performance against another tough Glacier Peak team shows the Papermakers potential. (Last week No. 2)
2. La Center (1-1, 1A)
The Wildcats controlled the line of scrimmage against Woodland, grinding up clock and yards on the ground. That ability will help La Center a lot in the 1A Trico. (Last week No. 6)
1. Kelso (2-0, 3A)
The Hilanders' defense was again stellar and sophomore quarterback Tucker Amrine showed great strides in Week 2. Both will need to be even better against Tumwater. (Last week No. 1)