Updated: State prep football rankings if you combine five different ranking systems into one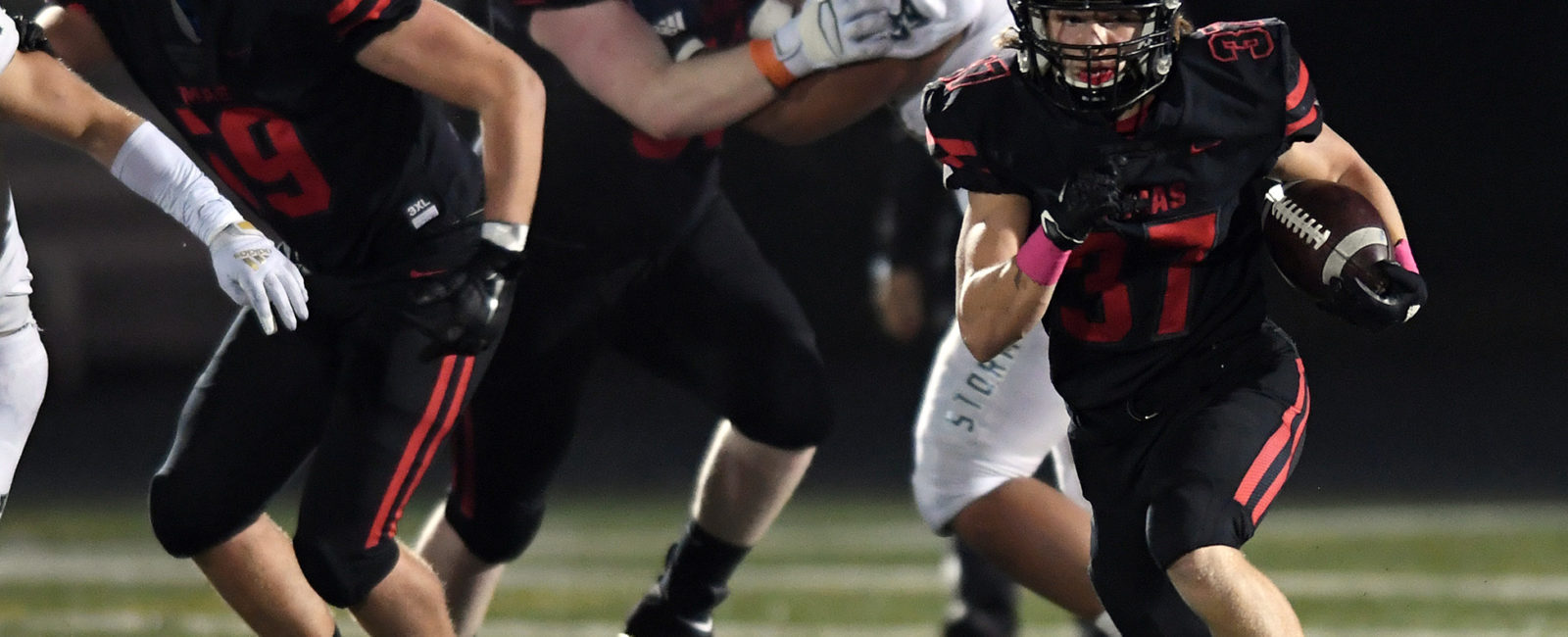 With the WIAA seeding committees set to meet Sunday to set the brackets for the state football playoffs, I thought it would be good to take one last look at the cumulative rankings of five diffent ranking systems.
By and large, most rankings (Associated Press, Scorebook Live, Cascadia Preps and MaxPreps) did not move much this week.
The outlier was Evans Rankings, which had significant movement in spots. Most notably, Tumwater, which was ranked No. 1 across all ranking systems (except the sketchy RPI), fell from No. 1 to No. 5 in Evans Rankings.
Tumwater beat Centralia 48-6 last week, and playing the 1-8 Tigers undoubtedly was a blow to Tumwater's strength-of-schedule. But enough to drop them four sports??
In fact, Evans Rankings started to move closer to the RPI rankings and away from the other rankings.
Anyway, here are the cumulative rankings heading into Week 10.
CLASS 4A
1. Graham Kapowsin 49
2. Lake Stevens 42
3. Gonzaga Prep 38
4. Eastlake 35
5. Kamiakin 33
6. Bothell 24
7. Sumner 22
8. Camas 12
8. Glacier Peak 12
10. Richland 3
Click on below image to see all 4A rankings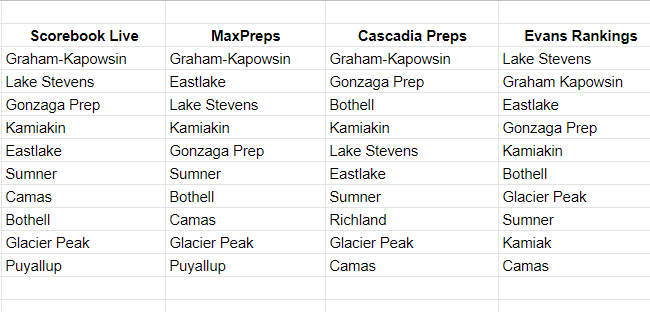 CLASS 3A
1. Bellevue 50
2. Yelm 44
3. Eastside Catholic 36
4. O'Dea 27
5. Marysville-Pilchuck 25
5. Kennewick 25
7. Lincoln 18
8. Mt. Spokane 14
9. Arlington 13
10. Rainier Beach 8
Click on below image to see all 3A rankings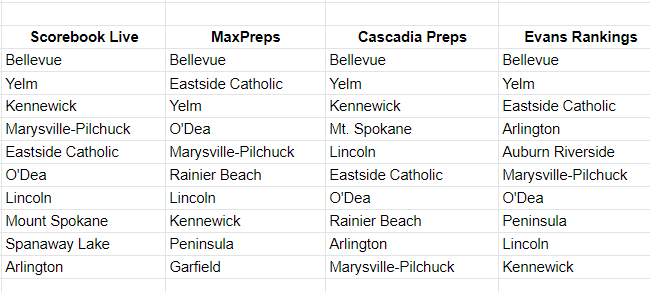 CLASS 2A
1. Tumwater 46
2. Lynden 41
2. North Kitsap 41
4. Ridgefield 36
5. Steilacoom 31
6. Squalicum 28
7. Prosser 19
8. Enumclaw 13
9. Burlington-Edison 6
10. Hockinson 4
10. Orting 4
Click on below image to see all 2A rankings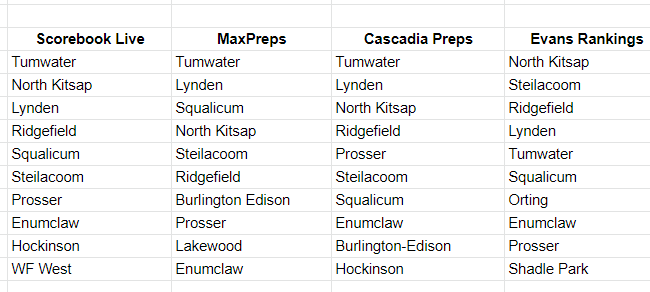 CLASS 1A
1. Royal 49
2. Eatonville 46
3. Lakeside Nine Mile Falls 37
4. Riverside 28
5. Toppenish 26
6. Lynden Christian 24
7. King's 20
8. Tenino 19
9. Freeman 7
10. Zillah 5
10. Omak 5
Click on below image to see all 1A rankings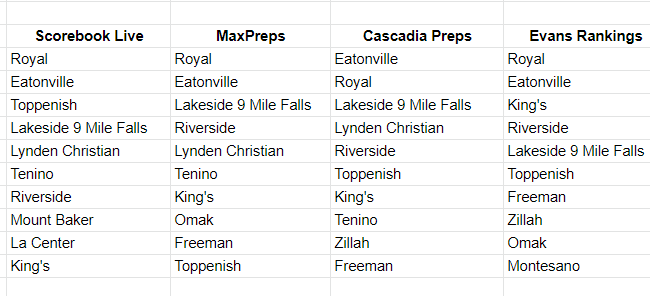 CLASS 2B
1. Kalama 49
2. Napavine 46
3. Okanogan 40
4. Lind-Ritzville 33
5. Columbia-Burbank 22
6. Onalaska 18
7. Davenport 17
8. Forks 14
8. Toledo 14
10. Goldendale 13
Click on below image to see all 2B rankings