Arkansas high school football team suffers second-most heartbreaking season-ending loss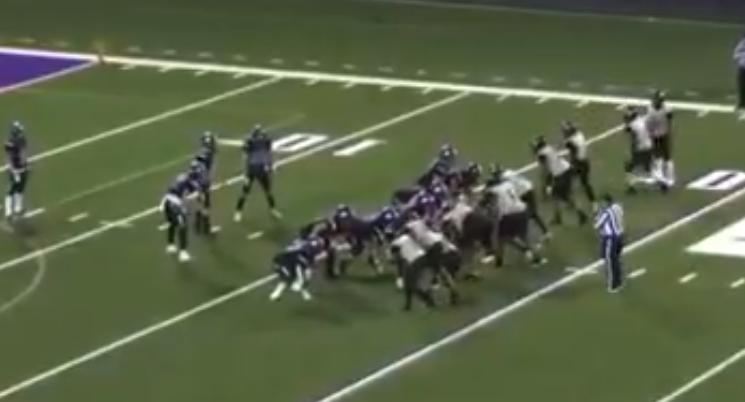 A high school football team in Arkansas had its season end in the toughest way imaginable.
On Friday, Fayetteville High played Little Rock Central with the winner earning a spot to the playoffs.
It looked Fayetteville had clinched victory after a fourth-down stop of Central with 1:32 left. All the Bulldogs needed to do was run out the clock from inside their own 20 yard line and win the game 34-32.
However, after taking a knee three times, there was a one second differential between the play clock and the game clock as the Bulldogs came to the line of scrimmage for fourth down.
The Bulldogs could have done one of the following:
Punt the ball away, but punt the ball out of bounds or quick-kick it and make sure the ball is downed before Central could make a return so the clock can expire.
Throw an incomplete pass, also allowing the clock to expire.
Take a delay-of-game penalty. This would have moved the line of scrimmage back five yards and replayed fourth down with 1 second left on the game clock. Then the Bulldogs could have snapped the ball, taken a knee and the game would have been over.
Or, snap the ball as the play clock is about to expire, have the quarterback wait until the game clock is at 0:00 then take a knee.
As the first two options come with risks — and the coaches probably never considered option 3 — Fayetteville opted for the final option. However, the Bulldogs snapped the ball with 4 seconds on the game clock, waited a second, then took a knee … with two seconds still on the game clock.
By rule, the clock stops on a change of possession. So Central took over at the 12-yard line and from there kicked the game-winning field goal for a 35-34 win.
While that is a heartbreaking way to lose a game and have your season end. It isn't the most heartbreaking.
That honor, fans in Washington may remember, goes to Lynden Christian football team of 2002.
In the state semifinals that year, the Lyncs had the ball at midfield and needed to run out the clock for a 19-14 win over Elma. But they need to run the rest of the time off the clock. Lynden Christian elected to have its quarterback take the snap, run all the way back to his own end zone and down the ball for a safety and a 19-16 Lynden Christian win.
Lynden Christian's quarterback did all the except for one thing. Once he reached the end zone, he flipped the ball aside and started celebrating. An Elma player alertly picked up the ball in the end zone for a game-winning touchdown and a 20-19 victory.
Absolutely brutal way to lose a game

Fayetteville accidentally takes a knee on 4th down with 2 seconds left and Central kicks the game-winning FG to win it. Tough way to go down 😔 pic.twitter.com/A70W7GS0we

— SBLive Arkansas (@sbliveark) November 14, 2020