Nominees for Friday Night Flashback classic prep football playoffs games: Offer your suggestion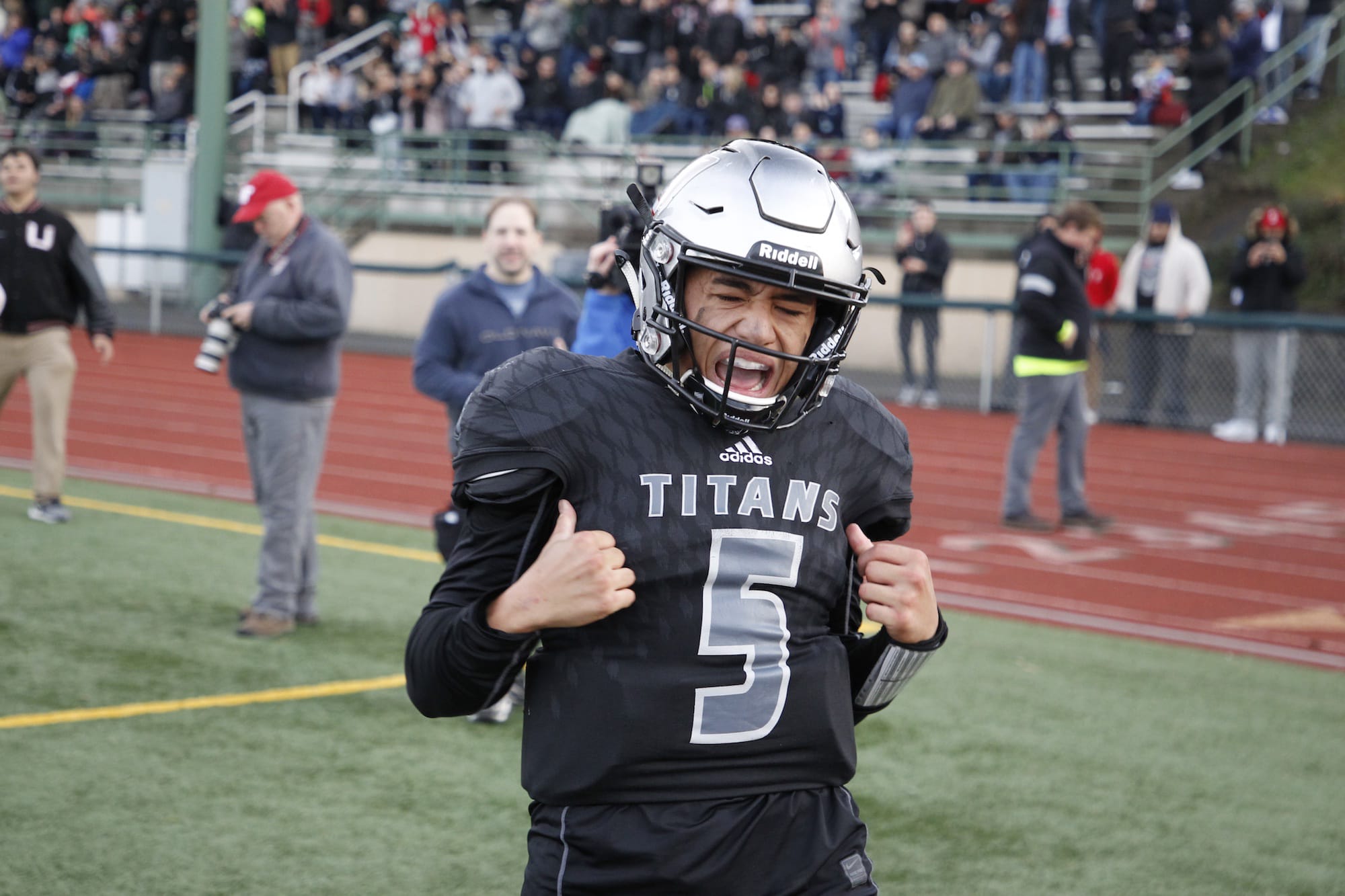 Our Friday Night Flashback series, spotlighting some of the most memorable high school football games in Southwest Washington, will move to postseason games beginning in November.
And we are looking for readers' help in selecting the final six games in this series.
Here are some suggestions of games we are considering. If there is another game, particularly playoff games from before 2000, that you would like to see spotlighted, let us know by leaving us a comment.
Next week, we will put these nominees up for a vote to help us select which games will plan to spotlight.
Nov. 23, 2019 – Hockinson 29, Lakewood 28 – Levi Crum's pass to Liam Mallory gave the Hawks the late lead after Cody Wheeler's TD run. Then Andre Northrup sealed the win with his interception in the 2A state quarterinfals.
Nov. 16, 2019 – Washougal 14, Clarkston 13 — Brevan Bea's two-yard TD run with a minute left — after some heard a whistle blow before the play — gave the Panthers their first state win since 1974 in a 2A first-round game.
Dec. 1, 2018 — Hockinson 42, Lydnen 37 — The Hawks rally from 24-7 down in the third quarter to beat the Lions and capture the 2A state championships.
Nov. 24, 2018 – Union 35, Puyallup 28 — Lincoln Victor's 16-yard touchdown run with 2:52 left completed a rally from 28-14 down late in the third quarter as the Titans advanced to the 4A state title game.
Nov. 24, 2018 – Hockinson 27, Liberty 24 — Sawyer Racanelli's 1-yard touchdown run in the fourth quarter complete a comeback from a 24-7 deficity as the Hawks returned to the 2A state title game.
Nov. 17, 2018 – Mountain View 7, Rainier Beach 6 — The Thunder used their defense to make a 7-6 first quarter lead — created by a blocked extra-point kick — stand to win this 3A state quarterfinal.
Nov. 18, 2017 – La Center 41, Cascade Christian 35, 3OT — Hayden Williamson's 5-yard touchdown run gave La Center the lead, then the Wildcats earned the win with a stop on the 1 on fourth down of the third overtime of a 1A state quarterfinal.
Nov. 6, 2015 – Columbia River 60, Capital 55 — Alex McGarry had 309 yards receiving and four touchdowns and Garett McKee passesdfor 491 yards and six touchdowns and scored the go-ahead touchdown with 1:09 left as River won a wild 3A state preliminary playoff.
Nov. 7, 2014 – Skyview 34, Skyline 31, 2OT — After erasing a 31-10 deficit to force overtime, Braden Hadfield's field goal and a goal-line stand in the second overtime gave the Storm a 4A state preliminary playoff win.
2014 – Hockinson 24, Black Hills 21 — Down 21-0 in the fourth quarter, the Hawks rallied with touchdowns by Joe Davis and Austen Johnson before Quentin Bodenhamer's field goal won it the 2A state preliminary playoff.
Nov. 22, 2008 – Union 21, Ferndale 14 — Ferndale was attempting a long field goal with seconds left in a tie game. But Dex Homer blocked the kick and Mitch Saylor returned for a touchdown and the victory in the 3A state quarterfinals.
Nov. 5, 2005 – Camas 27, Tumwater 23 — Scott Hagensen's touchdown pass to Jeff Rice with 40 seconds left sent the Papermakers to the 3A state playoffs.
Nov. 27, 2004 – Evergreen 31, Gonzaga Prep 30 — After Taylor Rank's touchdown gave the Plainsmen the lead, Evergreen got interceptions from Bryan DeAngelo and David Reinikka to preserve the win in the 4A state semifinals.
Nov. 2001 — Mountain View 10, Curtis 7 — Brian Boles' field goal with 20 seconds left sent the Thunder to the 4A state semifinals.
Nov. 10, 1995 — Evergreen 28, North Kitsap 14 –– Coach Jon Eagle got his first state playoff win but not without an adventure. One of the team buses was involved in a crash en route to the game and the entire team had to crowd onto one bus to complete the trip.
Got a suggestion for more nominees? Let us know.