Camas football helmet trails in early voting in National Helmet Tournament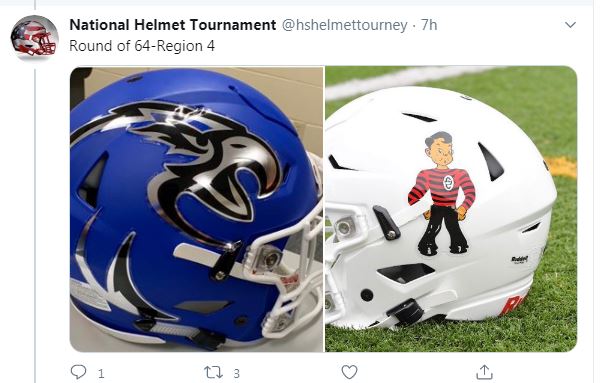 Camas High School's "Joe Papermaker" helmet is among the final 64 entries in the National Helmet Tournament, a nationwide ballot of the best-looking high school football helmets.
The balloting, which is being done on Twitter @hshelmettourney, features helmets from 45 different states.
Camas' white "Joe Papermaker" helmet is matched up against the blue-and-silver helmet of the Underwood Eagles of Underwood, Iowa.
As of 5 p.m. Friday, Underwood was beating Camas 53% to 47% with just under 1,500 votes cast. Link to the vote is here.
Voting remains open until 9 a.m. Saturday in the first-round matchup.
Camas' "Joe Papermaker" helmet reached the semifinals of a Washington State best-helmet contest held last Monday by Masaki Matsumoto, head football coach at Lincoln High School in Tacoma.
Camas lost to eventual state champion Entiat in that matchup. Entiat, which beat Hudson's Bay for the Washington state title, is also entered in the National Helmet Tournament.