High school seniors who have signed with college programs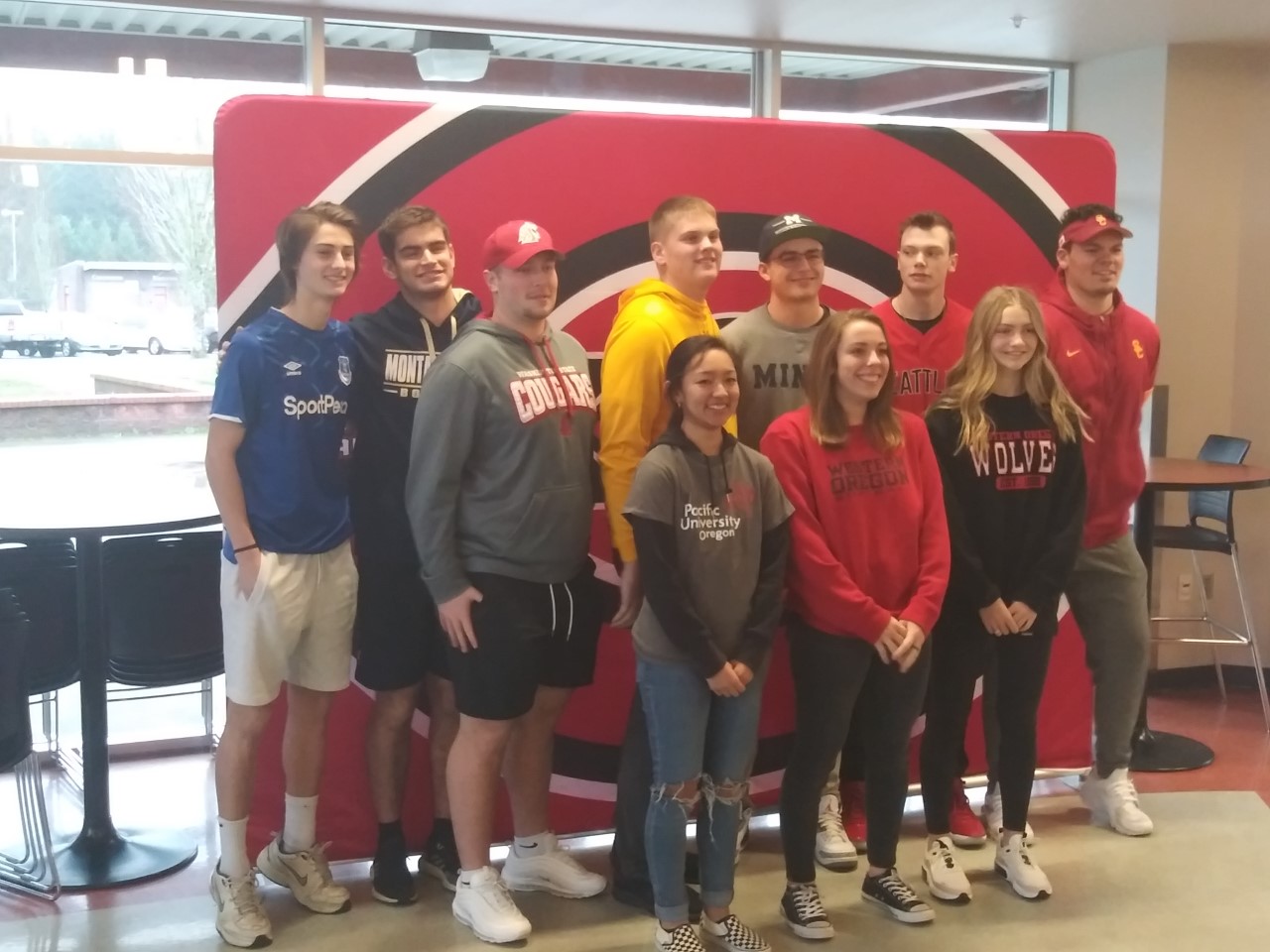 Here is a rundown of 219 local high school senior athletes who have signed with four-year and two-year college athletic programs.
If there are names that need to be added to this list, leave the info in the comments or email sports@columbian.com.
This list will run in the print version of The Columbian next week.
Castle Rock (1)
Logann Golden (volleyball) — Washington State
Battle Ground (4)
Amanda Smalley (soccer) – Clark College
Megan Geiger (soccer) – Lower Columbia College
Emily Kohout (volleyball) — Yakima Valley College
Brett Joner (baseball) — Linfield College
Camas (27)
Tristan Souza (football) — Washington State
Titan Phillips (football) — Central Washington
Kenny Wright (football) — Colorado School of Mines
Sophie Franklin (softball) — Western Oregon
Elizabeth Parker (soccer) — Western Oregon
Laurissa Tsukimura (soccer) — Pacific University
Emma Villaluz (volleyball) – Oregon State
Jackson Clemmer (football) – Southern Oregon
Blake Ascuitto (football) – Southern Oregon
Aanya Friedman (soccer) – Willamette University
Irelyn McGee (swimming/diving) – Idaho
Jackson Preston (football) – Whitworth
Gideon Malychewski (wrestling) – Clackamas Community College
Avery Smith (soccer) – Clark College
Dauda Woodruff (soccer) – Yavapai College (Arizona)
Haylie Johnson (basketball) – Clark College
Kyra Seggewiss (basketball) – Clark College
Marley Foster (softball) – Clark College
Quinten Sawyer (baseball) – Mt. Hood Community College
Halle Jenkins (cross country, track and field) — Grand Canyon University (Arizona)
Austin Weese (cross country, track and field) — Seattle Pacific
Spencer Twyman (cross country, track and field) — Boston Univeristy
Columbia River (14)
Jayden Foster (volleyball) – Lower Columbia College
Shalece Easley (soccer) – Clark College
Julia Cash (soccer) – Lower Columbia College
Jordan Ryan (basketball) – George Fox
Ellie Christian (basketball, track and field) – Clark College
Jacob Warthen (soccer) – University of San Francisco
Sid Kosaris (soccer) – Linfield College
Aaron Espinosa (soccer) – Elmira College (New York)
Isaac Bibb-O'Neill (track and field) – Clark College
Spencer Little (track and field) – Clark College
Aidan Rowley (cross country/track and field) — Azusa Pacific (California)
Columbia-White Salmon (1)
Davis Koester (baseball) — Pacific University
Evergreen (12)
Rebecca Cuypers (softball) — Central Arizona
Tae Marks (football) — Central Washington
Nathan Lien (football) — Lewis & Clark
Tyvauntae Deloney (football) — Southern Oregon
Maddie Harris (soccer) – Clark College
Elijah Lavin (soccer) – Clark College
Tyler Ricketts (basketball) – Lower Columbia College
Derrick Webb (football) – Shasta College
David Grant (football) – Independence College (Kansas)
Jasmine Tiatia (track and field) — Eastern Washington
Mario Herring (basketball) — Lower Columbia College
Fort Vancouver (9)
Camryn Jurcich (softball) – Clark College
McKenna Ellen (bowling) – University of the Cumberlands (Kentucky)
Darius Scheer (soccer) – Clark College
Justin Vernon (baseball) – Clark College
Morgan Weinmaster (soccer) – Edmonds College
Jax Buckley (soccer) – Evergreen State College
Adriana Gama-Aquino (soccer) — Shoreline Community College
Gerardo Peralta (soccer) — Clark College
Heritage (10)
Brayden Youkon (baseball) – Clark College
Anthony Kee (football) – Whitworth
Aliyah Hamblin (volleyball) – Clark College
Jesca Liufau (volleyball) – Clark College
Alex Newberry (wrestling) – Arizona Christian
Eastyn Culp (baseball) – Finlandia University (Michigan)
Skylar Scoggins (football) – Whitworth
Holly Schmitz (soccer) – Western Oregon
Kaylee MacDonald (cross country) – Clark College
Hockinson (13)
Brooke Grosz (soccer) — Western Washington
Megan Meindersee (soccer) — Central Washington
Chase Roush (lacrosse) — Adams State (Colorado)
Jeremiah Faulstick (football) — Central Washington
Levi Crum (football) – Montana
Talia Erecacho (volleyball) – Mount Hood Community College
Greyson Cunningham (golf) – Grand Canyon University (Arizona)
Jasmine Shigeno (soccer/basketball) – Willamette University
Kaden Wangler (baseball) – Corban University
Dakota Souders (baseball) – Clark College
Cam Thelen (football) – Montana
Hudson's Bay (3)
Paige German (soccer) – Clark College
Carter Holt (soccer) – Clark College
Maggie McBroom (soccer) – Central Washington
Kelso (11)
Matisyn Ohlson (soccer) — Northwest Nazarene
Capri Franzen (softball) — Southern Utah
Alex Ransom (baseball) – Lower Columbia College
Kennedy Williams (softball) – Lower Columbia College
Hailey Parsons (softball) – Lower Columbia College
Hailey Graham (track and field) – Northwest Nazarene
Alexis Kleven (basketball) – Pacific Lutheran
Courtney Parsons (softball) – Bellevue College
Tanner Davis (baseball) – Blue Mountain College
Rees Hall (baseball) – Cabrillo College
Elijah Keithley (football, track and field) — Wartburg College (Iowa)
King's Way Christian (3)
Kinsey Tindol (basketball) – Pensacola Christian College (Florida)
Justin Frahm (track and field) – Arizona Christian
Brady Metz (basketball) – Walla Walla Community College
La Center (5)
Roselynn Martin (cross country/track and field) – St. Edwards University (Texas)
Beau Castleberry (baseball) – Treasure Valley Community College
Max Muffett (football) – Whitworth
Mark Morris (1)
Caylee Coleman (soccer) – Clark College
Mountain View (12)
Olivia Fothergill (soccer) — University of Oregon
Alexis Sadler (soccer) — Eastern Washington University
Kylie Ellett (soccer) — Southern Oregon University
Sydney Brown (softball) — Western Washington
Domnic Stephens (football) — Eastern Oregon
Emily Madura (track and field) – Eastern Washington
VA Ili (wrestling) – Arizona Christian
Dajana Urquhart (softball) – Clackamas Community College
Elijah Thompson (soccer) – Pacific Lutheran
Bella Culp (volleyball) — Clackamas Community College
Angie Shadder (softball) — Chestnut Hill College (Pennsylvania)
Prairie (16)
Sophia Carter (volleyball) — Western Washington
Maya Davis (soccer) — Humboldt State
Braden Glaser (soccer) — Willamette
Treyce Teague (football) — Southern Oregon
Meri Dunford (cross country) – Brigham Young
Connor French (football) – University of Redlands (California)
Jimmie Barton (track and field) – Clark College
Tim Banaszek (football) – Western Oregon
Quentin Roemer (soccer) – Clark College
Aidan Fraly (basketball) – Clark College
Isaac Kinsman (golf) — Hawaii Pacific
Mark Frazier (basketball) — Central Arizona College
RA Long (5)
Eastyn Reeves (basketball) – Lower Columbia College
Jadon Williamson (baseball) – Lower Columbia College
Elias Farland (baseball) — Washington State
Kevin Barnett (baseball) — Centralia College
Westin Scheurich (baseball) — Yakima Valley College
Ridgefield (17)
Annika Farley (soccer) — Portland
Jane McNeil-Kuebrich (cross country/track and field) – Clark College
Mason Barry (cross country/track and field) – Missouri Valley
Carson Bondegard (football) –Hastings College (Nebraska)
James Corey (basketball) – Pacific Lutheran
Ariel Griffith (cross country) – Clark College
Nick Jenkins (track and field) – Washington State
Tyler Lehnertz (baseball) – College of Idaho
Josh Mansur (baseball) – Clark College
Amaya Socha (cheer) – Dodge City College (Kansas)
Mia Tomillo (softball) – Centre College (Kentucky)
Branden Wise (cross country/track and field) – Clark College
Kaylin Cook (cross country) – Mt Hood Community College
Seton Catholic (4)
Kellen Ball (basketball) – Multnomah University
Ellie Saunders (track and field) — Azusa Pacific (California)
Jerrica Pachl (track and field) — Linfield College
Griffin Young (track and field) — Linfield College
Skyview (21)
Cooper Barnum (baseball) — Washington State
Marissa Ryerson (volleyball) — Life Pacific (California)
Ava Harman (soccer) — Colorado School of Mines
Jacob Miller (lacrosse) — Westminster College (Pennsylvania)
Allyson Reid (volleyball) — Corban College
Jacob Thompson (soccer) — Evergreen State College
Jonathan Hutley (tennis) — North Dakota
Josiah Cochran (football) — Central Washington
Kyle Gruhler (basketball) — Northwest Nazarene
Grace Ormiston (volleyball) – Mt. Hood Community College
Elizabeth Reid (volleyball) – Mt. Hood Community College
Titus Oien (baseball) – Clark College
Jacob Yasson (track and field) – Clark College
Justin Harris (baseball) – Mt. Hood Community College
Kazz Parks (basketball) — Humboldt State
Keelan Memory (volleyball) — Edmonds College
Allie Thompson (soccer) — Eastern Washington
Callie Rounds (cheer) — Washington State
Union (18)
Macee Woods (soccer) — Chico State
Camille Darland (soccer) — Western Oregon
Mason Oberg (Union) — Western Washington
Rocky Mataia (football) — Western Oregon
Daron Ulrich (football) — Western Oregon
Aidan Hoyt (football) — Montana State Northern
Christian Gomez (soccer) — Whitman
Brad Lackey (basketball) – Whitworth
Tanner Toolson (basketball) — Brigham Young
Tina Moore (soccer) – Centralia College
Sebastian Iniquez-Diarte (soccer) – Clark College
Erika Addy (cross country) – Clark College
Spencer McGuire (baseball) – Mt. Hood Community College
Travis Wiese (baseball) – Mt. Hood Community College
Micah Foskett (baseball) – Mt. Hood Community College
Mackenzie Lewis (basketball) — George Fox
Logan Nelson (track and field) — Concordia-Irvine (Calif.)
Washougal (5)
Paytyn Williams (volleyball) — Central Christian College (Kansas)
Brevan Bea (football) — Central Washington
Judson Mansfield (track and field) — Eastern Oregon
Gracie Dolan (volleyball) — Clark College
Woodland (6)
Kelly Sweyer (softball) — Montana
Nicole Guthrie (track and field) — Idaho
Kaily Christensen (softball) — College of Idaho
Gwen Elkinton (softball/soccer) – Clark College
Payten Foster (basketball) – South Puget Sound College
Aidan Thrall (soccer) – Seattle Pacific