State quarterfinal football preview: Lakewood vs. Hockinson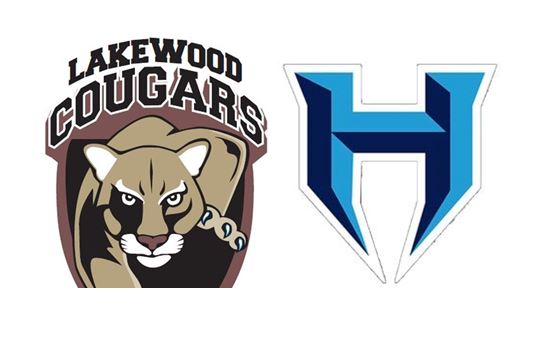 Lakewood vs. Hockinson
2A STATE QUARTERFINAL
WHEN: 4 p.m. Saturday
WHERE: District Stadium, Battle Ground HS, 300 W. Main St., Battle Ground
BROADCAST: Video webcast, NFHS Network ($9.95 monthly subscription required)
SEED/RECORDS: No. 5 Lakewood (9-1), No. 4 Hockinson (10-1)
LAST WEEK: Lakewood beat Sequim 38-12; Hockinson beat Ellensburg 21-15.
LAST YEAR: Did not play
WINNER GETS: Archbishop Murphy or Tumwater
ABOUT LAKEWOOD: Lakewood of Arlington is the Northwest Conference Sky Division co-champion. The Cougars' lone loss came to Lynden (37-6) in Week 5. Lakewood is back at state for the first time since 2012. The Cougars have one common opponent with Hockinson — Archbishop Murphy. Lakewood beat ABM (35-27) in Week 6. Senior QB Jared Taylor (6-0, 190) is a dual-threat for the Cougars. He has passed for 1,071 yards and 14 TDs this season, and he rushed for 1,245 yards and 18 TDs. Taylor completed 10 of 15 passes for 127 yards and three TDs last week against Sequim. He also rushed for 101 and one TD. Carson Chrisman caught seven passes for 101 yards and 3 TDs last week. He has 27 catches for 516 yards and seven TDs on the season. Landon Pruitt is the second-leading rusher for Lakewood, gaining 654 yards and 7 TDs. Linebackers Riley Krueger and Derek Robbins led the defense with eight tackles each last week.
ABOUT HOCKINSON: Hockinson is the 2A Greater St. Helens League champion and the two-time defending state champion. Against a common opponent, Hockinson suffered its lone loss — 27-21 to Archbishop Murphy in Week 2. All-league receiver Peyton Brammer suffered a season-ending knee injury in Week 8 Since the injury, QB Levi Crum has played a bigger role on offense — passing and rushing. After rushing for a season-best 87 yards in the first eight games, Crum has rushed for 126, 110 and 130 yards over the past three weeks. Six of his 12 rushing TDs have come in the last three weeks. Crum has passed for 2,435 yards and 34 TDs. Last week, he rushed the ball 28 times, and was 7 of 13 passing for 165 yards and two TDs. The top three receivers are Makaio Juarez (30 catches-617 yards-8 TDs), Jeremiah Faulstick (25-485-6) and Liam Mallory (26-454-7). Mallory has at least one TD reception in each of the last four games. Daniel Thompson is the leading rusher with 691 yards and 5 TDs. Crum has rushed for 690 yards and 12 TDs. All-league offensive lineman Nathan Balderas is also out for Saturdays' game. 
FANS' PICK: Hockinson (74 percent)
PREP PROLETARIAT SAYS: Click here