Week 10 prep football playoff preview: Centralia vs. Hockinson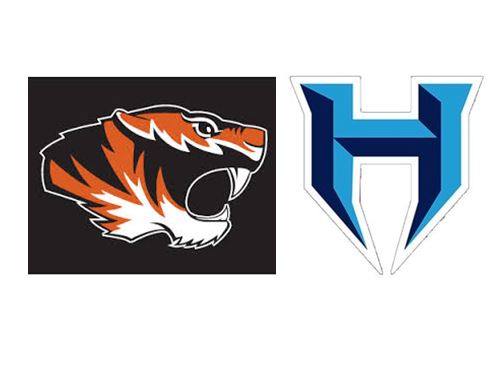 Centralia vs. Hockinson
2A DISTRICT PLAYOFF
WHEN: 1 p.m. Saturday
WHERE: Nautilus Field, Hockinson HS, 16819 NE 159th St., Hockinson
BROADCAST: None.
RECORDS: Centralia (5-4), Hockinson (8-1).
LAST WEEK: Centralia lost to Tumwater 62-6; Hockinson beat Ridgefield 47-25.
LAST YEAR: Did not play.
ABOUT CENTRALIA: The Tigers earned the No. 4 seed from the 2A Evergreen Conference by finishing second in a three-team tiebreaker with Aberdeen and Black Hills. Centralia has one common opponent with Hockinson. The Tigers beat Columbia River 48-33 in Week 1. Centralia put up 170 yards against Tumwater, but most of those yards came late as Tumwater led 48-0 by halftime. Caleb Simpson rushed for 73 yards. QB Cameron Erickson passed for 70, and Chase Sobolesky-Reynolds caught two passes for 70 yards and a TD. Erickson has one-yard TD run in the tiebreaker against Black Hills.
ABOUT HOCKINSON: The Hawks are the 2A Greater St. Helens League champion. The Hawks have one common opponent with Centralia. Hockinson beat Columbia River 56-9 in Week 4. The Hawks have scored at least 34 points in seven of nine games this season. Quarterback Levi Crum leads the region in passing with 2,221 yards and 30 touchdowns. The Hawks lost all-state receiver Sawyer Racanelli to a knee injury in the offseason. Another all-state player, Peyton Brammer, suffered a season-ending injury early in the Week 8 win over Washougal. In the last two games, played mostly without Brammer, Crum has passed for 755 yards and seven TDs against two playoff-bound opponents. Last week against Ridgefield, Makaio Juarez had eight catches for 133 yards, and Liam Mallory had eight catches for 127 yards. Crum rushed for 126 yards, and Daniel Thompson rushed for 95.
FANS' PICK: Hockinson (94 percent).
PREP PROLETARIAT SAYS: Click here.