Glance at Week 10 football playoff games at Class 1A, and possible playoff seeding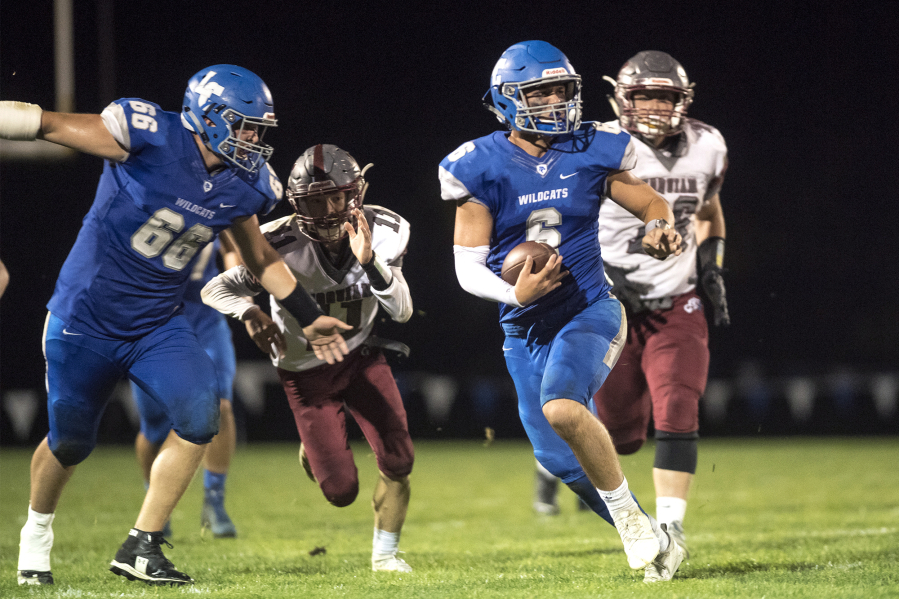 This weekend, teams from around the state will be participating in games that will determine which 16 teams will advance to the state tournaments in five classifications.
Once those 16 teams have been set, a seeding committee will meet on Sunday to seed the state bracket.
There is no way to tell how those committee will place teams in the bracket. But we can use various state ranking systems to project how the committees might place teams.
So we've constructed aggregate state rankings using six different state rankings — three "human" rankings; and three "formula" rankings.
Associated Press – rankings by state media members
Scorebook Live – rankings by coaches
Cascadia Preps – rankings by Ryland Spencer, who spans the state watching prep football
Score Czar — ranking formula based on points scored and points allowed by teams
Max Preps — ranking formula based on wins and losses.
Evans Rankings — ranking formula based on a mix of wins and loss and points scored/allowed.
In Class 1A, there are 26 teams still alive for the 16 state berths.
We used all six rankings to come up with the top-10 aggregate rankings. But because the "human" rankings only rank the top-10, to rank teams 11 through 26, we only used the three "formula" rankings, which rank every team in the state.
Here are this weekend's matchups, with each teams aggregate ranking. We will update this list as results come in. When teams are eliminated, other teams' rankings will be adjusted until teams will be finally ranked 1 to 16.
Projected seeds
(1) Royal
(2) Montesano
(3) La Salle
(4) Lynden Christian
(5) Mount Baker
(6) La Center
(7) Deer Park
(8) Cascade Christian
(9) Omak
(10) Zillah
(11) Hoquiam
(12) Colville
(13) Connell
(14) Charles Wright
(15) Cashmere
(16) Meridian
Projected matchups
(16) Meridian vs. (1) Royal
(9) Omak vs. (8) Cascade Christian
(13) Connell vs (4) Lynden Christian
(12) Colville vs. (5) Mount Baker

(15) Cashmere vs. (2) Montesano
(10) Zillah vs. (7) Deer Park
(14) Charles Wright vs. (3) La Salle
(11) Hoquiam vs. (6) La Center
Friday games
La Center 42, Elma 14
Hoquiam 50, Castle Rock 22
Montesano 58, King's Way Christian 14
Mount Baker 54, South Whidbey 7
Lynden Christian 56, Cedar Park Christian 7
Royal 82, Goldendale 3
La Salle 57, River View 12
Connell 55, Naches Valley 7
Zillah 49, Warden 0
Saturday's game
Meridian 71, King's 30