Week 9 prep football preview: Union vs. Camas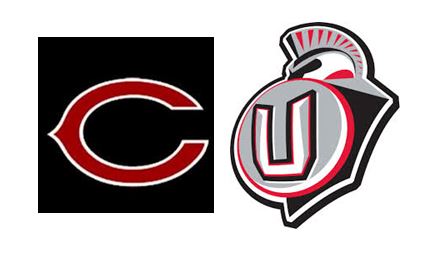 Union vs. Camas
4A GREATER ST. LEAGUE GAME
WHEN: 7 p.m. Friday
WHERE: Doc Harris Stadium, 841 NE 22nd Ave., Camas
BROADCAST: Video webcast, NFHS Network ($9.95 monthly subscription required)
RECORDS: Union (5-3, 2-1), Camas (8-0, 3-0).
LAST WEEK: Union beat Battle Ground 52-6; Camas beat Skyview 21-17.
LAST YEAR: Union 14, Camas 7.
ABOUT UNION: The Titans have clinched a Week 10 playoff berth. Union can still stay in the mix for a No. 1, 2 or 3 seed if it beats Camas, forcing a three-way with Camas and Skyview. A loss likely sends the Titans to the playoffs as the No. 3 seed and road game against the North Puget Sound League No. 3 team (the winner of Mount Rainier vs. Enumclaw). Union has won the last two meetings between these two rivals. Quarterback CJ Jordan left early in the win over Battle Ground with an injury. Alex Gehrmann passed for 186 yards and two touchdowns in relief. In Gehrmann's lone start, he led the Titans to win over No. 6 Chiawana. RB Isaiah Jones rushed for 94 yards and three touchdowns last week. His best production since the Week 4 win over Chiawana. Receiver Tobias Merriweather continues to shine with 35 catches for 655 yards and five TDs.
ABOUT CAMAS: Camas will clinch the 4A GSHL title and the No. 1 seed with a win. That would have them hosting a Week 10 playoff against the SPSL No. 5 teams, which is likely Olympia. A loss puts them in a three-way tie. Camas also lost its quarterback to injury last week, but this one was a season-ender. Junior Jake Blair suffered a broken collarbone in the win over Skyview. Senior Blake Ascuitto will step in for Blair. He has completed 5 of 12 passes for 93 yards and one TD this season. Jacques Badolato-Birdsell also left with an injury last week, but is expected to return. He has rushed for 811 yards and 15 touchdowns. Tyler Forner rushed for 162 yards and two TDs to lead Camas last week.
FANS' PICK: Camas (81 percent)
PREP PROLETARIAT SAYS: TBA Thursday