Week 9 prep football preview: Skyview vs. Heritage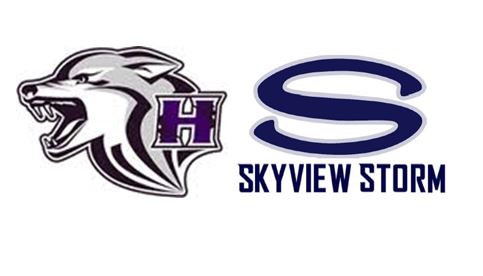 Skyview vs. Heritage
4A GREATER ST. HELENS LEAGUE GAME
WHEN: 7 p.m. Friday
WHERE: McKenzie Stadium, 2205 NE 138th Ave., Vancouver
BROADCAST: None
RECORDS: Skyview (6-2, 2-1), Heritage (2-6, 0-3)
LAST WEEK: Skyview lost to Camas 21-17, Heritage lost to Emerald Ridge 42-8.
LAST YEAR: Skyview 52, Heritage 0.
ABOUT SKYVIEW: The Storm will clinch at least the No. 2 seed to the Week 10 playoffs and play host to the North Puget Sound No. 4 team (the loser between Federal Way and Kennedy Catholic). Skyview could still be part of a three-way tie for the league title if Union upsets Camas. Jalynnee McGee rushed for 80 yards last week, giving him 887 yards on the season and 19 touchdowns. QB Yaro Duvalko has passed for 1,550 yards and 14 touchdowns. The top receivers are Mason Wheeler (23 catches, 431 yards and 4 TDs), Cooper Barnum (24-344-1) and Gavin Baskette (18-293-4).
ABOUT HERITAGE: The Timberwolves have dropped six straight since an 0-2 start. Isaac Roa ranked 12th in the region in rushing with 641 yards and two TDS. Anthony Kee has rushed for 546 yards and seven TDs and Andre Cowley has rushed for 387 yards and two TDs.
FANS' PICK: Skyview (98 percent)
PREP PROLETARIAT SAYS: TBA Thursday