Week 9 prep football preview: Battle Ground vs. South Kitsap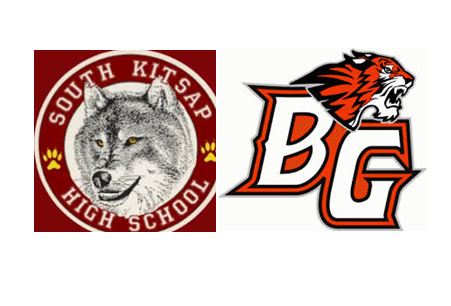 Battle Ground vs. South Kitsap
NON-LEAGUE GAME
WHEN: 7 p.m. Friday
WHERE: South Kitsap HS, 425 Mitchell Ave, Port Orchard
BROADCAST: None
RECORDS: Battle Ground (2-6), South Kitsap (1-7).
LAST WEEK: Battle Ground lost to Union 52-6, South Kitsap lost to Olympia 49-6.
LAST YEAR: Battle Ground 45, South Kitsap 7.
ABOUT BATTLE GROUND: Steven Hancock is one of four running backs in the region with 1,000+ yards. He rushed for 179 yards last week against Union to give him 1,101 yards and 11 touchdowns. QB Ryan Schneider has passed for 349 yards and two TDs. Land Landas (15 catches-115 yards), Brody Smith (14-128) and Bishop Staube (13-79) are the top receivers.
ABOUT SOUTH KITSAP: The Wolves from Port Orchard will finish tied for last in the South Puget Sound League. All of the Wolves' games to date have been league games. South Kitsap's lone win came against Rogers-Puyallup (31-14) in Week 2. In their last five games, the Wolves have been outscored 236-12.
FANS' PICK: Battle Ground (51 percent)
PREP PROLETARIAT SAYS: TBA Thursday