Week 8 prep football preview: Washougal vs. Hockinson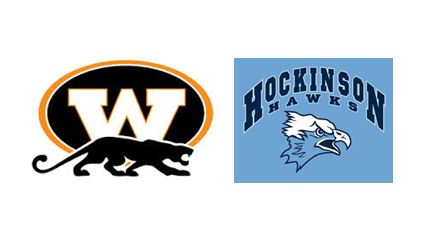 Washougal vs. Hockinson
2A GREATER ST. HELENS GAME
WHEN: 7 p.m. Friday
WHERE: Nautilus Field, Hockinson HS, 16819 NE 159th St., Hockinson
BROADCAST: None.
RECORDS: Washougal (4-3, 3-1), Hockinson (6-1, 4-0)
LAST WEEK: Washougal beat Mark Morris 40-7; Hockinson beat Kelso 21-14.
LAST YEAR: Hockinson 49, Washougal 12
ABOUT WASHOUGAL: Washougal will clinch a playoff berth with either a win this week or a Woodland loss to Columbia River. If the Panthers win both their final two games, they'll claim the No. 1 seed to the 2A district playoffs. After losing to Ridgefield, Washougal has won its last two games by an average score of 44-7. QB Dalton Payne is second in the region in passing yards, despite missing a game. He has thrown for 1,505 yards and 19 TDs. Brevan Bea (26 catches, 447 yards, 5 TDs) and Jakob Davis (25-335-5) are the Panthers' top two receivers.
ABOUT HOCKINSON: Hockinson has clinched a playoff berth. The Hawks will host a Week 10 playoff with a win against Washougal. If the Hawks win this week, they'll be playing for the No. 1 seed against Ridgefield next week. QB Levi Crum has passed for 1,466 yards and a region-best 23 touchdowns. For the first time in several years, the Hawks' rushing leader is not a quarterback. RB Daniel Thompson leads the way with 402 yards. Crum is second at 317. After four second wins of at least 41 points, the Hawks received the challenge they wanted to get ready for their stretch run with a 21-14 win over 3A Kelso last week.
FANS' PICK: Hockinson (84 percent)
PREP PROLETARIAT SAYS: TBA Thursday