Week 8 prep football preview: Stevenson vs. King's Way Christian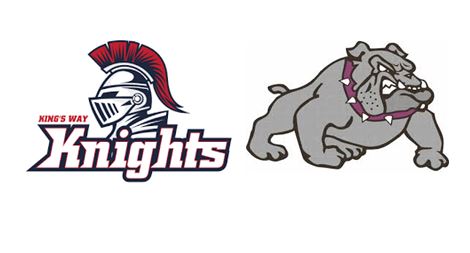 Stevenson vs. King's Way Christian
1A TRICO LEAGUE GAME
WHEN: 6 p.m. Friday
WHERE: Preece Memorial Stadium, King's Way Christian HS, 3606 NE 78th St., Vancouver
BROADCAST: None
RECORDS: Stevenson (2-5, 1-2), King's Way Christian (3-4, 1-2).
LAST WEEK: Stevenson lost to Castle Rock 42-0; King's Way Christian beat Columbia-White Salmon 26-16.
LAST YEAR: Stevenson 48, King's Way Christian 7.
ABOUT STEVENSON: Since winning back-to-back game, Stevenson has been shut out twice. Still the Bulldogs control their fate to the playoffs by beating King's Way Christian and Columbia-White Salmon.
KING'S WAY CHRISTIAN: The Knights also control their path to the playoffs. Wins over Stevenson and Seton Catholic will give King's Way at least the No. 3 seed to the playoffs. Mason Packer has passed for 568 yards and six touchdowns since taking over as the primary quarterback three weeks ago. He's also rushed for 268 yards and four touchdowns. Bryson Metz leads the Knights with 37 receptions and 496 yards and nine touchdowns.
FANS' PICK: King's Way Christian (69 percent)
PREP PROLETARIAT SAYS: TBA Thursday