Week 6 prep football preview: Skyview vs. Union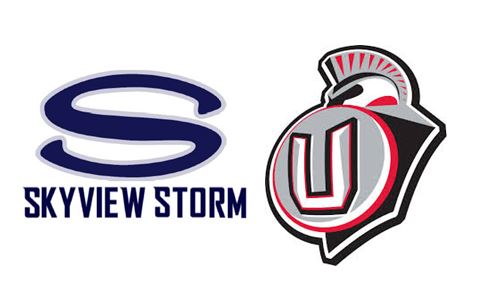 Skyview vs. Union
4A GREATER ST. HELENS LEAGUE GAME
WHEN: 7 p.m. Friday
WHERE: McKenzie Stadium, 2205 NE 138th Ave., Vancouver
BROADCAST: Video webcast, ESN/NFHS Network ($9.95 monthly subscription required)
RECORDS: Skyview (4-1, 1-0), Union (3-2, 0-0)
LAST WEEK: Skyview beat Battle Ground 63-14; Union lost to Puyallup 42-41.
LAST YEAR: Union 21, Skyview 15
ABOUT SKYVIEW: The Storm rolled to a dominating win last week, taking a 42-0 lead 95 seconds into the second quarter on just 11 offensive plays. QB Yaro Duvalko has passed for 934 yards and seven TDs on a very efficient 62-of-82 passing. Duvalko's top three targets are Cooper Barnum (14 catches, 229 yards, 1 TD), Mason Wheeler (13-227-1) and Gavin Baskette (13-158-1). Jalynnee McGee has rushed for 442 yards and 14 TDs. The Storm average 46 points a game.
ABOUT UNION: After sitting out Week 4 on concussion protocol, quarterback CJ Jordan had his best game of the season last week, passing for 210 yards on 18-of-25 passing and rushing for a season-best 113 yards and three touchdowns. Isaiah Jones leads the Titans with 530 yards rushing and 8 TDs. He was held to a season-low 24 yards on a season-low nine carries last week. Tobias Merriweather leads the team with 24 catches for 405 yards. Over the past three games, he has 20 catches for 341 yards. The Titans have played ranked opponents each week this season to prepare for league play.
FANS' PICK: Skyview (60 percent)
PREP PROLETARIAT SAYS: Click here