Week 5 prep football preview: Battle Ground vs. Skyview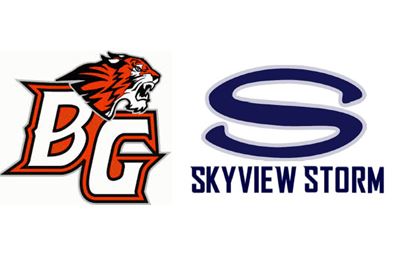 Battle Ground vs. Skyview
4A GREATER ST. HELENS LEAGUE GAME
WHEN: 7 p.m. Friday
WHERE: Kiggins Bowl, Discovery MS, 800 E 40th St., Vancouver
BROADCAST: TV, Cable Ch. 28/328; Webcast, Vancouver Public Schools YouTube channel; Radio, 910 AM.
RECORDS: Battle Ground (1-3, 0-0), Skyview (3-1, 0-0)
LAST WEEK: Battle Ground lost to Prairie 38-6; Skyview beat Rogers-Puyallup 55-21
LAST YEAR: Skyview 38, Battle Ground 12
ABOUT BATTLE GROUND: RB Steven Hancock had rushed for 466 yards and four touchdowns. He has three consecutive 100-yard games. Ryan Potes has rushed for 129 yards and two touchdowns. QB Reid Schneider has passed for 211 yards.
ABOUT SKYVIEW: The Storm have the highest-scoring offense among 4A GSHL teams, averaging 41.5 points a game. RB Jalynnee McGee has rushed for 375 yards and 11 touchdowns. Jaydin Knapp has rushed for 139 yards. QB Yaro Duvalko has passed for 771 yards and five TDs. Duvalko has a trio of favorite targets: Mason Wheeler (13 catches, 227 yards), Cooper Barnum (13-165), Gavin Baskette (12-152).
FANS' PICK: Skyview (93 percent)
PREP PROLETARIAT SAYS: Click here