Week 4 prep football preview: Riverside vs. King's Way Christian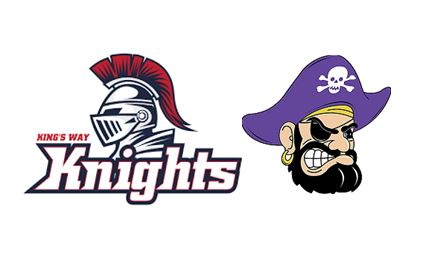 Riverside vs. King's Way Christian
NON-LEAGUE GAME
WHEN: 6 p.m. Friday
WHERE: King's Way Christian HS, 3606 NE 78th St., Vancouver
BROADCAST: None.
RECORDS: Riverside (0-3), King's Way Chrstian (1-2).
LAST WEEK: Riverside forfeited to Blanchet Catholic; King's Way Christian beat Bellevue Christian 41-20.
LAST YEAR: King's Way Christian 45, Riverside 0
ABOUT RIVERSIDE: Prior to its forfeit loss to Blanchet, Riverside was giving an average of 54 points a game.
ABOUT KING'S WAY CHRISTIAN: QB Kemper Shrock had passed for 493 yards and six TD. Shrock had a season-best 238 yards passing and four touchdowns last week vs. Bellevue Christian. Bryson Metz has 24 catches for 210 yards and four TDs. He had 10 catches for 110 yards last week. This will be the Knights' home opener on their home field with a brand new grandstand.
FANS' PICK: King's Way Christian (76 percent)
PREP PROLETARIAT SAYS: Click here.