Week 2 prep football preview: Archbishop Murphy vs. Hockinson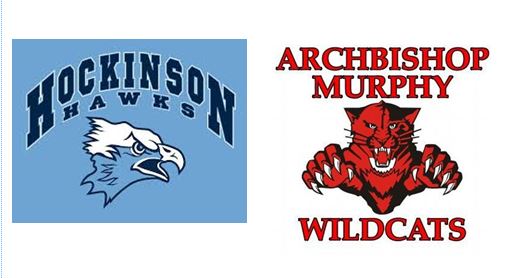 Archbishop Murphy vs. Hockinson
NON-LEAGUE GAME
WHEN: 7 p.m. Friday
WHERE: Hockinson HS, 16819 NE 159th St., Hockinson
BROADCAST: Webcast, ESN/NFHS Network (required $9.95 monthly subscription)
RECORDS: Archbishop Murphy (1-0), Hockinson (1-0).
LAST WEEK: Archbishop Murphy beat Eatonville 53-13; Hockinson beat Toppenish 48-7.
LAST YEAR: Hockinson 42, Archbishop Murphy 13
ABOUT ARCHBISHOP MURPHY: The Wildcats went 4-3 last season, losing to Sehome in a district playoff (37-9). The Wildcats are led by interim coach Mark Leone, who was last year's offensive coordinator. Jerry Jensen, who coached the Wildcats to three straight state semifinal appearances from 2015-17, left the school without much of an explanation from the school. Victor Gabalis returns as a third-year starter at QB. The Wildcats rushed for 351 yards last week. Joe Ennis led the way with 117 yards. Gabalis added 75 yards, and Mason Mathis rushed for 66.
ABOUT HOCKINSON: QB Levi Crum passed for 243 yards and four touchdowns. Peyton Brammer caught five passes for 135 yards and two TDs. The Hawks rushed for 146. Daniel Thompson rushed for 40 yards and had a 45-yard TD reception. The Hawks also gave up 298 yards of offense in 48-7 win.
FANS' PICK: Hockinson (82 percent)
PREP PROLETARIAT SAYS: Click here.