Week 1 football preview: Toppenish vs. Hockinson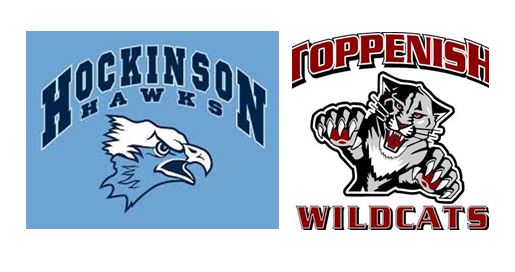 Toppenish vs. Hockinson
NON-LEAGUE GAME
WHEN: 7 p.m. Friday
WHERE: Nautilus Field, Hockinson HS, 16819 NE 159th St., Hockinson
BROADCAST: None
2018 RECORDS: Toppenish (5-5) vs. Hockinson (14-0)
LAST YEAR: Hockinson 52, Toppenish 14
ABOUT TOPPENISH: Toppenish finished second in the 2A Central Washington Athletic Conference South Division, losing to Ephrata (35-6) in a CWAC playoff. Toppenish returns a number of all-conference players this season, including Manuel Felan — a first-team All-CWAC South choice at wide receiver, defensive back and as a kick returner.
ABOUT HOCKINSON: Hockinson is the defending 2A Greater St. Helens League champion and a two-time defending 2A state champion. The Hawks lost all-state receiver Sawyer Racanelli to a season-ending knee injury during summer workouts. But they still return a bunch of talent, including QB Levi Crum, who threw for 4,300 yards and 56 TDs, and Peyton Brammer, who had 1,000 receiving yards and 20 TDs  Read more about the Hawks.
FANS' PICK: Hockinson (96 percent)
PREP PROLETARIAT SAYS: Click here.