State quarterfinal playoff preview: Bothell vs. Union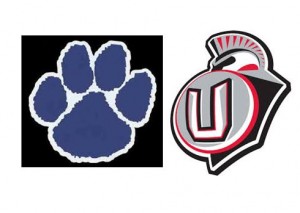 Bothell (9-2) vs. Union (11-0)
4A STATE QUARTERFINAL GAME
WHEN: 1 p.m. Saturday
WHERE: McKenzie Stadium, 2205 NE 138th Ave., Vancouver
BROADCAST: Online, elisportsnetwork.com ($9.95 monthly subscription required)
LAST WEEK: Bothell beat Chiawana 40-14; Union beat Skyline 50-10.
2017 MEETING: Did not play.
STATE SEEDS: Bothell No. 9; Union No. 1
GAME NOTES: The winner of this game will face the winner of Puyallup-Mount Si in the semifinals next week. Skyline placed second in the KingCo Conference Crown Division. The Cougars' two losses this season have come in Week 3 to O'Dea (28-3) and Week 6 to Woodinville (17-10). Bothell quarterback Erik Bainter has passed for 2,066 yards and 17 touchdowns. Junior Christian Galvan leads the Cougars with 859 rushing yards and 12 TDs. Senior Riley Morrison is Bainter's top target with 68 catches of 1,079 yards and 10 touchdowns. The Cougars forced four turnovers from Chiawana, including a 62-yard interception return by Ryan Metz. Morrison had a 96-yard touchdown pass play as Bothell scored 27 points in the third quarter to put the running clock in motion. Bothell and Union have three common opponents – Skyline, Camas and Chiawana. Bothell beat Skyline 34-30, Camas 36-35 and Chiawana 40-14. Union beat Skyline 50-10, Camas 14-7 and Chiawana 41-9. Union was the 4A Greater St. Helens League champion. Union scored touchdowns on its first seven drives against Skyline to put the running clock in motion in the third quarter. Quarterback Lincoln Victor had touchdown runs of 66 and 53 yards last week. He had 121 yards on just three carries. He also passed for 208 yards and one touchdown. Darien Chase ran for 51 yards on the first offensive play of the game. Chase had five catches for 66 yards. Alex Vallejo had three catches for 77 and a TD. Jojo Siofele had 116 yards rushing and receiving. Nile Jones rushed for two touchdowns. On the season, Victor passed for 1,674 yards and 14 TDs and rushed for 544 yards and 8 TDs over eight games. Siofele rushed for 714 yards and 8 TDs, and Jones rushed for 603 yards and 10 TDs. Chase had 53 catches for 800 yards and 12 TDs. Apart from allowing three touchdowns to Enumclaw after the running clock was initiated, Union's defense has not allowed a team to score more than 15 points since Week 5.
FANS' PICK: Union
SCORE CZAR PICK: Union
PREP PROLETARIAT SAYS: Click here