Week 7 prep football preview: Union vs. Heritage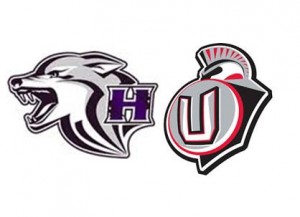 Union (6-0, 1-0) vs. Heritage (2-4, 0-2)
4A GREATER ST. HELENS LEAGUE GAME
WHEN: 7:30 p.m. Friday
WHERE: McKenzie Stadium, 2205 NE 138th Ave., Vancouver
BROADCAST: TV, CCTV, cable Ch. 28/328; Online, Evergreen Public School YouTube Channel.
LAST WEEK: Union beat Skyview 21-15; Heritage lost to Battle Ground 31-0.
2017 MEETING: Union 56, Heritage 6.
GAME NOTES: Union had to labor through a 21-15 win over Skyview. Jojo Siofele rushed for 108 yards and his 12-yard TD run gave Union a 21-3 lead at halftime. But quarterback Lincoln Victor sat out much of the second half because of a back injury. With Victor's injury and a steady rainfall, the Titans passed for only 56 yards, while rushing for 216 yards. Two big plays, a 75-yard punt return and a 77-yard TD run helps Skyview get within one score. Injury has decimated Heritage, which has lost four in a row – scoring only 24 points in those four games. Running back Kahai Umiamaka moved to quarterback last week. He rushed for 100 yards and passed for 48.
FANS' PICK: Union (98 percent)
PREP PROLETARIAT SAYS: Click here.