Week 7 prep football preview: Hudson's Bay vs. Prairie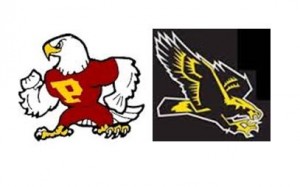 Hudson's Bay (2-4, 1-1) vs. Prairie (2-4, 0-2)
3A GREATER ST. HELENS LEAGUE GAME
WHEN: 7 p.m. Friday
WHERE: District Stadium, 300 W. Main St., Battle Ground
BROADCAST: None
LAST WEEK: Hudson's Bay beat Fort Vancouver 47-13; Prairie lost to Mountain View 61-0.
2017 MEETING: Hudson's Bay 16, Prairie 13
GAME NOTES: Carter Morse filled in at quarterback last week and passed for 208 yards. He had a 86-yard TD pass to Treyce Teague and a 65-yard TD pass to Trent Palea. Teague had three catches for 133 yards. Morse also rushed for 32 yards and one touchdown. Akilotoa Kaumatule rushed for 95 yards, giving him 396 yards for the season. Prairie will look to get some running room for quarterback AJ Dixson, who had been held to -2 net yards the past two weeks. Dixson has also thrown for 933 yards. The Falcons are mired in a four-game losing streak. Despite that, the Falcons can secure a playoff berth by winning its final three games against Hudson's Bay, Fort Vancouver and Evergreen. For Bay, winning this week and next week vs. Evergreen could put the Eagles in position to advance to the postseason.
FANS' PICK: Prairie (66 percent)
PREP PROLETARIAT SAYS: Click here.