Week 6 prep football preview: Washougal vs. Columbia River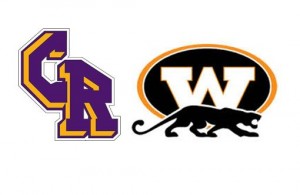 Washougal (3-2, 1-1) vs. Columbia River (3-2, 1-1)
2A GREATER ST. HELENS LEAGUE GAME
WHEN: 7 p.m. Friday
WHERE: Chieftain Stadium, Columbia River HS, 800 NW 99th St., Vancouver
BROADCAST: None.
LAST WEEK: Columbia River beat  Mark Morris 14-13; Washougal beat Ridgefield 35-19
2017 MEETING: Washougal 17, Columbia River 0
GAME NOTES: With only three teams receiving district playoff berths from the 2A GSHL, this game starts to feel a lot like a playoff game. The loser of this game will find the road to the postseason to be very difficult. Dalton Payne had another big game at quarterback for Washougal last week, passing for 272 yards and three touchdowns. He has 1,202 yards and nine TD passes on the year. Jakob Davis is his top target with 26 catches for 494 yards and 7 TDs. But Brevan Bea and Julien Jones also got into the mix last week. Preston Thornton was 5-for-5 on PAT kicks last week and sealed the win with a 70-yard interception return for a score. Columbia River continues to alternate quarterback duties between Dawson Lieurance and Matt Ashland. Lieurance has 338 yards passing on 3 TDs, while Ashland has 259 yards and 3 TDs. Lieurance had two TD passes last week. Tristan Hoyer (13 catches, 181 yards) and Kanen Eaton (10 catches, 149 yards) are the top receivers. The Chieftains also get several players involved in the rushing game, led by Isaac Bibb-O'Neil (168 yards) and Jarrett Spellbinder (160).Defense has been the key to River, holding opponents to an average of seven points in its three wins and an average of 38 in its two losses.
FANS' PICK: Washougal (55 percent)
PREP PROLETARIAT SAYS: Click here.