Week 5 prep football preview: Puyallup vs. Union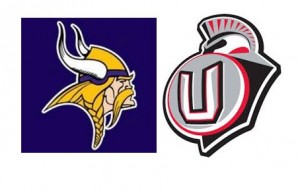 Puyallup (4-0) vs. Union (4-0)
NON-LEAGUE GAME
WHEN: 7:30 p.m. Friday
WHERE: McKenzie Stadium, 2205 NE 138th Ave., Vancouver
BROADCAST: Online, Elisportsnetwork.com (requires $9.95 monthly subscription)
LAST WEEK: Puyallup beat Graham-Kapowsin 41-34 OT; Union beat Chiawana 41-9
2017 MEETING: Did not play.
GAME NOTES: Puyallup is coming off two big victories – a 30-point rout of Sumner in Week 3 then last week's overtime thriller over top-ranked Graham-Kapowsin. Kyle Cramer scored on a 2-yard TD run in the first overtime, then Ben Rodriguez intercepted a pass on the first play of Graham-Kapowsin's possession to seal the win. Cramer finished with 130 yards and three TDs on the night. Puyallup jumped out to 21-0 lead in the first quarter, but G-K went on a 27-0 run to take a 34-27 lead in the fourth quarter. But Darius Morrison's 17-yard TD reception helped force overtime. QB Jacob Holcomb passed for 223 yards on 16-of-21 passing. Justin Haase had seven catches for 137 yards. Union used a 28-point fourth quarter to blow open a 13-9 game at halftime against Chiawana. Darien Chase caught nine passes for 105 yards and he returned a punt 76 yards for a score. QB Lincoln Victor passed for 205 yards on 17-of-24 passing. Alishawuan Taylor had four sacks as the Titans' defense shut down Chiawana's offense.
FANS' PICK: Union (79 percent)
PREP PROLETARIAT SAYS: Click here.