Week 1 prep football preview: Hockinson vs. Toppenish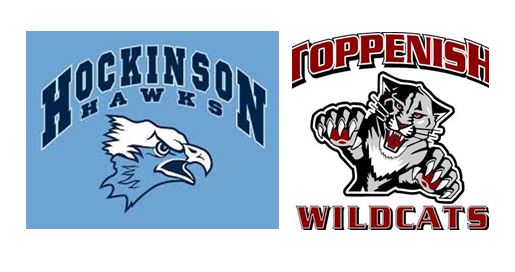 Hockinson (0-0) vs. Toppenish (0-0)
NON-LEAGUE GAME
WHEN: 7 p.m. Friday
WHERE: Toppenish High School, 141 Ward Road, Toppenish
BROADCAST: None.
2017 MEETING: Did not play
GAME NOTES: Toppenish went 5-5 in 2017. The Wildcats placed third in the 2A Central Washington Athletic Conference South Division. Toppenish lost 35-19 to Quincy in a conference playoff. Keyano Zamarripa, a first-team CWAC South running back and second-team kick returner, leads the Wildcats. Other all-conference returnees include utility player Chris Grant, cornerback Manuel Felan and running back Isiae Ramirez. Smoky skies have limited Toppenish's outdoor practices. Hockinson went 14-0 in 2017. The Hawks were 2A Greater St. Helens League champions. Hockinson beat Tumwater 35-21 for the 2A state championship. All-state QB Canon Racanelli has left for college, but junior Levi Crum will take over the reins of the Hawks' offense. Crum will have a wealth of talented receivers to throw to, including 6-3 Sawyer Racanelli, 6-5 Peyton Brammer and 5-10 Aidan Mallory. Sawyer Racanelli scored 28 touchdowns last season.
FANS' PICK: Hockinson (94 percent)
PREP PROLETARIAT: Click here.