Week 4 prep football: Columbia-White Salmon vs. The Dalles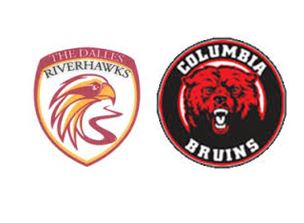 Columbia-White Salmon (1-1) vs. The Dalles (3-0)
WHEN: 7 p.m. Friday
WHERE: The Dalles HS, 220 E 10th St., The Dalles, Ore.
BROADCAST: Internet radio, kodl.com
LAST WEEK: Columbia-White Salmon idle; The Dalles beat Brookings 22-0
2016 MEETING: Columbia-White Salmon 44, The Dalles 20
GAME NOTES: Columbia-White Salmon did not play last week because of the gorge fires. The only good part about that is it gave the Bruins time to heal from injuries that stung them in a loss two weeks ago to Elma. Trenton Howard has rushed for 228 yards in two games and Tylan Webster has run for 186. The Dalles QB Gabe Helseth threw for 167 yards and a touchdown last week. RB Dalles Seufalemua rushed for 109 yards and two TDs. In their last two games — against Fort Vancouver and Brookings — the Riverhawks have held their opponents to a combined 0 net yards of offense. The Dalles has spent much of the past two weeks practicing indoors because of smoke from gorge fires.
FANS' PICK: Columbia-White Salmon
PREP PROLETARIAT PICK: Click here