Prep football preview: Bethel vs. Camas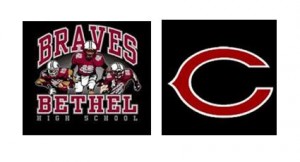 BETHEL (6-3) vs. CAMAS (9-0)
4A state preliminary game
When, where: 7 p.m. Friday; Doc Harris Stadium, Camas
Internet video: nfhsnetwork.com
Internet radio: elisportsnetwork.com
Last week: Bethel lost to Graham-Kapowsin 27-6; Camas beat Heritage 44-10
Last meeting: First meeting.
Players to watch: Bethel WR Elijah McCleod has 46 catches for 903 yards and 15 TDs; Camas QB Liam Fitzgerald led the region in passing with 2,409 yards and 30 TDs.
Game notes: The winner of this game will advance to state and host the winner of Monroe-Skyview. … Bethel finished tied for second in the South Puget Sound League South Division at 4-2 with Curtis and Puyallup, but tiebreaker procedures relegated the Braves to the No. 3 seed from the division. … In addition to Graham-Kapowsin, the Braves lost to Curtis (49-14) and Mountain View (42-28). … Bethel QB Bryce Missey passed for 1,739 yards and 24 TDs in six games before a shoulder injury sidelined him in Weeks 7 and 8. He started last week but came out after shoulder acted up. Sophomore Tristyn Gese took over. … The Braves also started Ezra Cleveland, a 6-foot-6, 290-pound lineman, at RB last week. He has committed to Boise State … Camas clinched its fourth consecutive unbeaten season in the 4A Greater St. Helens League last week. .. RB Jordan Del Moral rushed for 1,249 yards and 19 TDs. … Jared Bentley is the Papermakers' top receiver with 63 catches for 1,020 yards and 12 TDs. … Camas beat Mountain View 35-17. The other common opponent is Rogers of Puyallup. Bethel beat Rogers 34-7; Camas beat Rogers 56-7.
The Prep Proletariat says: If Missey were at full strength, this may be a different matchup. But with him ailing, the Camas defense should carry the day. It may have anyway. CAMAS 38, BETHEL 14
Score Czar says: Camas 36, Bethel 8