Day After Report: Camas 35, Mountain View 17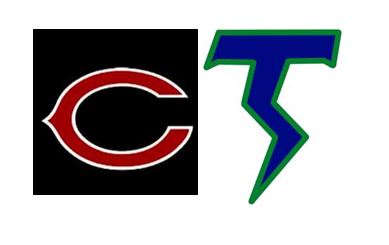 The Camas Papermakers are 4A Greater St. Helens League champions for the fourth year in a row.
They are 21-0 since joining the 4A GSHL in 2012. They haven't lost a league game since the regular season-finale in 2009 when they played in the 3A GSHL — a streak of 33 consecutive league victories.
But the Papermakers were not resting on their laurels Friday night after clinching the league title with a 35-17 win over Mountain View.
"There's something we like to tell the kids," Camas coach Jon Eagle said. "Winning obscures problems, and losing exposes them. So you can't say that just because you're winning games that everything is perfect. Mountain View showed us that. We had a lot of penalties and turnovers that we just can't have if we hope to go far in the playoffs."
That message was received by his players, who weren't thinking of the playoffs two weeks away. Instead, they were thinking of Heritage, their Week 9 opponent at home to wrap up the regular season.
"Heritage is actually a pretty good team, besides their record," Camas quarterback Liam Fitzgerald said. "So we have to prepare for them first, then focus on the playoffs."
"Every game is a big game," junior linebacker Michael Matthews said. "We just take it game by game, week by week, film study, hard practices all week and get the win at the end of the week."
LOOKING AHEAD: Well, if the Papermakers won't look ahead to the playoffs, we will.
As the No. 1 seed from the 4A GSHL, the Papermakers will host the No. 3 from the South Puget Sound League South Division on Nov. 6 or 7.
At this point, that could one of three teams — Bethel of Spanaway, Curtis of University Place or Puyallup.
Curtis is done with league play at 4-2. Bethel is 4-1 and faces first-place Graham-Kapowsin next week. Puyallup is 3-2 and faces fourth-place Rogers next week.
If Bethel loses and Puyallup wins, it would create a three-way tie for second place, which may require a tiebreaker to be played.
As points of reference, Curtis beat Union 42-28 in Week 2. Bethel lost to Mountain View 42-28 on Oct. 2. Puyallup did not play a 4A GSHL team.
YOUNG PAPERMAKERS: Eagle said playing a tough game like the one Camas faced against Mountain View was important for the Papermakers.
"We haven't had to play a lot of games like this," Eagle said of the tough battle Mountain View gave Camas. "It's good to see some of younger guys get the opportunity to show what they can do."
The Papermakers start many underclassmen, particularly on defense, and injuries have led them to call on more.
"Every team deals with injuries, and we're no different," Eagle said. "We've had to  call on our backup long snapper. How many times you have to go to your backup long snapper? But he's stepped in and done a good job."
The Papermakers' youth helps prevent the team from getting overconfident as the playoffs approach.
"We got a lot of young dudes, a lot of juniors on the defense," Matthews said. "Each week, we've got mental stuff to work on, penalties and stuff. But we're taking care of it and getting better each week."