Prep football preview: King's Way Christian vs. Friday Harbor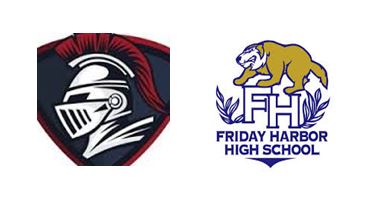 Non-league game
When, where: 6 p.m. Friday; Friday Harbor High School, Friday Harbor
Last week: King's Way Christian beat Fort Vancouver 66-41; Friday Harbor lost to Concrete 40-0.
Last meeting: First meeting.
Players to watch: King's Way Christian QB Liam Nabors has passed for 1,644 yards and 20 TDs this season.
Game notes: King's Way WR Matt Garrison ranks third in the region in receiving yards with 630 on 36 catches and 8 TDs. Preston Danberg has 26 catches for 366 yards and 5 TDs. RB Dustin Johnson has rushed for 463 yards and 11 TDs. Of Friday Harbor's six losses, the closest game the Wolverines have played is a 39-7 loss to Orcas Island two weeks ago. The Wolverines have not scored more than 14 points in a game all season.
The Prep Proletariat says: This one looks like a mismatch. This should be a pleasant ferry ride for the Knights. KING'S WAY CHRISTIAN 48, FRIDAY HARBOR 6
Score Czar says: King's Way Christian 42, Friday Harbor 0.