Prep football preview: Camas vs. Skyview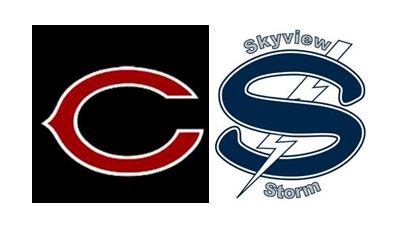 CAMAS (4-0, 1-0) vs. SKYVIEW (4-0, 2-0)
4A Greater St. Helens League game
When, where: 7 p.m. Friday; Kiggins Bowl, Discovery MS, Vancouver
Radio: KFXX (1080 AM)
Last week: Camas beat Evergreen 62-21; Skyview beat Heritage 43-3
Last meeting: Camas won 56-24 in 2014.
Players to watch: Camas QB Liam Fitzgerald has passed for 1,194 yards and 16 TDs; Skyview RB/LB Blake Ingram has rushed for 469 yards and 8 TDs.
Game notes: Fitzgerald completed TD passes to four different receivers last week. … Camas RB Jordan Del Moral rushed for three TDs last week. … Camas coach Jon Eagle expressed some concern about the defense, but a closer look at Camas' results shows a different story. Yes, Camas has allowed an average of 18 points a game. But at halftime this season, Camas has led 28-0, 35-7, 35-0 and 34-7. … There's no question about Skyview's defense. Outside of allowing 28 points to Woodinville, the Storm have given up 6 to Walla Walla, 3 to Heritage and 14 to Battle Ground, a team that has scored at least 36 points in its other three games. … The Storm worked in some younger players last week. Hayden Froeber rushed for 46 yards and Tavis Chunphakveen-Pinkney caught 5 passes for 59 yards.
The Prep Proletariat says: "This is shaping up to be the game of the season in the 4A GSHL. If the Storm keep the game close at half, like they did with Battle Ground, things can get interesting in the second half. But we're still going with No. 1. CAMAS 28, SKYVIEW 17."
Score Czar pick: Camas 26, Skyview 25