Prep football preview: Battle Ground vs. Skyview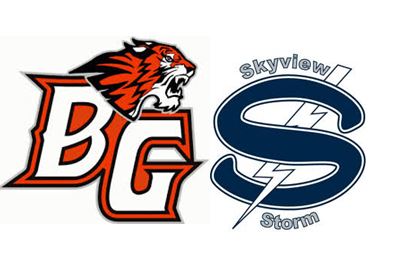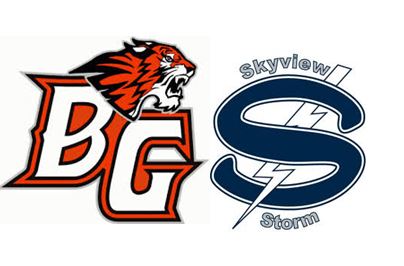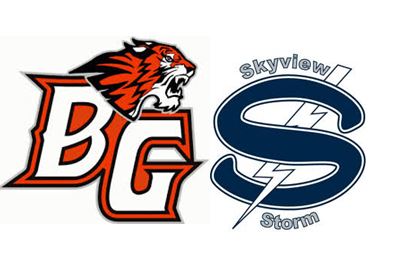 BATTLE GROUND (2-0) vs. SKYVIEW (2-0)
4A Greater St. Helens League game
When, where: 8 p.m. Friday; Kiggins Bowl, Discovery MS, Vancouver
Last week: Battle Ground beat Spanaway Lake 49-0; Skyview beat Woodinville 30-28
Last meeting: Skyview won 44-9 in 2014.
Players to watch: Battle Ground QB Gunner Talkington has completed 33 of 40 passes for 494 yards and 3 TDs; Skyview RB Blake Ingram has rushed for 272 yards on 47 carries with 3 TDs
Game notes: Skyview has won the last 10 meetings between the schools, winning by an astounding average margin of 46-10. … Last week against Spanaway Lake, Battle Ground rushed for almost as many yards as it passed for. … Defensively, the Tigers have allowed just 12 points all season. They shut out a Spanaway Lake team that had scored 52 points the previous week. It was Battle Ground's first shutout win since a 3-0 win over Prairie in 2006. … Skyview QB Brody Barnum has passed for 301 yards and 4 TDs. WR Jeremiah Wright has 8 catches for 121 yards and a TD. … Skyview, known for playing tough non-league foes, has not started 2-0 since 2006, when the Storm went 11-0 in an 11-1 season. … Battle Ground's rushing attack is led by Bailey Buckner (160 yards, TD) and Curtis Stradley (114 yards, 4 TDs). … Talkington's top targets have been Riley Betcher (6 catches, 194 yards), Max Randle (4 catches, 160 yards) and Chase Gunter (10 catches, 111 yards).
The Prep Proletariat says: "Oh Battle Ground, my conundrum. I've been bitten when buying into the Tigers in the past. Is this year different? The one-sided nature of this rivalry says Skyview is the safe bet. But the Tigers appear to have the defense and ground attack to give them a more-balanced attack. Oh, what to do! What to do! OK, Tigers, don't bite me again. BATTLE GROUND 35, SKYVIEW 30."