Prep football preview: Prairie vs. Hockinson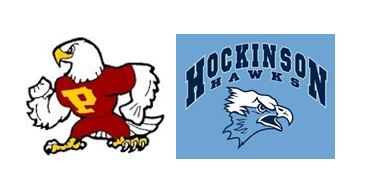 PRAIRIE (0-1) vs. HOCKINSON (1-0)
When, where: 7 p.m. Friday; Nautilus Field, Hockinson HS, Hockinson
Last week: Prairie lost to Heritage 17-16; Hockinson beat La Center 28-0.
Last meeting: Hockinson won 41-0 in 2014.
Players to watch: Prairie QB Kevin Aguirre rushed for 70 yards and passed for 110. Hockinson's Kedrick Johnson caught six passes for 92 yards and a touchdown. He also had a 20-yard TD run.
Game notes: The Falcons came a failed two-point conversion play away from knocking off Heritage last week. The Falcons' defense played a solid game. But the offense was inconsistent. Kyle Schulson led the Falcons with 75 yards rushing. … Hockinson wants to run the ball, did so last week with Jared Oja (80 yards) and Steven Carlisle (90 yards) leading the way. … But QB Canon Racanelli found a favorite target in the tall and athletic Johnson. … But the real stars of the game were on defense (big surprise). The Hawks limited La Center to 4 net yards rushing and 75 yards of total offense.
The Prep Proletariat says: "There was a day when this rivalry was dominated by the Falcons. But those days are over. HOCKINSON 24, PRAIRIE 6."