2014 state quarterfinal prep football previews, predictions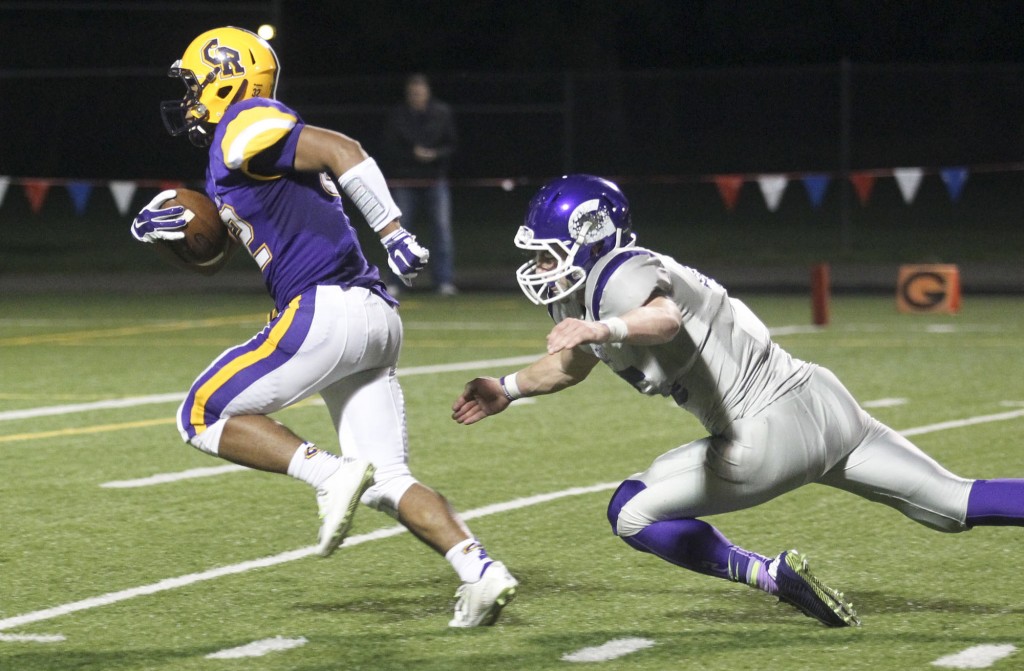 Well, we found the Prep Proletariat in a somber state this week. He was drowning the pain of his worst week of prognosticating all season in a Chestnut Praline Latte.
It wasn't working.
The entire season, the Prep Proletariat never missed more than four games in a week, and that was including weeks when he picked 12 to 15 games.
Last week, there were only six games to pick, and he missed five.
Even worse, he missed all three swing games with the Score Czar. It was the first time all season the Score Czar got the better of the Prep Proletariat.
Four weeks this season, the Prep Proletariat did better on swing games than the Score Czar, twice the two split swing games and once they didn't have any swing games.
The dismal 1-5 showing dropped the Prep Proletariat's season mark to 103-21 (83 percent).
It was enough to make the Score Czar puff his chest last week. So we went looking for an explanation.
ME: Well, a pretty rough week. Since Week 4, when the Score Czar starting posting his predicted scores, you had missed a total of six picks. Six picks and seven weeks. And then last week, you miss five. What happened?
PP: I don't know. I'm just chalking it up to a bad week. It's worth pointing out that my season record on swing games with the Score Czar is still 13-6.
ME: That's true. But the Score Czar quoted something you said earlier this season that his system is a flawed system that gets less flawed as the season goes on. Do you think that was the case last week?
PP: No, not really. I mean take a look at how we've fared all season. The chart below shows my pick record, followed by the Score Czar's record and then my record in swing games (games that we picked differently. As you see, there is no trend at play.
Week 1 — 11-3 / NA / NA
Week 2 — 11-4 / NA / NA
Week 3 — 10-3 / NA / NA
Week 4 — 11-0 / 7-4 / 4-0
Week 5 — 12-0 / 10-2 / 2-0
Week 6 — 9-3 / 9-3 / 2-2
Week 7 — 11-0 / 8-3 / 3-0
Week 8 — 11-1 / 11-1 / 1-1
Week 9 — 10-1 / 10-1 / 0-0
Week 10 — 6-1  / 5-2 / 1-0
Week 11 — 1-5 / 4-2 / 0-3
ME: Yeah, so we can see that from Weeks 4 to 10, you were as good or better than the Score Czar every week. But then, THUD! Is there any explanation for that thud than dumb luck?
PP: There is one connection between the first three weeks — when I missed 3 or 4 games a week — and last week: a lot of games between local teams and teams from out of the area. When local teams are playing teams I've never seen play before, there is a fair amount of guessing that takes place. I mean, I haven't seen Marysville-Pilchuck or Lynden play. I'm just trying to take whatever intel I can find to make an educated guess. And last week, that intel failed me, which gives a bit of an edge to the Score Czar.
ME: So, given that, are you facing an uphill battle from here out?
PP: I don't think so. I think his system has some quirks that will help level things this week for me. I mean, right now, according to his rankings, Hockinson should win the 2A state title. According to his rankings, Hockinson (ranked No. 1) has faced tougher foes in beating North Kitsap (sixth) and Woodland (seventh) than the Hawks will in meeting Lynden (11th), the three-time defending state champion. That just doesn't smell right to me. If Hockinson raises the trophy in a couple weeks, I give the props to the Score Czar. Until then, my skepticism will reign.
ME: Well, I guess we'll find out.
Saturday's games
Class 3A state quarterfinals
MARYSVILLE-PILCHUCK (10-1) vs. COLUMBIA RIVER (9-2)
When, where: 4 p.m., Kiggins Bowl, Discovery MS
Internet broadcast: mpfootball.org/stream
Live chat: 360preps.com
What's at stake: Winner advances to state semifinals, will face the winner of Peninsula/Bellevue at the Tacoma Dome.
Last week: Marysville-Pilchuck beat Mountlake Terrace 49-14; Columbia River beat Roosevelt 36-26.
Common opponents: None.
About Marysville-Pilchuck: The Tomahawks (4-0) won the 3A Wesco League. Since losing to O'Dea in Week 3, the Tomahawks have scored at least 44 points in seven of their next eight games. The other game was a 14-7 win over Capital in a Week 10 playoff. The Tomahawks like to run, run, run the football. Austin Joyner rushed for 292 yards on 19 carries and five TDs against Mountlake Terrace. He has 1,475 yards for the season and a school record 5,300 yards and 506 points for his prep career. So if you're strategy is to shut down Joyner, then there's Killian Page. Page rushed for 180 yards and two TDs on 15 carries last week. He has rushed for 1,547 yards this season. The Tomahawks rushed for almost 500 yards last week.
About Columbia River: The Chieftains (3-0) were the champions of the 3A Greater St. Helens League. The Chieftains' offense starts with QB Gabe Evenson. He has passed for 2,026 yards and an area-best 30 TDs. And he trails Vincent Daniels as River's top rusher by only 10 yards (479-469). He has seven rushing TDs. Daniels and Evenson both rushed for 90 yards last week. Evenson has a ton of receiving targets: Nathan Hawthorne (50 catches, 623 yards, 12 TDS), Carson Bassett (48-530-9), Holden Fielding (31-479-4) and Jacob Bystry (31-387-8).
Prep Prognosticator says: The first question I have is this — Is Marysville-Pilchuck really good? Or are their opponents not that strong? Hard to say. But with River, there are two concerns. First, they've allowed teams to creep back into games. River was up 33-0 in third quarter last week and won 36-26. It was similar to River's win over Kelso. And secondly, when I look at Marysville-Pilchuck, I'm reminded of Tumwater. Not good for Columbia River.
The Pick: Marysville-Pilchuck 42-27
Score Czar: Marysville-Pilchuck 32-21

Class 2A state quarterfinal

HOCKINSON (11-0) vs. LYNDEN (10-1)
When, where: 2 p.m., Civic Stadium, Bellingham
Internet broadcast: kpug1170.com
What's at stake: Winner advances to state semifinals, will travel to play winner of Prosser/Ellensburg.
Last week: Hockinson beat North Kitsap 7-2; Lynden beat River Ridge 41-21.
Common opponents: None.
About Hockinson: The Hawks were the champions of the 2A Greater St. Helens League (6-0). They won on the strength of their running game and their defense. They have allowed 53 points all season, and 21 came in a Week 10 playoff win over Black Hills. RB Tommy Harshaw has rushed for 1,190 yards and 16 TDs. Austen Johnson has rushed for 1,095 yards and 17 TDs. Last week, they rushed for 91 total yards and 29 came on Harshaw's TD run. They outgained North Kitsap 170-160. QB Mitch Lines has passed for 680 yards this season, but doesn't have a TD pass in his last five games. This is Hockinson's first berth in the state quarterfinals.
About Lynden: The Lions were co-champions in the 3A/2A Northwest Conference, going 6-1. Lynden has a storied football history. The Lions are the three-time 2A state champions and have won five titles in the past six years. The Lions' lone loss this season (37-35 loss to Ferndale on Oct. 17) snapped a 33-game winning streak. Lynden hasn't been as dominant this season. October was filled with close games — 23-21 over Burlington-Edison, 33-30 over Sedro-Woolley, 28-21 over Blaine. But are the Lions not as strong this year, so is the Northwest Conference really good? All four 2A NWC teams are still alive in the 2A quarterfinals (Squalicum, Burlington-Edison, Sedro-Woolley and Lynden). The Lions average 240 passing yards and 146 rushing yards a game. QB Sterling Somers has passed for 2,350 yards and 27 TDs. RB Trent Postma is the leading rusher (695 yards, 5 TDs), and Somers is No. 2 (427 yards, 7 TDs). WR Jordan Wittenberg has 69 catches for 1,103 yards and 10 TDs. The Lions have averaged 37 points a game this season.
Prep Prognosticator says: It didn't surprise me that the Score Czar took the Hawks. I rather expected it. The Hawks have been at or near the top of his rankings all year. His system seems to favor that teams that play good defense over teams that play good offense. And the Hawks play good defense. But I was surprised by his score. First, Hockinson hasn't scored 26 points in a game in five weeks. Secondly, if Hockinson wins, it's going to be in a tight, close defensive game. If points start going up on the board, that won't be good for the Hawks.
The Pick: Lynden 31-14
Score Czar: Hockinson 26-7