Week 10 playoff football previews and predictions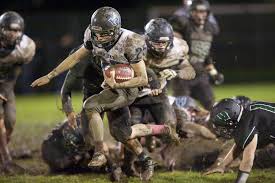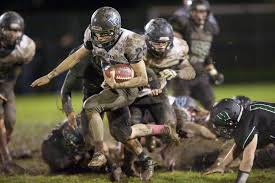 Another near-perfect week (10-1) for the Prep Proletariat improved his season mark 96-15 (86.5 percent).
But now it's the postseason. And that's where our conversation with the Prep Proletariat began this week.
ME: Well, you missed another perfect week by one play. An 86 percent success rate is pretty good. But now, it's the postseason, and this is where you can really show your skills.
PP: It's definitely the time to separate the wheat from the chaff, the men from the boys, the awkwardly feminine from the possibly Canadian.
ME: Thanks, Cotton. But seriously, there figures to be fewer running-clock games in the postseason.
PP: Well, at least outside of Camas.
ME: Well maybe. But how does the dynamics of the postseason heighten the challenge of picking winners?
PP: Well, you figure the games will be tighter. And it's really in the postseason where you find out just how tough different leagues are. The 2A Greater St. Helens League is a great example. I would have loved to see one of the 2A GSHL teams play a 2A Evergreen Conference team in non-league play this season. But it didn't happen.
ME: Yes, and 2A GSHL teams don't have a good track record against the 2A EvCo in these district playoffs.
PP: No. In fact, if you exclude Mark Morris, 2A GSHL teams are 1-18 in district playoffs against 2A EvCo teams since 2006. Remove R.A. Long, and 2A GSHL teams are 0-15. That's a daunting stat when other signs might point to picking a 2A GSHL team this week. But then there's also the fact that the 2A EvCo is only a four-team league, so it's not as deep as in years past with the likes of Capital or River Ridge in the league anymore.
ME: That seems to be the source of your one disagreement with the Score Czar this week.
PP: Yeah, that's one thing with the Score Czar. All of his data is from this season alone. But sometimes, past history can be a good indicator, too.
ME: Well, we'll see.
Friday's games
Class 4A state preliminary games
TAHOMA (6-3) vs. CAMAS (9-0)
When, where: 7:30 p.m., Doc Harris Stadium, Camas
Last week: Tahoma beat Thomas Jefferson 10-7 in SPSL playoff; Camas beat Heritage 49-0.
At stake: Winner will be District 4 No. 1 seed to state and host the winner of Bellarmine Prep-Kentwood
Common opponents: Rogers and Federal Way. Tahoma beat Rogers 48-41, lost to Federal Way 58-17. Camas beat Rogers 68-0, beat Federal Way 49-6.
About Tahoma: The Bears from Covington was the No. 3 team in the South Puget Sound League Northeast Division. Tahoma was outgained 336-164, but three turnovers and blocked punt proved pivotal for the Bears. QB Amandre Williams was 12 of 25 for 99 yards. Jerome Woods was Tahoma's leading rusher last week with 36 yards on eight carries. LB Blake Donohue led the defense with eight tackles (five for loss), 12 assists and one forced fumble.
About Camas: The 4A GSHL champions are loaded with top performers like QB Liam Fitzgerald (2,268 yards passing, 21 TDs) and RBs Bryan Kelly (818 yards, 16 TDs) and Cole Zarcone (690 yards, 12 TDs). And you want a 1,000-yard rusher? How about a 1,000-yard receiving? WR James Price had 60 catches for 1,010 yards and 10 TDs. Hard to imagine that most of the Papermakers were coming off the bench or playing JV ball a year ago.
Prep Proletariat says: Ten points? 164 yards? Camas should have that by the first quarter.
Pick: Camas 56-0.
Score Czar: Camas 44-8
CURTIS (5-4) vs. UNION (8-1)
When, where: 7 p.m., McKenzie Stadium, Evergreen HS
Internet broadcast: elisportsnetwork.com/webcasts
Last week: Curtis beat Stadium 26-13; Union beat Skyview 21-17.
At stake: The winner will be District 4 No. 2 to state and travel to play the winner of Mariner-Federal Way
Common opponents: Spanaway Lake. Curtis beat Spanaway Lake 35-21. Union beat Spanaway Lake 49-7. Union beat Curtis 24-7 in Week 2.
About Curtis: Curtis is the No. 3 team in the South Puget Sound League South Division. All four of the Vikings' losses were playoff teams. The season got off to a very bumpy start for the Vikings. They lost 43-0 to Kentwood in Week 1, then scored in the fourth quarter in a 24-7 loss to Union in Week 2. But they finished strong, winning four of their last five and getting contributions from a variety of players.
About Union: Several players made key plays in Union's Week 2 win over Curtis. The Titans are starting to get healthy again. Alex Berfanger returned last week, but it was Jack Bauer who stepped up with a big second half last week against Skyview. Caleb Browning was the team's leading rusher with 1,165 yards and 19 TDs. Junior Jordan Lawson will get the start again as Nolan Henry recovers from concussion-like symptoms. Lawson completed 4 of 11 passes last week for 58 yards.
Prep Proletariat says: A lot has changed since Week 2. But Union still has a tough defense, and this game is at McKenzie Stadium.
Pick: Union 27-14
Score Czar: Union 32-9
SKYVIEW (6-3) vs. SKYLINE (6-3)
When, where: 7 p.m., Skyline HS, Sammamish
Last week: Skyview lost to Union 21-17; Skyline beat Eastlake 40-10.
At stake: Winner will be District 2 No. 2 seed to state and will travel to play Wenatchee
Common opponent: Woodinville. Skyview lost to Woodinville 28-16; Skyline lost to Woodinville 26-23.
About Skyview: The Storm dominated the line of scrimmage and the stat book in the first half against Union. But Skyview didn't convert long drives into a lot of points, allowing the Titans to rally in the second half. Not finishing drives with points has been an issue for Storm from time to time this season. It's something they'll want to avoid on the road against Skyline. QB Zac Shomler is one of five area QBs to pass for more than 1,600 yards. Each of the other four QBs has at least 21 TD passes. Shomler has 10. The Storm have run for TDs. Josh Emmy had 7 TDs and Black Ingram has 11.
About Skyline: The Spartans from Sammamish have posted back-to-back impressive wins after being routed by No. 1 Bothell 56-0. "We've got to get that Skyline swagger and have that quiet confidence knowing it's all about what we do, not our opponents, and we control our destiny," coach Mat Taylor said. QB Blake Gregory passed for 245 yards last week. Elijah Nichols caught six passes for 122 yards. Rashaad Boddie rushed for 92 yards and two TDs and had a 59-yard TD reception. The Spartans also intercepted four passes.
Prep Proletariat says: Both of these teams lost to Woodinville in September. But that was a long time ago, as Woodinville went on to finish 4-5 and miss the playoffs. Skyline has played very well lately, which makes that 56-0 loss to Bothell harder to figure.
Pick: Skyline 28-17
Score Czar: Skyline 27-20
Class 2A district playoffs
BLACK HILLS (5-4) vs. HOCKINSON (9-0)
When, where: 7 p.m., District Stadium, Battle Ground HS
Last week: Black Hills beat Centralia 56-28; Hockinson beat R.A. Long 13-7.
At stake: Seeding to state depends on winners this week. For Hockinson, Hawks likely will be No. 2 seed from District 4 and travel to play Renton or North Kitsap.
Common opponents: None.
About Black Hills: The Wolves from Tumwater were the No. 3 team in the 2A Evergreen Conference. Black Hills got senior RB Cooper Nygren back from an early season injury last week, and he rushed for 190 yards against Centralia. Junior RB Cameron Berndson rushed for 179 yards, largely in the second half. The Wolves finished the season by winning three of their last four, including a 35-10 win over 3A Kelso. QB Jaydon Troy threw five TD passes against Kelso.
About Hockinson: This joining the 2A GSHL in 2006, Hockinson is 0-6 in district playoff games, losing by an average score of 42-9. But this year's Hawks squad has been all about defense, allowing a total of 30 points to opponents the entire season. The offense, which scored at least 28 points in their first seven games, have tallied 27 total points in their last two wins. The Hawks boast of two 1,000-yard rushers in Tommy Harshaw (1,054) and Austen Johnson (1,033). Playing on sloppy fields the past two weeks, the Hawks stayed with their strengths — rushing and defense. They've only attempted three passes in the past two weeks for -3 yards.
Prep Proletariat says: History vs. the Hawks' 2014 defense. Hmmm. Well, I'm going to go against history, understanding the risks involved in that.
Pick: Hockinson 21-13
Score Czar: Hockinson 31-0
W.F. WEST (5-3) vs. WOODLAND (8-1)
When, where: 7 p.m., Chinook Stadium, Kalama HS
Internet radio: kelaam.com
Last week: W.F. West lost to Tumwater 56-21; Woodland beat Fort Vancouver 41-34.
At stake: The winner is likely the No. 3 seed from the District, and that means a road game against the District 1 No. 2 team.
Common opponents: None.
About W.F. West: The Bearcats from Chehalis were the No. 2 team in the 2A Evergreen Conference. QB Elijah Johnson is a threat to pass or run. He ran for 107 yards and three TDs in a win over rival Centralia two weeks ago. RB Nathan Anglin rushed for 92 against Centralia. The Bearcats turned the ball over four times in their loss to No. 1 Tumwater last year.
About Woodland: The big question for the Beavers is the health of RB Eli Whitmire. Whitmire left last week's game with Fort Vancouver with an ankle injury. Whitmire says he's good to go this week. Without Whitmire, the Beavers rushed for 57 yards as a team vs. Fort. QB Wyatt Harsh carried the load with the passing, throwing for 351 yards and three TDs. But he also threw three interceptions, which helped Fort build an early lead. Harsh threw for 1,634 yards and 21 TDs this season. Whitmire rushed for 794 and 16 TDs.
Prep Proletariat says: Last week's game against Fort Vancouver and the health of Whitmire is enough to scare me toward the history of the 2A GSHL against the 2A EvCo.
Pick: W.F. West 28-20
Score Czar: Woodland 31-8
Class 1A district playoff
HOQUIAM (6-3) vs. STEVENSON (4-5)
When, where: 7 p.m., Stevenson High School
Last week: Hoquiam beat Aberdeen 34-0; Stevenson lost to White Salmon 17-14.
At stake: Seeding to state depends on Week 10 winners. For Stevenson, the Bulldogs would be the No. 3 seed to state and travel to play the No. 1 team from District 1 (Kings, Meridian or Mount Baker). Hoquiam would be the No. 4 seed and would play at District 3 No. 1.
Common opponents: None. Hoquiam beat Stevenson 19-6 in Week 2.
About Hoquiam: The Grizzlies were the No. 3 in the 1A Evergreen Conference. Hoquiam lost narrow games to the teams ahead of them in the EvCo (Eatonville 19-14, Montesano 20-19). RB Tyler White rushed 34 times for 198 yards and four TDs last week vs. Aberdeen. The defense forced five turnovers.That defense was on display in an earlier visit to Stevenson in September. Hoquiam was 5-0 on the road this season.
About Stevenson: Stevenson rallied behind its defense to earn the No. 3 seed to the district playoffs with big wins over Castle Rock and Kalama. Then the Bulldogs got derailed last week against rival White Salmon, allowing a game-winning TD with six seconds left. The Bulldogs were shut out in the second half. RB Josh Anderson rushed for 83 yards last week. He has rushed for 469 yards for the season.
Prep Proletariat says: The Grizzlies won back in September. So we'll pick them again.
Pick: Hoquiam 20-13
Score Czar: Hoquiam 20-7
Saturday's game
Class 3A state preliminary game
GARFIELD (6-3) vs. COLUMBIA RIVER (7-2)
When, where: 4 p.m., Kiggins Bowl, Discovery MS
Last week: Garfield lost to Bishop Blanchet 31-7 in a Metro League seeding game; Columbia River beat Kelso 49-35.
At stake: Winner will be District 4 No. 1 seed to state and will host the winner of Central Kitsap-Roosevelt.
Common opponents: None.
About Garfield: Seattle public schools don't have a good track record in the playoffs. Just consider last week's Metro League seeding games. Garfield was the No. 2 team from the Metro Sound Division and lost to Bishop Blanchet, the No. 3 team from the Metro Mountain Division. Sound Division champion Roosevelt lost to Mountain champion Eastside Catholic 41-0. Metro Valley Division champ Ballard lost to O'Dea, Mountain runner-up, 49-0.
About Columbia River: River was up 42-19 entering the fourth quarter last week against Kelso. Then suddenly the Hilanders were down by seven points and had the ball. That inability to put Kelso away and seal the victory is a concern. That could be attributed to struggles in the running game. Last week, QB Gabe Evenson was the leading rusher with 94 yards. River's other rushers combined for 73 yards.
Prep Proletariat says: The Chieftains should have success with their passing game and Evenson with better weather and the Kiggins Bowl track. And the matchup with a Seattle school is a favorable one for River. River has won its last three state preliminary round games — all against Metro teams.
Pick: Columbia River 31-14
Score Czar: Columbia River 26-20