Week 8 prep football previews and predictions … yawn, just another perfect week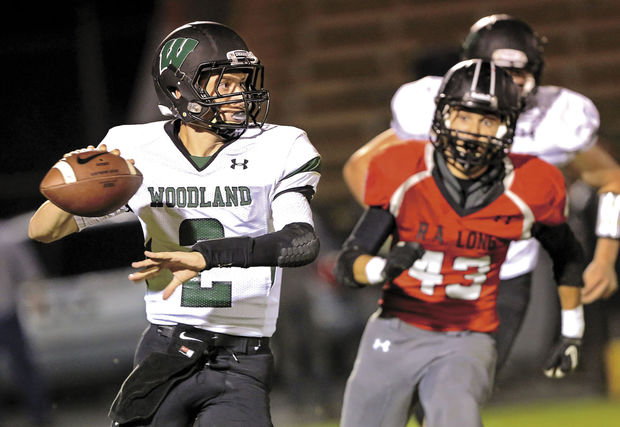 The Prep Proletariat was too busy basking in the glow of another perfect week of picks to have a conversation with me.
I'm thinking maybe I got big-timed or something.
Anyway, the Prep Proletariat went 11-0 last week. That's his third perfect week of picks in the past four weeks.
That pushed his season record to 75-13 (.852).
And an undefeated week meant a clean sweep of the three swing games with the Score Czar, pushing his mark to 11-2 in games that he and the Score Czar didn't see eye to eye on.
This week, here are just two swing games: Heritage vs. Kelso and the 2A showdown of the season, Woodland vs. Hockinson. Otherwise, the picks were very similar.
Let's see how it shakes out in Week 8.
Friday's games
4A Greater St. Helens League
BATTLE GROUND (3-4, 2-3) vs. UNION (6-1, 3-1)
When, where: 5 p.m., McKenzie Stadium, Evergreen HS
Internet radio: elisportsnetwork.com/webcasts
Last week: Battle Ground beat Evergreen 21-14; Union lost to Camas 37-20
About Battle Ground: Playing in the rain for the first time this season, Battle Ground went away from its pass-heavy attack and went to the ground. Curtis Stradley, who had two career carries going into the game, ran the ball 35 times for 148 yards against Evergreen. Even if starter Reed Thompson returns, the Tigers likely won't have the same success on the ground against Union. But it will at least make the Titans think.
About Union: Coach Gary McGarvie said the Titans got too conservative on offense against Camas, and that was before starting QB Nolan Henry left with an injury. Henry is not expected to play this week, so the Titans turn to Jordan Lawson. McGarvie has confidence in the junior and RBs Caleb Browning and Jack Bauer will take the pressure off their QB.
Prep Proletariat says: A win over Union would be huge for Battle Ground going forward. It would cap a 3-3 league season. But Mountain View ran for 600 yards on the Tigers. And Union can pound-and-ground with the best of them.
Prediction: Union 34-13
Score Czar: Union 40-6
MOUNTAIN VIEW (2-5, 2-2) vs. CAMAS (7-0, 4-0)
When, where: 7 p.m., Doc Harris Stadium
Last week: Mountain View beat Heritage 44-0; Camas beat Union 37-20.
About Mountain View: Preston Jones added to his area-best rushing total with 249 yards against Heritage. QB Colin Biggs was very efficient in his first start in place of Lex Reese, who is out for the year with a broken wrist. Biggs completed 5 of 6 passes for 80 yards. Biggs may play a bigger role as Jones will find running room harder to come by against Camas.
About Camas: Camas is coming a complete win against Union. Against the No. 3 team in the state, Cole Zarcone rushed for 176 yards, Liam Fitzgerald completed 25 of 36 passes for 288 yards, they had three receivers with 85 yards receiving or more and the defense played very well. Camas will clinch a playoff berth, a share of the 4A GSHL title and the No. 1 seed to the playoffs with a win this week.
Prep Proletariat says: Camas is simply too strong right now.
Prediction: Camas 48-6
Score Czar: Camas 49-6
SKYVIEW (5-2, 3-1) vs. EVERGREEN (2-5, 1-3)
When, where: 8 p.m., McKenzie Stadium, Evergreen HS
Internet radio: elisportsnetwork.com/webcasts
Last week: Skyview; Evergreen
About Skyview: Skyview's defense struggled at times in the first half last week. But then the Storm discovered that sometimes the best defense is a good offense. The Storm's offense, led by the running game of Blake Ingram, ate up yards and clock in the second half of a 35-28 win. Ingram gives Skyview a nice 1-2 punch with Josh Emmy.
About Evergreen: The Plainsmen hung tough with Battle Ground last week, leading 14-7 in the fourth quarter. The defense was good. The offense was another issue. Evergreen passed for 92 yards, but 86 came on one play. Evergreen rushed for 133 yards, but 56 came on one carry. That's 81 yards of total offense in all but two plays. That's a concern against a very good Skyview defense.
Prep Proletariat says: Battle Ground, a passing team, had a big game running the ball against Evergreen. Now comes Skyview, which rushed for more than 300 yards last week. Not a good mix for Evergreen.
Prediction: Skyview 35-13
Score Czar: Skyview 33-9
3A Greater St. Helens League
PRAIRIE (2-5, 1-1) vs. COLUMBIA RIVER (5-2, 1-0)
When, where: 7 p.m., Chieftain Stadium, Columbia River HS
Last week: Prairie lost to W.F. West 44-13; Columbia River lost to Skyview 35-28.
About Prairie: Prairie averaged 44 points a game in their two wins. The Falcons have scored 27 total points in their five losses. That's been Prairie's issue this season, finding consistency on offense. It's not a good formula against River..
About Columbia River: Gabe Evenson was a passing/running star for Columbia River. He completed 16 of 19 passes for 170 yards. He ran for 98 on 19 carries. But on plays that Evenson wasn't running or passing, the Chieftains gained 32 yards. Look for a bigger game from the supporting cast this week.
Prep Proletariat says: Go ahead and mark your calendar for Columbia River-Kelso next week for the 3A GSHL title
Prediction: Columbia River 48-6.
Score Czar: Columbia River 27-7
2A Greater St. Helens League
RIDGEFIELD (3-4, 0-4) vs. MARK MORRIS (1-6, 1-3)
When, where: 7 p.m., Memorial Stadium, Longview
Internet radio: klog.com
Last week: Ridgefield beat Fort Vancouver 50-18; Mark Morris beat Hudson's Bay 28-0
About Ridgefield: The return of Nathan Eggleston was big for Ridgefield last week. The Spudders stayed on the ground, attempting just two passes. Eggleston rushed for 191 yards as the Spudders gained 426 yards on the ground against Fort. The Spudders have a good chance to finish the season with a winning record.
About Mark Morris: Mark Morris held Bay to 106 yards of offense last week in its shutout win. It was a good defensive effort after giving up at least 35 points in their six losses. The offense has improved. QB James Manthe was 6-for-6 passing for 73 yards. Jordan Frost led the rushing game with 77 yards.
Prep Proletariat says: Mark Morris has improved, but the Spudders are looking better, too. Their ability to run the ball on a potentially sloppy field could be the key.
Prediction: Ridgefield 26-13
Score Czar: Ridgefield 30-7
HOCKINSON (7-0, 3-0) vs. WOODLAND (7-0, 4-0)
When, where: 7 p.m., Beaver Stadium, Woodland HS
Last week: Hockinson beat Washougal 49-13; Woodland beat R.A. Long 35-14.
About Hockinson: Uh oh. Hockinson gave up points last week. Well, those TDs came after Hockinson was up 35-0, and the first TD came on an interception return after an ill-advised second-half pass with a soggy ball. The Hawks held Washougal to 28 yards in the first half. So the Hawks' defense is just fine, thank you. Austen Johnson and Tommy Harshaw continue to lead the 1-2 punch on offense.
About Woodland: R.A. Long took the approach to lock down RB Eli Whitmire and challenge freshman QB Wyatt Harsh to beat them. Harsh responded with 233 yards passing and two TDs. Look for Hawks to do the same. A Woodland win gives the Beavers the 2A GSHL title and No. 1 berth to the district playoffs.
Prep Proletariat says: This is will be battle against two teams with outstanding defenses and solid offenses. In all close matchups, turnovers will be the key. I like Woodland at home, and the Beavers ability to make a big play, like interception return or big return by Whitmire.
Prediction: Woodland 28-27
Score Czar: Hockinson 25-8
R.A. LONG (5-2, 4-1) vs. HUDSON'S BAY (1-6, 0-4)
When, where: 7 p.m., Kiggins Bowl, Discovery MS
Internet radio: kbamcountry.com.
Last week: R.A. Long lost to Woodland 35-14; Hudson's Bay lost to Mark Morris 28-0.
About R.A. Long: The Lumberjacks rushed for 131 yards against Woodland, but 55 came on a TD run by Lucky Davis. That score got R.A. Long within 21-14 early in the fourth quarter. QBs Conner Wallace and Spencer Thorsen combined for 122 yards passing.
About Hudson's Bay: It's been a rough first year in the 2A GSHL for the Eagles. Since a Week 1 win over Fort, Bay has scored 25 total points the past six games. That includes three shutouts.
Prep Proletariat says: I got R.A. Long.
Prediction: R.A. Long 40-0.
Score Czar: RA Long 33-0
1A Trico League
LA CENTER (4-3, 3-0) vs. KALAMA (4-3, 2-1)
When, where: 7 p.m., Chinook Stadium, Kalama
Last week: La Center La Center beat Stevenson 36-14; Kalama beat Seton Catholic 45-21.
About La Center: The Wildcats keep getting stronger, especially after getting Max Hiller back last week. Hiller, the Trico League defensive player of the year last season, had appendicitis last summer, and then had a dislocated elbow in the preseason. He made an impact in his return last week, scoring two TDs and being part of a key goal-line stand on defense. A win gives La Center at least a share of the league title and the No. 1 seed to the district playoffs. That includes a Week 10 bye straight into the state playoffs.
About Kalama: QB Issac Truesdell had a nice game against Seton last week. Four of his seven completions went for touchdowns. Kalama got big plays: a 52-yard TD run for Jasper Pulido, 100 yard fumble return by Victor Leatzow and 50-yard TD catch by Colby Mazza. But the Chinooks also gave up a ton of yards to the Cougars.
Prep Proletariat says: La Center is getting bigger, and Kalama's bend-but-don't-break defense will be more fragile against the Wildcats.
Prediction: La Center 38-16
Score Czar: La Center 23-14
SETON CATHOLIC (1-5, 0-3) vs. WHITE SALMON (3-4, 0-3)
When, where: 7 p.m., Columbia HS, White Salmon
Last week: Seton Catholic lost to Kalama 45-21; White Salmon lost to Castle Rock 18-7.
About Seton Catholic: QB Will Noce-Sheldon did some big things in the open field last week, rushing for 182 yards on just nine carries. He also passed for 91 yards. But the Cougars broke down in the red zone, making it hard to stay in the game with Kalama.
About White Salmon: White Salmon's passing attack was slowed by soggy conditions last week as the Bruins turned it over six times last week. And Castle Rock turned in big plays for the win.
Prep Proletariat says: The Bruins are looking to turn around what looked like a solid season in September. Maybe drier conditions in the gorge will help. Or maybe it will be soggy there, too.
Prediction: White Salmon 30-19
Score Czar: White Salmon 27-7
STEVENSON (3-4, 2-1) vs. CASTLE ROCK (3-4, 2-1)
When, where: 7 p.m.  Castle Rock HS
Last week: Stevenson lost to La Center 36-14; Castle Rock beat White Salmon 18-7.
About Stevenson: Stevenson got off to a good start against La Center. Josh Anderson ran for two first-quarter TDs. Anderson finished with 60 yards on the ground. QB Colton Van Pelt rushed for 45 yards. RB Bryan Griffith rushed for 42. The Bulldogs struggled to get the passing game going in the soggy conditions. Stevenson will clinch a playoff berth with the win, and the Bulldogs could secure the No. 2 seed depending on what else happens Friday.
About Castle Rock: Junior Talib Meeks had 183 yards on seven touches last week. The rest of the Rockets had 56 yards total. Meeks had an 82-yard TD run and an 85-yard screen play TD reception. Cole Brister returned an interception 71 yards for a score.
Prep Proletariat says: I'm told Stevenson has not won in Castle Rock since the 1960s. So a win this week would be groooooooovy, man!
Prediction: Stevenson 26-14
Score Czar: Stevenson 23-7
Non-league
HERITAGE (2-5) vs. KELSO (4-3)
When, where: 7 p.m., Schroeder Field, Kelso HS
Internet radio: klog.com
Last week: Heritage lost to Mountain View 44-0; Kelso lost to Black Hills 35-10.
About Heritage: Kalani Umiamaka rushed for 89 yards last week, but missed much of the second half with a lingering ankle injury. Gavin Lee came in relief and gained 32 yards on six carries. Once again Payton Monda came in relief of QB Tyler VanBuskirk. Van Buskirk was 2 for 5 for 17 yards. Monda was 8 for 14 for 55 yards.
About Kelso: Kelso managed just four yards of offense in the first half last week against Black Hills. The Hilanders finished with 124 yards for the game, 123 through the air. Two of Kelso's wins came in league (Prairie, Fort Vancouver), and the other two over 2A teams (Mark Morris, W.F. West).
Prep Proletariat says: With Camas looming next week, this is Heritage's best shot to end a five-game skid. With Columbia River looming, Kelso may be caught looking ahead.
Prediction: Heritage 24-19
Score Czar: Kelso 26-13
FORT VANCOUVER (1-6) vs. WASHOUGAL (3-4)
When, where: 7 p.m., Fishback Stadium, Washougal HS
Last week: Fort Vancouver lost to Ridgefield 50-18; Washougal lost to Hockinson 49-13
About Fort Vancouver: Fort trailed Ridgefield 22-18 at halftime last week before the Spudders pulled away. The Trappers have bursts of success mixed in with struggles. For instance, 60 of the Trappers' 61 rushing yards came on one play. In passing, 62 of their 109 yards came on two plays.
About Washougal: The Panthers are looking for a bounce-back game against Fort. Washougal's QB tandem of Kyron Carlson and Monte Georgianna were 7 of 8 passing for 134 yards against Bay two weeks ago. Last week, they were 9 for 26 with three interceptions and 100 yards vs. Hockinson.
Prep Proletariat says: The Panthers have shown the ability to run the ball and throw the ball … when they don't run into top-flight defense. Washougal should have success this week.
Prediction: Washougal 33-16
Score Czar: Washougal 28-10