Week 7 prep football previews and predictions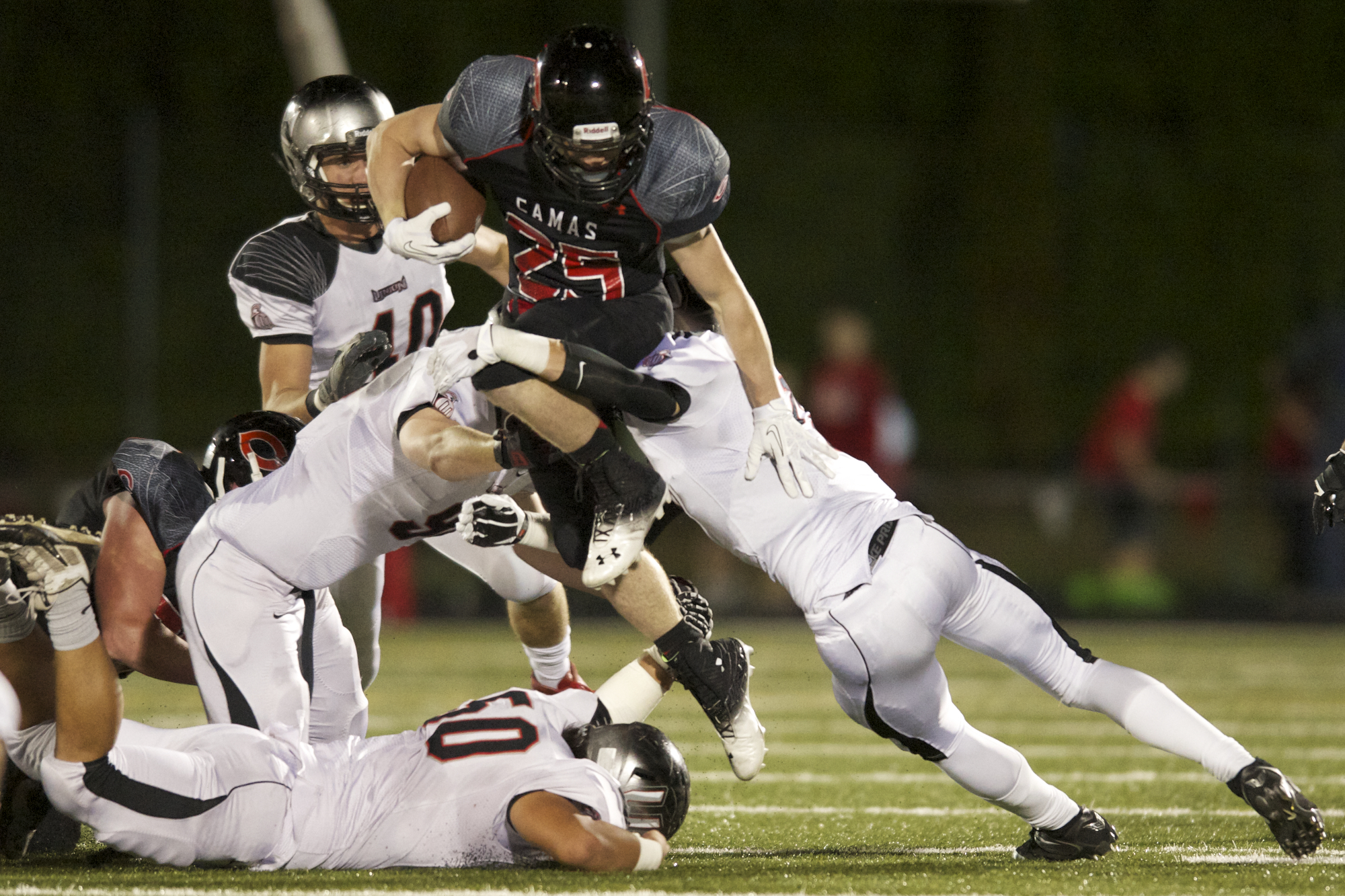 After back-to-back perfect weeks, the Prep Proletariat got tripped up a big in Week 6, going 9-3.
More importantly, in the four games the Prep Proletariat and Score Czar differed on, they split with each going 2-2.
That pushed the Prep Proletariat's season mark to 64-13, which is still 83 percent.
The Prep Proletariat was less jubilant than in our previous meetings, but still confident.
ME: Well, I guess you had to figure you couldn't go perfect for the rest of the season.
PP: Actually, I did.
ME: Still, 83 percent is a good number for the season.
PP: Yes, but more importantly for me, I'm 8-2 in games that the Score Czar and I differed on. So he hasn't beaten me yet.
ME: Well, it looks like we got three swing games this week: Evergreen-Battle Ground, Columbia River-Skyview, La Center-Stevenson.
PP: Yeah interesting. I can see his Stevenson pick. That was one he got me on last week, so at least the computer is consistent. But the River pick is odd. Not that picking River is a bad pick. But last week, the computer had River beating Fort, but just 16-0. And now the computer picks River to beat Skyview. Odd. But, we'll see.
Thursday's game
2A Greater St. Helens League
WOODLAND (6-0, 4-0) vs. R.A. LONG (5-1, 3-0)
When, where: 7 p.m., Memorial Stadium, Longview
Internet radio: www.kbamcountry.com
Last week: Woodland beat Mark Morris 56-21; R.A. Long beat Prairie 26-7.
About Woodland: Here's a tip for the Lumberjacks: Stop Eli Whitmire. Or at least, try. Other teams have not had a lot of success. Whitmire broke his father's school record by scoring seven of the Beavers' eight TDs last week. Even more impressive, he did it on 12 touches: nine carries (138 yards) and three catches (69 yards).
About R.A. Long: Backup QB Conner Wallace played well in his first start, completing 6 of 8 passes for 71 yards and a TD. RB Austin Darnell helped the Lumberjacks control the close by grinding out 74 yards on the ground. But the strength of this team is on the defense. R.A. Long has given up 23 points in its five straight wins since a 32-0 season-opening loss to Columbia River.
Prep Proletariat says: The Lumberjacks' defense gives them a chance. R.A. Long could key on Whitmire, but Beavers have other weapons. Plus the Lumberjacks inexperienced offense faces a big challenge.
Prediction: Woodland 28-12
Score Czar: Woodland 29-7
Friday's games
4A Greater St. Helens League
HERITAGE (2-4, 0-4) vs. MOUNTAIN VIEW (1-5, 1-2)
When, where: 5 p.m., McKenzie Stadium, Evergreen HS
Internet radio: elisportsnetwork.com/webcasts
Last week: Heritage lost to Union 42-14; Mountain View lost to Skyview 31-0
About Heritage: The Timberwolves have dropped four straight after opening 2-0. Union's running attack gave Heritage fits last week. The Titans could have easily turned the game into a running-clock game if they just pounded the ball on the ground. QB Payton Monda has come on in relief the past two weeks and done some good things: 16 for 28 for 205 yards. RB Kalani Umiamaka (687 yards) is dangerous when given room to run.
About Mountain View: Preston Jones still leads the area in running despite missing Week 1. He has 780 yards in 87 carries and 7 TDs. Mountain View put up 600 yards offense against Battle Ground, but was shut out last week against Skyview.
Prep Proletariat says: Heritage's troubles with Union's ground game does not bode well for the Timberwolves against Mountain View
Prediction: Mountain View 34-13
Score Czar: Mountain View 28-27
EVERGREEN (2-4, 1-2) vs. BATTLE GROUND (2-4, 1-3)
When, where: 7 p.m., District Stadium, Battle Ground HS
Internet webcast: 360preps.com
Last week: Evergreen lost to Yelm 50-40; Battle Ground lost to Camas 77-21
About Evergreen: The Plainsmen's big-play capability was on display last week. Jerrin Williams had a 61-yard TD run, Rey Green had an 80-yard TD pass reception, Billy Nelson had a 42-yard TD pass play. But Evergreen's miscues (four interceptions thrown) and inability to stop Yelm (sophomore Brenden Thompson rushed for 347) killed them.
About Battle Ground: QB Gunner Talkington could top the 2,000-yard mark for passing in this game. He has thrown for 1,857 yards and 19 TDs. Despite their 1-3 league mark, the Tigers are still alive for a playoff spot. They need a win this week, then need Evergreen to beat Skyview next week.
Prep Proletariat says: Battle Ground and Evergreen has been a spirited rivalry. This game could end with a running clock or it could not end until Saturday morning with tons of yards and points for both teams. Turnovers likely will determine that. Evergreen's problems on defense is a big concern here.
Prediction: Battle Ground 48-20.
Score Czar: Evergreen 35-27
CAMAS (6-0, 3-0) vs. UNION (6-0, 3-0)
When, where: 8 p.m., McKenzie Stadium, Evergreen HS
Internet radio: elisportsnetwork.com/webcasts
Last week: Camas beat Battle Ground 77-21; Union beat Heritage 42-14
About Camas: What can we say about the Papermakers? They're good. QB Liam Fitzgerald has passed for 1,488 yards and 15 TDs. WR James Price has 36 catches for 667 yards and 6 TDs, and he's probably just as good as a defender. Bryan Kelly leads the ground game with 572 yards and 13 TDs. And the defense is very good. After Week 1, no team has been able to keep Camas below 49 points.
About Union: The Titans have a good ground game with a strong offensive line and RB Caleb Browning rushing for 767 yards and 13 TDs. The passing game has been inconsistent. The Titans will need all of their weapons this week.
Prep Proletariat says: Union needs to make this a defensive game, run the ball, shorten the game, keep it close. If Camas starts piling up points, I don't see Union being able to keep up.
Prediction: Camas 38-21
Score Czar: Camas 33-15
2A Greater St. Helens League
WASHOUGAL (3-3, 2-2) vs. HOCKINSON (6-0, 3-0)
When, where: 7 p.m., Nautilus Field, Hockinson HS
Last week: Washougal win Hudson's Bay 48-6; Hockinson beat Ridgefield 34-0.
About Washougal: The Panthers have been hot and cold. They scored 15 total points against R.A. Long and Woodland, put then put up 48 last week. Tristan Roseff added a wrinkle to the running game with two TDs. And Washougal completed 7 of 8 passes last week.
About Hockinson: The discussion with the Hawks starts with defense. They have allowed just three points all season and have five consecutive shutouts. RB Austen Johnson ranks third in the area with 716 yards rushing and 14 TDs.
Prep Proletariat says: Scoring 48 points last week will give Washougal some confidence. But Hockinson is not Bay.
Prediction: Hockinson 40-0.
Score Czar: Hockinson 38-0
HUDSON'S BAY (1-5, 0-3) vs. MARK MORRIS (0-6, 0-3)
When, where: 7 p.m., Memorial Stadium, Longview
Internet radio: klog.com
Last week: Hudson's Bay lost to Washougal 48-6; Mark Morris lost to Woodland 56-21
About Hudson's Bay: The numbers are not good for Bay. The Eagles have scored 25 total points over a five-game losing streak and has not held a team below 35 points. Bay threw almost as many interceptions (three) as completions (four) last week. Not good. And the running game has been inconsistent.
About Mark Morris: The winless Monarchs were impressive in hanging with Woodland for a half last week. Mark Morris trailed 21-12 at halftime before Eli Whitmire scored five TDs in the third quarter. The Monarchs had four players rush for 30 yards or more.
Prep Proletariat says: The Monarchs appear to be getting better each week. It's hard to say the same thing for Bay.
Prediction: Mark Morris 27-6
Score Czar: Mark Morris 24-15
1A Trico League
LA CENTER (3-3, 2-0) vs. STEVENSON (3-3, 2-0)
When, where: 7 p.m., Stevenson HS
Last week: La Center beat White Salmon 49-21; Stevenson beat Kalama 30-14.
About La Center: The Wildcats are gaining momentum as they make their playoff push through the Trico League. They are getting better and getting players back into the lineup. RB Cole Judd rushed for 122 yards last week, and QB Wyatt Aguirre was 6 for 9 for 93 yards.
About Stevenson: The Bulldogs had an up-and-down run through the non-league part of its schedule, but now may be approaching the potential many league coaches saw in them in the preseason. Josh Anderson rushed for 95 yards and two TDs last week, QB Colton Van Pelt ran for 57 yards and passed for 61. The defense has been really strong of late.
Prep Proletariat says: Both teams are getting better. But La Center started the season stronger than Stevenson, so we see the Wildcats keeping that pace.
Prediction: La Center 27-13
Score Czar: Stevenson 24-14
KALAMA (3-3, 1-1) vs. SETON CATHOLIC (1-4, 0-2)
When, where: 7 p.m., Doc Harris Stadium, Camas
Last week: Kalama lost to Stevenson 30-14; Seton Catholic lost to Castle Rock 14-6.
About Kalama: Kalama got off to a poor start against Stevenson and couldn't recover as Stevenson sealed the game late. But the Chinooks need a win this week to stay on course for a playoff berth. QB Isaac Truesdell passed for 192 yards on 15-of-29 passing.
About Seton Catholic: The Cougars defense kept them in the game against Castle Rock. But Seton failed to convert deep drives in Castle Rock territory into points. They'll need to do that against Kalama. Ryan James rushed for 77 yards last week.
Prep Proletariat says: Kalama bounces back to stay in Trico playoff hunt.
Prediction: Kalama 33-13
Score Czar: Kalama 26-12
Non-league
COLUMBIA RIVER (5-1) vs. SKYVIEW (4-2)
When, where: 7 p.m., Kiggins Bowl, Discovery MS
Television/webcast: Cable Ch. 28/360 preps.com
Last week: Columbia River beat Fort Vancouver 47-12; Skyview beat Mountain View 31-0
About Columbia River: In their wins, the Chieftains have been good, often very good. In their one loss, a 62-6 drubbing to Tumwater, they were really bad. So the question then becomes "Just how good are the Chieftains?" This game figures to provide that answer. Again, looking at the stats, you won't see much that pops out at you with River. But if you look hard, you'll see a team that gets contributions from many.
About Skyview: Skyview bounced back from a loss to Camas to roll past Mountain View as the Storm asserted themselves as a playoff contender. Other than that loss to Camas, the Storm defense has led the way with shutouts over league rivals Heritage and Mountain View and holding high-flying Battle Ground to nine points. Last week, the Storm brought balance on offense with 152 yards rushing from Josh Emmy and 224 passing from Zac Shomler.
Prep Proletariat says: A rematch of last year's game with an ending that was epic or infamous, depending on your viewpoint. Skyview has plenty of motivation to win this game, and enough talent to get job done.
Prediction: Skyview 24-14
Score Czar: Columbia River 24-23
FORT VANCOUVER (1-5) vs. RIDGEFIELD (2-4)
When, where: 7 p.m., Ridgefield Stadium, Ridgefield HS
Last week: Fort Vancouver lost to Columbia River 47-12; Ridgefield lost to Hockinson 34-0.
About Fort Vancouver: Coach Cal Szueber thought the Trappers showed some promise with a 15-play drive last week in the first half against River. Fort got no points but held the ball for more than eight minutes. So being able to move the ball is a good thing. Struggling to stop the other team is not so great. Opponents are averaging 54 points off Fort over past three games.
About Ridgefield: Nathan Eggleston was one of the area's top rushers with 578 yards and 5 TDs before he was hurt against R.A. Long two weeks ago. He did not play against Hockinson. The Spudders have dropped four straight since a 2-0 start. Noah Couch led the Spudders' ground game last week with 63 yards on 19 carries.
Prep Proletariat says: If Eggleston is back for Ridgefield, we'd feel better about picking the Spudders. But Fort's defense has been lacking of late, so we'll go with Spuds just the same.
Prediction: Ridgefield 23-14
Score Czar: Ridgefield 28-9
PRAIRIE (2-4) vs. W.F. WEST (3-2)
When, where: 7 p.m., WF West HS
Internet radio: kelaam.com
Last week: Prairie lost to R.A. Long 26-7; W.F. West lost to Kelso 20-19
About Prairie: All the good feelings after back-to-back wins over Fort Vancouver and Mark Morris evaporated quickly last week as the Falcons couldn't get anything going against R.A. Long. Jordan Marti, who rushed for 313 yards in the previous two weeks, was held to -1 yard on two carries last week. Kyle Schulson led the Prairie rushing attack with 43 yards.
About W.F. West: The Bearcats got 179 yards passing from QB Elijah Johnson, but could only muster 22 yards on the ground. W.F. West's two losses have come to 3A GSHL teams (Columbia River, Kelso), and the Bearcats have played both tough. Playing in the four-team 2A Evergreen Conference makes it hard for teams to fill out their non-league schedule. W.F. West had a bye week in September.
Prep Proletariat says: We're having a hard time figuring out Prairie. Maybe that's the Falcons' problem, too. So, we'll just go with W.F. West at home.
Prediction: W.F. West 26-13
Score Czar: W.F. West 21-10
Other games, Friday
Non-league: Kelso (4-2) at Black Hills (3-3), 7 p.m.
Trico: White Salmon (3-3, 0-2) at Castle Rock (2-4, 1-1), 7 p.m.