Week 6 prep football preview, predictions … and another week of perfection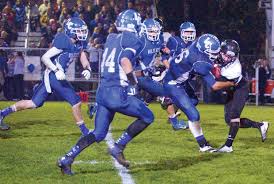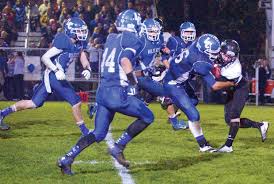 Another week, another week of perfection for the Prep Proletariat.
The Prep Proletariat followed up his 11-0 week in Week 4 with a 12-0 week in Week 5.
That moved his season record to 55-10 (84.6 percent).
But his week of perfection was even better than that. Check out these scores.
Predicted: Battle Ground 41, Heritage 24; Actual: Battle Ground 33, Heritage 22.
Predicted: La Center 29, Castle Rock 13; Actual: La Center 28, Castle Rock 7
Predicted: Bethel 30, Mountain View 24; Actual: Bethel 27, Mountain View 21
Predicted: Woodland 48, Washougal 6; Actual: Woodland 48, Washougal 7
And the coup de grace …
Predicted: Hockinson 48, Hudson's Bay 0; Actual: Hockinson 48, Hudson's Bay 0.
It led to a very confident Prep Proletariat for our weekly meeting.
ME: Well, another perfect week. Wow! You're on fire.
PP: Yes. Yes, I am.
ME: Have you heard any feedback from people after back-to-back perfect weeks, including a perfect score last week?
PP: No. Not a peep. People like to holler after I pick against their team. They'll say "Let's prove the Prep Proletariat wrong." And then after the games are played, nothing. I guess I should take the silence as a compliment.
ME: You haven't even heard anything from the Score Czar?
PP: Who?
ME: The Score Czar. You know, your antithesis?
PP: Oh, him. No, not a word, unless that's him making the cricket noises outside my window at night.
ME: OK, let's talk about Week 6. Any games of concern for you?
PP: Well, anytime you have a team that you've seen play a team that you haven't seen, that's a concern. So Evergreen-Yelm falls in that category. And the wild card of a team starting a new QB like R.A. Long throws a wrinkle into the things. Otherwise, I feel good.
ME: Twelve more games this week. Four swing games between you and the Score Czar.
PP: Yeah, I kind of thought we'd start agreeing more and more. Interesting.
Thursday's game
4A Greater St. Helens League
CAMAS (5-0, 2-0) vs. BATTLE GROUND (2-3, 1-2)
When, where: 7 p.m., District Stadium, Battle Ground HS
Internet radio: elisportsnetwork.com/webcasts
Last week: Camas beat Skyview 56-24; Battle Ground beat Heritage 33-22
About Camas: Ever since a two-point win in Week 1, the Papermakers have been rolling, winning the next four games by an average of 46 points. QB Liam Fitzgerald is No. 2 in the area in passing with 1,235 yards on 14 TDs. James Price leads the area with 32 catches for 565 yards and 6 TDs.
About Battle Ground: QB Gunner Talkington had another big game last week. He leads the area with 1,670 yards and 16 TDs. Parker Randle and Chris Waters have shared the receiving chores. Randle has 28 catches for 503 yards and 5 TDs, Waters had 29 catches for 424 yards and 7 TDs.
Prep Proletariat says: These two teams played a wild one last year, with Camas winning 85-38. It could be a late night on a Thursday night, but the Papermakers are just too strong.
Prediction: Camas 58-20
Score Czar: Camas 43-3
Friday's games
4A Greater St. Helens League
UNION (5-0, 2-0) vs. HERITAGE (2-3, 0-3)
When, where: 7 p.m., McKenzie Stadium, Evergreen HS
Internet radio: elisportsnetwork.com/webcasts
Last week: Union beat Evergreen 55-6; Heritage lost to Battle Ground 33-22
About Union: The Titans' offense was sluggish at times in the first two weeks of the season. But they've been rolling the past three, averaging 52 points a game. Union likes to share the running chores, but Caleb Browning has been the big yard gainer recently. He's No. 2 in the area with 626 yards and 11 TDs. He rushed for 185 yards last week.
About Heritage: The Timberwolves opened 2-0 for the first time in school history, but it's been rough for Heritage ever since. It doesn't figure to get much easier this week. RB Kalani Umiamaka (591 yards, 7 TDs) suffered an ankle injury last week that slowed him down. But Payton Monda came in at QB and added a spark on offense.
Prep Proletariat says: Not much to say here. Union is just too strong.
Prediction: Union 48-6.
Score Czar: Union 35-6
MOUNTAIN VIEW (1-4, 1-1) vs. SKYVIEW (3-2, 2-1)
When, where: 8 p.m., Kiggins Bowl, Discover MS
Last week: Mountain View lost to Bethel 27-21; Skyview lost to Camas 56-24
About Mountain View: The Thunder might be the best 1-4 teams in the state, if that's any consolation. Their four losses have come to teams that are a combined 18-2. RB Preston Jones leads the region in rushing with 690 yards and seven TDs in just four games. QB Lex Reese has passed for 738 yards.
About Skyview: The Storm hung tough with Camas with a half before the Papermakers ran away. That's something to build on going forward. QB Zac Shomler has passed for 901 yards, but his completion rate is just over 50 percent.
Prep Proletariat says: The Storm need to bounce back, and the Thunder are dangerous. This game is basically a playoff game for both teams. I like the Storm to prevail.
Prediction: Skyview 31-21
Score Czar: Skyview 35-13
3A Greater St. Helens League
FORT VANCOUVER (1-4, 0-2) vs. COLUMBIA RIVER (4-1, 0-0)
When, where: 7 p.m., Chieftain Stadium, Columbia River HS
Last week: Fort Vancouver lost to Kelso 65-12; Columbia River lost to Tumwater 62-6
About Fort Vancouver: The Trappers are 0-2 in the 3A GSHL and have been outscored 114-12. And let's face it. Kelso and Prairie are not as good as Columbia River. The Trappers simply lack the bodies to stop a good team on the ground right now.
About Columbia River: Penalties and turnovers helped turn things from bad to worse against a strong Tumwater team last week. The Chieftains will be fired up to right the ship in their first league game of the season.
Prep Proletariat says: Not a good setup for Fort.
Prediction: Columbia River 48-6
Score Czar: Columbia River 16-0
2A Greater St. Helens League
WASHOUGAL (2-3, 1-2) vs. HUDSON'S BAY (1-4, 0-2)
When, where: 5 p.m., Kiggins Bowl, Discovery MS
Last week: Washougal lost to Woodland 48-7; Hudson's Bay lost to Hockinson 48-0.
About Washougal: The Panthers opened the season 2-1 on the strength of their defense and clock-controlling running game. Both of those things were negated the past two games. RB Brandon Casteel has rushed for 424 yards this season.
About Hudson's Bay: After opening the season with 20-19 win over Fort Vancouver, the Eagles have scored just 19 points, and seven of those came on an interception return for a TD. The Eagles don't have rusher who has gained more than 83 yards all season. That puts a lot of pressure on QB Jeremy Matheny (474 yards passing).
Prep Proletariat says: Both of these teams need something positive. Washougal's ability to run the ball will be the key.
Prediction: Washougal 20-13
Score Czar: Washougal 28-7
RIDGEFIELD (2-3, 0-3) vs. HOCKINSON (5-0, 2-0)
When, where: 7 p.m., Nautilus Field, Hockinson HS
Last week: Ridgefield lost to R.A. Long 7-5; Hockinson beat Hudson's Bay 48-0
About Ridgefield: The Spudders played an outstanding defensive game last week against R.A. Long. R.A. Long had only 38 rushing yards last week. But the Spudder sputtered on offense. They won't be able to do that against Hockinson and have a chance.
About Hockinson: The Hawks have shut out four consecutive teams, all while scoring at least 41 games in each of those games. The Hawks have big one-two punch in the running game. Austen Johnson has rushed for 589 yards and an area-best 13 TDs. Tommy Harshaw has rushed for 587 yards.
Prep Proletariat says: The Hawks are too tough for the Spudders.
Prediction: Hockinson 41-0
Score Czar: Hockinson 33-0
MARK MORRIS (0-5, 0-2) vs. WOODLAND (5-0, 3-0)
When, where: 7 p.m., Woodland Stadium, Woodland HS
Internet radio: klog.com
Last week: Mark Morris lost to Prairie 38-14; Woodland beat Washougal 48-7.
About Mark Morris: The Monarchs failed to score in three consecutive games before scoring 14 last week. Woodland is a different team than Prairie.
About Woodland: RB Eli Whitmire has rushed for 568 yards on 56 carries. For those not good at match, that's 10 yards a carries. And he scores a touchdown every five time he carries the ball. Oh, and he scored a touchdown on a punt return last week.
Prep Proletariat says: Woodland rolls.
Prediction: Woodland 48-0
Score Czar: Woodland 45-0
1A Trico League
STEVENSON (2-3, 1-0) vs. KALAMA (3-2, 1-0)
When, where: 7 p.m., Kalama HS
Last week: Stevenson beat Seton Catholic 58-13; Kalama beat White Salmon 21-13.
About Stevenson: The Bulldogs had their best offensive game of the season last week. And that's all we know about that game.
About Kalama: QB Isaac Truesdell was a very efficient 22 for 25 passing for 225 yards and 3 TDs against White Salmon. He has not thrown an interception all season.
Prep Proletariat says: Stevenson will need a break to win this game, and I don't think Truesdell is willing to give the Bulldogs one.
Prediction: Kalama 28-12
Score Czar: Stevenson 24-9
WHITE SALMON (3-2, 0-1) vs. LA CENTER (2-3, 1-0)
When, where: 7 p.m., Wildcat Stadium, La Center HS
Last week: White Salmon lost to Kalama 21-13; La Center beat Castle Rock 28-7,
About White Salmon: Shut down QB Tanner Rabinowitz, you shut down the Bruins. He's the spark that leads the team. Also, the Bruins defense is solid and keeps them in games.
About La Center: Three tough non-league games against ranked 2A teams have toughened up the Wildcats for league play. Last week, La Center rushed for 345 yards on Castle Rock. And getting Cole Judd into the lineup is a big part of that. Judd is 14th in the region in rushing with 324 yards, and that is just in two games. QB Wyatt Aguirre is the Wildcats' leading rusher with 392 yards.
Prep Proletariat says: Kalama beat White Salmon with the passing game. La Center would prefer to win on the ground. Look for the Wildcats to get better and better.
Prediction: La Center 27-14
Score Czar: White Salmon 21-7
CASTLE ROCK (1-4, 0-1) vs. SETON CATHOLIC (1-3, 0-1)
When, where: 7 p.m., Doc Harris Stadium, Camas
Last week: Castle Rock lost to La Center 28-7; Seton Catholic lost to Stevenson 58-13.
About Castle Rock: QB Mason Klingberg passed for 91 yards last week, but 63 came on one pass. The running game struggled to get going against La Center.
About Seton Catholic: The Cougars came off a bye week and struggled against Stevenson last week. They are led by QB Will Noce-Sheldon.
Prep Proletariat says: Both teams have faced King's Way Christian, and Seton actually had an easier time with the Knights. But the Rockets played La Center tough for a half.
Prediction: Castle Rock 26-20
Score Czar: Seton Catholic 23-20
Non-league
EVERGREEN (2-3) vs. YELM (3-2)
When, where: 7 p.m., Yelm HS
Last week: Evergreen lost to Union 55-6; Yelm beat Stadium 16-6
About Evergreen: After two tough, lopsided losses to Camas and Union, the Plainsmen need a solid showing this week to finish the season strong and stay in the postseason mix in the 4A GSHL. Evergreen must eliminate mistakes and penalties, and let their playmakers make plays.
About Yelm: Cool moment for the Tornados last week. Junior QB Devante Pearson was surprised before last week's game at Stadium by his father, Army Command Sgt. Major Willie Pearson, who returned from a seven-month tour in Afghanistan. Yelm went on to win 16-6. The Tornados are 3-2. That's the good news. But their wins came over a 2-3 2A team (Steilacoom), a 1-4 3A team (Foss) and winless 4A team (Stadium). The two teams that beat Yelm are league rivals who are now 2-3.
Prep Proletariat says: Evergreen has its holes, but the Plainsmen are good enough to beat average teams. And I think that's what Yelm is.
Prediction: Evergreen 30-13
Score Czar: Evergreen 23-21
R.A. LONG (4-1) vs. PRAIRIE (2-3)
When, where: 7 p.m., District Stadium, Battle Ground HS
Internet radio: www.kbamcountry.com
Last week: R.A. Long beat Ridgefield 7-5; Prairie beat Mark Morris 38-14.
About R.A. Long: The Lumberjacks' surprising start to the season got hit with a major hurdle with QB Owen Bertram was lost last week with broken collarbone. Bertram passed for 135 yards last week before he was hurt. The Lumberjacks rushed for 37 yards against Ridgefield.
About Prairie: The Falcons have steadily improved after a very, very slow start. They are finding success with Kevin Aguirre at QB. He passed for 111 yards and a TD last week. RB Jordan Marti has been big with 168 yards rushing last week.
Prep Proletariat says: A couple of weeks ago, I would have easily gone with R.A. Long. Without Bertram, that changes things for me.
Prediction: Prairie 23-16
Score Czar: R.A. Long 20-7