Week 5 prep football previews, predictions … and perfection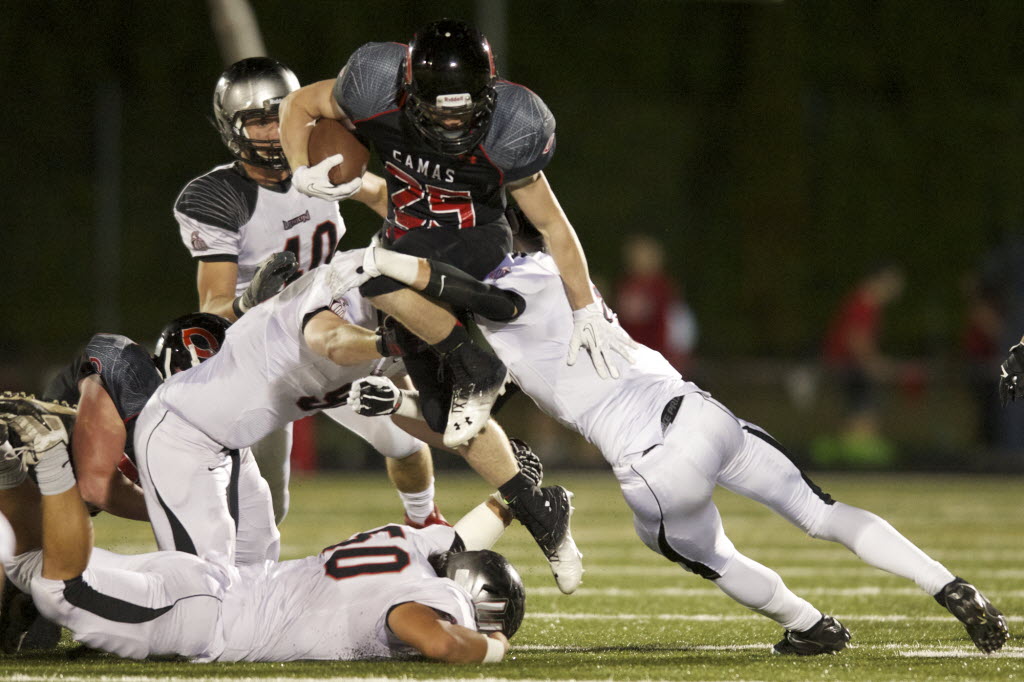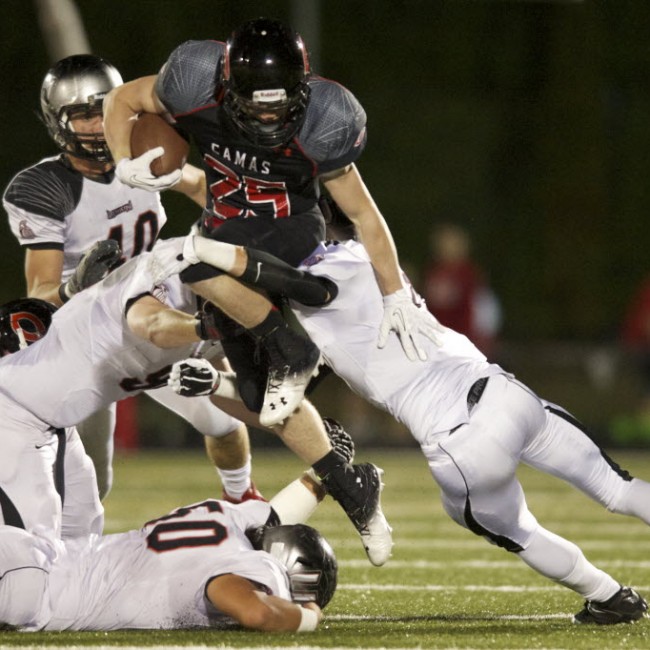 At our weekly meeting, the Prep Proletariat was downright giddy.
And why not. Week 4 brought the first perfect week of prognosticating for the Prep Proletariat — 11 for 11 on prep football picks. That pushed his season mark to 43-10 or 81 percent.
And to make him even more insufferable, his first perfect week also happened the fall on the first week he went head-to-head with the Score Czar.
When his cohorts lifted the blindfold this week, I saw the Prep Proletariat puffing on a victory cigar with his boots up on his desk.
PREP PROLETARIAT: Come in, come in. Would you care for a cigar? Straight from Havana.
ME: No thanks. Let's talk about your Friday night.
PP: Before or after the party?
ME: Party?
PP: Well, it was more of a gathering of friends. You know, Karl, Joey, Fidel, Mao. We painted the town red.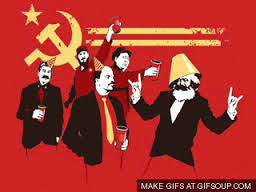 ME: Well it was a pretty good week.
PP: Pretty good?!? It was great. 11 for 11, plus 4 for 4 on the games the Score Czar differed with me. And not only that, if you looked at the scores of the games that we both picked correctly, my scores were closer to the actual score than his.
ME: Well, I don't want to be a Score Czar defender, but his system is based on data. The more data that goes into the computer, the better the results that come out. That's why he doesn't release score predictions until Week 4. He figures to get better and better each week.
PP: Well, that may be. But the way I see it, it's a system that's flawed at the beginning, and then just becomes less and less flawed as the season goes along. I'd rather trust the decisions created by the hard work of the common man.
ME: Well, let's take a lot at this week's games. Twelve games, and it looks like you and the Score Czar only differ on two of the 12 games.
PP: Oh really? Well, good for him. He has a good chance to go 10-2 this week.
ME: Well, we'll see.
Friday's games
4A Greater St. Helens League
BATTLE GROUND (1-3, 0-2) vs. HERITAGE (2-2, 0-2)
When, where: 5 p.m., McKenzie Stadium, Evergreen HS
Internet radio: elisportsnetwork.com
Last week: Battle Ground lost to Mountain View 56-42; Heritage lost to Skyview 49-0
About Heritage: RB Kalani Umiamaka had his first tough game, being limited to 38 yards rushing on 15 carries. Umiamaka still ranks third in the region with 494 yards. Heritage QBs threw three interceptions against the tough Skyview defense. Timberwolves can expect better success against a Battle Ground defense that has allowed 100 points in two league games.
About Battle Ground: The eye-boggling numbers in the stat book was the silver lining after a second consecutive league loss for the Tigers. QB Gunner Talkington threw for 501 yards. RB Bailey Buckner rushed for 105 yards. Talkington's 1,310 passing yards this season are more than 400 more than the next highest total in the region. Chris Waters leads the region in receiving with 406 yards.
Prep Proletariat says: Look for a nice bounce-back game for Umiamaka. But even though the Battle Ground defense has struggled, it's hard to see the Timberwolves keeping up with the potent Tiger offense.
Prediction: Battle Ground 41-24
Score Czar: Heritage 34-25
SKYVIEW (3-1, 2-0) vs. CAMAS (4-0, 1-0)
When, where: 7 p.m., Doc Harris Stadium, Camas
Last week: Skyview beat Heritage 49-0; Camas beat Evergreen 49-7
About Skyview: Skyview's offense is efficient, but not particularly flashy. RB Josh Emmy averages 88 yards a game on the ground. QB Zac Shomler ranks third in the region with 707 yards passing. But the Storm's real strength is their defense. Skyview held potent Battle Ground to nine points. They have allowed 16 total points in their three wins. The one team they didn't stop, Woodinville, scored a nice win over Skyline.
About Camas: It's hard to imagine that this year's group of Papermakers is better than last year. But the 2014 Camas squad is building a good case. Since beating Chiawana 16-14 in Week 1, Camas has outscored foes 166-13. And the Papermakers seem capable of beating teams by running the ball, passing the ball or with its defense. WR James Price ranks second in receiving yards in the region with 23 catches for 394 yards.
Prep Proletariat says: Camas figures to have two tough games from here to the playoffs. This is one of them. This could be a classic or validation of just how good the Papermakers can be this season.
Prediction: Camas 31-14
Score Czar: Camas 28-7
UNION (4-0, 1-0) vs. EVERGREEN (2-2, 1-1)
When, where: 8 p.m., McKenzie Stadium, Evergreen HS
Internet radio: elisportsnetwork.com
Last week: Union beat Spanaway Lake 49-7; Evergreen lost to Camas 49-7
About Union: The Titans don't have a rusher in the top five of the area's leading rusher. But that's because Union spreads the ball around. Caleb Browning (441 yards, 6 TDs), Alex Berfanger (265, 3 TDs) and Jack Bauer (191, 4 TDs) each can hurt defenses. And with a ground attack like that, QB Nolan Henry hasn't had to throw the ball much. Still he has thrown for 490 yards. And the defense has been stellar.
About Evergreen: The Plainsmen have been a Jeckyll and Hyde team, scoring 103 points in their two wins and seven in their two losses. What does this mean? Well, it means the Plainsmen have the playmakers to exploit suspect defenses, but lack the discipline and strength up front to overpower staunch defenses.
Prep Proletariat says: This game will be decided in the trenches, not in the wings. And that's not good news for Evergreen.
Prediction: Union 41-13
Score Czar: Union 35-12
3A Greater St. Helens League
KELSO (2-2, 1-0) vs. FORT VANCOUVER (1-3, 0-1)
When, where: 5 p.m., Kiggins Bowl, Discovery MS
TV/webcast: Fort Sports, cable Ch. 29; 360preps.com
Last week: Kelso lost to Centralia 51-10; Fort Vancouver lost to Prairie 49-0
About Kelso: It's an odd stat, but Kelso has scored 23 total points in the last three games yet is 1-2 over those games. Turnovers fed the 51-10 loss to Centralia last week. Yet despite all those struggles, the Hilanders can all but clinch a postseason berth with a win over the Trappers.
About Fort Vancouver: Fort's promising start – a narrow loss to Bay and a big win over The Dalles – seems lost has the Trappers failed to find the end zone in their last two games. Last week's loss to Prairie must be particularly deflating to the Trappers. Yet, Fort moved the ball against Prairie, but mistakes prevented those drives from paying off.
Prep Proletariat says: With all of their recent issues, the Trappers can keep their playoff hopes alive with a win this week. But after allowing 49 points to a team that had scored seven points in their previous three games is not a good sign.
Prediction: Kelso 26-7
Score Czar: Kelso 21-16
2A Greater St. Helens League
R.A. LONG (3-1, 2-0) vs. RIDGEFIELD (2-2, 0-2)
When, where: 7 p.m., Ridgefield Stadium, Ridgefield HS
Online radio: kbamcountry.com
Last week: R.A. Long beat Washougal 41-8; Ridgefield lost to Woodland 48-15
About R.A. Long: This was supposed to be a rebuilding year of sorts for R.A. Long. But the Lumberjacks now appear to be part of a three-team race for the 2A GSHL title. R.A. Long stacked the box to stop Washougal RB Brandon Casteel, limiting him to 13 yards. The Lumberjacks outgained Washougal 229-61 in the first half. R.A. Long lacks the single standout, making the Jacks hard to stop.
About Ridgefield:  RB Nathan Eggleston is No. 2 in the region in rushing with 496 yards and 5 TDs on 98 carries. But Eggleston will face a tough challenge against R.A. Long's defense. That may mean a bigger role for QB Jonah Roberts, who has passed for 451 yards and 6 TDs.
Prep Proletariat says: This is Game 2 of a tough three-game stretch for the Spudders. If they can score a win in this stretch, it would be a huge lift for the program. But the Lumberjacks have just been playing too well since a season-opening loss to Columbia River.
Prediction: R.A. Long 33-13
Score Czar: R.A. Long 25-7
WOODLAND (4-0, 2-0) vs. WASHOUGAL (2-2, 1-1)
When, where: 7 p.m., Fishback Stadium, Washougal HS
Last week: Woodland beat Ridgefield 48-15; Washougal lost to R.A. Long 41-8
About Woodland: The Beavers gave up their first points and trailed for the first time this season when they fell behind 7-0 to Ridgefield. That didn't last long as Woodland built a 48-7 lead by the fourth quarter. Ridgefield focused to stop RB Eli Whitmire, so QB Wyatt Harsh was happy to complete 13 of 17 passes for 247 yards and six TD passes. Whitmire has rushed for 464 yards and 8 TDs on the season.
About Washougal: RB Brandon Casteel has rushed for 292 of his 358 yards in one game this season. The Panthers' attack is a run-first offense. QB Kyron Carlson has completed just 13 passes this season.
Prep Proletariat says: The Panthers' 41-8 loss to R.A. Long last week was not a good sign for the Panthers against Woodland.
Prediction: Woodland 48-6
Score Czar: Woodland 35-0
HOCKINSON (4-0,1-0) vs. HUDSON'S BAY (1-3, 0-1)
When, where: 8 p.m., Kiggins Bowl, Discovery MS
TV/webcast: Fort Sports, cable Ch. 29; 360preps.com
Last week: Hockinson beat Mark Morris 48-0; Hudson's Bay lost to La Center 35-12
About Hockinson: Tommy Harshaw leads the Hawks with 471 yards on 40 carries and 6 TDs. Austen Johnson has 429 yards on 50 carries and 8 TDs. But the real story this season for the Hawks has been their defense. Hockinson has allowed just three points all season. They have not allowed a point since giving up a fourth-quarter field goal against La Center in Week 1, outscoring teams 138-0 since then.
About Hudson's Bay: Since opening the season with 20-19 win over Fort, things have not gone well for the Eagles. They've lost their last three games by a combined 135-19. QB Jeremy Matheny has passed for 407 yards.
Prep Proletariat says: The Hawks haven't allowed a touchdown all season. No reason to think this week will be any different
Prediction: Hockinson 48-0
Score Czar: Hockinson 40-0
1A Trico League games
CASTLE ROCK (1-3) vs. LA CENTER (1-3)
When, where: 7 p.m., Wildcat Stadium, La Center HS
Last week: Castle Rock beat King's Way Christian 21-14; La Center beat Hudson's Bay 35-12
About Castle Rock: The Rockets got their first win of the season, beating a King's Way Christian team that is playing an independent non-league schedule. Castle Rock gained 235 yards on the ground with three RBs gaining at least 50 yards.
About La Center: La Center also got its first win last week. But unlike Castle Rock, the Wildcats stacked their non-league slate by playing three Class 2A teams that are ranked in the top 10. Those games didn't go so well, but Week 4 was better. QB Wyatt Aguirre ran for 148 yards and passed for only 27 on 3-of-6 passing. Cole Judd rushed for 167 yards.
Prep Proletariat says: La Center started the season 0-3 being outscored 133-3. But there's a good chance the Wildcats finish the year 6-3 and Trico League champions.
Prediction: La Center 29-13
Score Czar: La Center 21-12
SETON CATHOLIC (1-2) vs. STEVENSON (1-3)
When, where: 7 p.m., Stevenson Stadium, Stevenson HS
Last week: Seton Catholic was idle; Stevenson lost to Rainier 22-20
About Seton Catholic: The Cougars are coming off an unusual bye week. QB Will Noce-Sheldon has rushed for 278 yards on 50 carries, and passed for 175 yards. They've played a couple of tough teams in Blanchet Catholic of Salem and North Beach after opening with win over King's Way Christian.
About Stevenson: The Bulldogs missed a chance at comeback against Rainier (Ore.) last week when a fourth-quarter two-point conversion failed. QB Colton Van Pelt bounced back from an injury in Week 3. He has passed for 278 yards. Josh Anderson has rushed for 158 yards.
Prep Proletariat says: League coaches felt like Stevenson may be a playoff contender in the Trico, but the early season has been a bit of struggle for the Bulldogs. A win this week would help get things going right
Prediction: Stevenson 26-19
Score Czar: Stevenson 21-8
Non-league game
TUMWATER (4-0) vs. COLUMBIA RIVER (4-0)
When, where: 7 p.m., Chieftain Stadium, Columbia River HS
Internet radio: elisportsnetwork.com
Last week: Tumwater beat Lake City (Idaho) 49-24; Columbia River beat Black Hills 45-7
About Tumwater: Playing teams from the upper classifications has not been an issue to the Thunderbirds. They have wins over 3A Capital and 4A Timberline. Last week, they beat a previously unbeaten Lake City team that routed 4A Central Valley and Lewis & Clark and Shadle Park, a team ranked just ahead of Columbia River in the 3A rankings. Tumwater has lost twice in the last 31 games, and both losses came to Lynden in 2A state title games.
About Columbia River: QB Gabe Evenson ranks fourth in the region in passing, completing 61 of 101 attempts for 643 yards and 11 TDs. Nathan Hawthorne is his top target with 22 catches for 211 yards and 6 TDs. The Chieftains spread the running attack around, led by Vincent Daniels with 216 yards. Evenson has rushed for 168. But River's defense has been solid with two shutouts and giving up seven points in a third.
Prep Proletariat says: This is the fifth 2A opponent for Columbia River. But none has been a good as Tumwater. This used to be a classic Southwest Washington matchup. It could be again.
Prediction:  Tumwater 27-20
Score Czar: Columbia River 26-23
MOUNTAIN VIEW (1-3) vs. BETHEL (4-0)
When, where: 7 p.m., Art Crate Stadium, Bethel HS, Spanaway
Last week: Mountain View beat Battle Ground 56-42; Bethel beat Rogers-Puyallup 30-23
About Mountain View: Despite missing Week 1, Preston Jones leads the region in rushing with 501 yards on 49 carries. Garrett Jones has rushed for 295 yards. Both had huge games against Battle Ground last week. QB Lex Reese has passed for 630 yards, but exactly half of those yards came in Week 1 loss to Auburn when Preston Jones wasn't in the lineup. The defense has been an issue. The Thunder are giving up an average of 44 points a game.
About Bethel: The Braves are undefeated. That's the good news. The flip side of that is that the Braves should be undefeated. Their opponents, so far, have a combined record of 2-14. Bethel coach Mark Iddins said he couldn't remember the last time the Braves started 4-0. Bethel had to fend off a late drive by Rogers last week to win. QB Bryce Missey passed for 155 yards and rushed for 65.
Prep Proletariat says: Bethell should not be confused with Bothell, even though Bethel is unbeaten like Bothell. This is a match-up of Bethel's defense vs. Mountain View's offense.
Prediction: Bethel 30-24
Score Czar: Bethel 35-14
PRAIRIE (1-3) vs. MARK MORRIS (0-4)
When, where: 7 p.m., Longview Memorial Stadium, R.A. Long HS
Online radio: KLOG
Last week: Prairie beat Fort Vancouver 49-0; Mark Morris lost to Hockinson 48-0.
About Prairie: The Falcons broke out offensively by running the ball on Bay. Jordan Marti rushed for 145 yards on just seven carries. Kyle Schulson rushed for 131 yards on just seven carries. QB Kevin Aguirre completed both of his attempts for 55 yards, one for a 35-yard TD.
About Mark Morris: This is not the Monarchs you're used to seeing. Mark Morris has been outscored 161-6 this season and are coming off three consecutive shutouts.
Prep Proletariat says: Before last week, Prairie had outscored Mark Morris for the season 7-6. That one-point margin grew last week, as it should again this week.
Prediction: Prairie 27-6
Score Czar: Prairie 28-0
Other games, Friday
1A Trico League: Kalama (2-2) at White Salmon (3-1), 7 p.m.