Week 3 prep football previews, predictions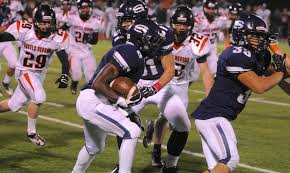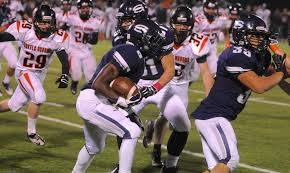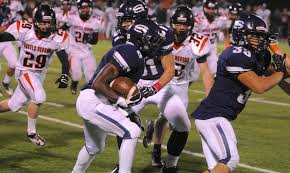 So I went to talk to the Prep Proletariat about his Week 2 picks earlier this week.
And ever since he started his Twitter account, the Prep Proletariat has become a bit more paranoid. So we had to take some elaborate steps to set up our meeting.
I met a couple of his contacts at a local Starbucks (an interesting choice for a meeting spot). They blindfolded me and took me to the Prep Proletariat's hideout.
When my eyes were uncovered, I was greeted by the sight of the Prep Proletariat sucking on a venti Chocolate Chip Frappuccino and looking as confident as ever.
So we started to talk football.
ME: So, PP (we're close). You went 11-4 last week on picking winners. That takes you to 22-7 on the season or a 76 percent success rate. Are you pleased?
PREP PROLETARIAT: Eh. It's a good start. But we will not be satisfied until we've achieved perfection.
ME: Well, the let's start with your misfires.
PP: If you insist.
ME: Woodinville-Skyview, Juanita-Mountain View, Beamer-Evergreen and White Salmon-Woodland. The common thread there with three of those games is that they involved Seattle-area teams.
PP: Yes, you see I have a team of advisors to help me with my predictions. Even though it might seem like it, I can't actually be everywhere. And it wasn't a good week for my advisors.
ME: What are you going to do fix that?
PP: Well, I sent them off to a long winter vacation to help them reconsider their scouting habits.
ME: Winter vacation? But it's September.
PP: Do you not understand the word "long"?
ME: Oh, I see. Well, let's talk about some of your wins. Some folks on Twitter pointed out how some of your scores were kind of "off." You had Camas, Hockinson and Woodland winning close game, and yet those three teams won by an average of 43 points.
PP: Did they win?
ME: Yes, but by a lot more than you predicted.
PP: Did they win?
ME: Yes, but—
PP: The only thing that matters is wins and losses. Everything else is just decoration.
ME: OK then. Let's talk about a near miss. You had Battle Ground beating Spanaway Lake 39-27, and the Tigers won 38-29. Pretty close.
PP: Yes, I was actually quite upset by that. Spanaway Lake made a two-point conversion on its last TD, and Battle Ground didn't go for two on its last TD. Reverse those and we were spot on. I'm going to have to talk to Coach Peck about that.
ME: Week 3 brings league play. Are there games this week that gave more trouble than others?
PP: Evergreen-Heritage and Skyview-Battle Ground. Really deliberated over those ones. Also thought a bit about Ridgefield-Washougal and White Salmon-Fort.
ME: Well, at least, none of those teams come from the Seattle area? Right?
PP: You know, we still have room on the train east.
ME: OK, well, thanks for your time.
Friday's games
4A Greater St. Helens League
HERITAGE (2-0) vs. EVERGREEN (1-1)
When, where: 5 p.m., McKenzie Stadium
Internet radio: elisportsnetwork.com
Last week: Heritage beat Hudson's Bay 50-7; Evergreen lost to Todd Beamer 33-0
About Heritage: The Timberwolves have new confidence under coach Chuck Hawthorne. Hawthorne has led the T-Wolves to the 2-0 start in school history. … The Heritage defense has not allowed a point all season. The only opponent's points came on an interception return.  … Junior RB Kalani Umiamaka leads the county in rushing with 315 yards. Almost all of his 165 yards last week were gained in the first half. … Hawthorne said Heritage's 50-7 win was "not pretty." He was concerned with the center-to-quarterback exchange. After several bad snaps in the opener, the issue continued into Week 2. "We worked on that last week," Hawthorne said. "And we'll just keep working on that."
About Evergreen: After scoring 56 points in their opener, the Plainsmen were shut out in Week 2. Todd Beamer used a power running game to overpower Evergreen. The Titans defense bottled up Evergreen's runners, giving them little room to use their explosive speed. And the Plainsmen completed only 2 of 15 passes.
Prep Proletariat says: These two teams enter this game from two different points of view. Evergreen trying to regroup, while Heritage brims with confidence. Both coaches are trying to change the culture of their programs. While I like what Hawthorne is doing at Heritage, Evergreen's weapons likely will hard to contain.
Prediction: Evergreen 28-23
SKYVIEW (1-1) vs. BATTLE GROUND (1-1)
When, where: 7 p.m., District Stadium, Battle Ground HS
Last week: Skyview lost to Woodinville 28-16; Battle Ground beat Spanaway Lake 38-29
About Skyview: The Storm's defense has been their strength so far this season. But the offense has struggled to produce points. Skyview has scored 33 total points in two games, and one TD was scored by the defense. RB Josh Emmy has rushed for 214 yards. QB Zac Shomler has passed for 307 yards, but has a sub-.500 completion percentage.
About Battle Ground: QB Gunner Talkington leads the county in passing with 661 yards, more than 200 than the next highest total. His eight TD passes are double the next highest total. After rushing for zero yards in Week 1, Talkington rushed for 120 yards last week. However, no RB has gained more than 36 yards this season. The Battle Ground has allowed an average of 36 points in two weeks.
Prep Proletariat says: History says this is an easy one. Skyview has won the last nine meetings between these two teams by an average margin of 35.6 points. Last year, we predicted that Battle Ground would end the Storm run, and Skyview said "Not so fast my friend," making us look silly by winning 44-24. But this is also the first Skyview team since 2007 that played consecutive games without scoring at least 20 points. So we'll be silly again.
Prediction: Battle Ground 27-20
MOUNTAIN VIEW (0-2) vs. UNION (2-0)
When, where: 8 p.m., McKenzie Stadium
Internet radio: elisportsnetwork.com
Last week: Mountain View lost to Juanita 56-29; Union beat Curtis 24-7
About Mountain View: The Thunder welcomed back Preston Jones to the attack. Jones rushed for 164 yards on 15 carries in his season debut last week. But Mountain View had a hard time matching up with Juanita's speed. This week, the Thunder will need to match up with Union's tough defense. Having a more balanced attack with QB Lex Reese (418 yards passing) will help.
About Union: After giving up big plays in the first half against Federal Way, the Union defense has tightened up, allowing on 13 points in their last six quarters. This is Union's home opener after playing the first two weeks up in the Puget Sound area. Union's ground game is led by Alex Berfanger (178 yards) and Caleb Browning (140).
Prep Proletariat says: The Thunder are looking to avoid their first 0-3 since opening 0-4 in 2006. And they'll try to do it against a team the Thunder have never beaten.  Union is 4-0 in this series, winning by an average score of 30-7.
Prediction: Union 31-14
3A Greater St. Helens League
PRAIRIE (0-2) vs. KELSO (1-1)
When, where: 7 p.m., Schroeder Field, Kelso HS
Internet radio: 1015thewave.com
Last week: Prairie lost to Hockinson 41-0; Kelso lost to R.A. Long 22-3
About Prairie: Two weeks into the season, and the Falcons have failed to move the scoreboard. It gets worse than that. If you go back to last season, Prairie has been shut out in three consecutive games as 2013 ended for Prairie with 13-0 loss at Kelso. The Falcons only managed 64 yards of offense against 2A Hockinson.  Their leading rusher gained five yards.
About Kelso: The Hilanders also failed to find the end zone against a 2A foe last week. Kelso was limited to 131 yards last week and turned the ball over four times. Mason Meeker rushed for 57 yards last week. Kelso did beat Mark Morris 35-6 in Week 1
Prep Proletariat says: Prairie Terry Hyde says it may not look like it, but the Falcons offense is getting better. We'll take his word for it, and will predict that Prairie … will score. But that's as far as we're willing to go.
Prediction: Kelso 24-6
2A Greater St. Helens League
RIDGEFIELD (2-0) vs. WASHOUGAL (1-1)
When, where: 7 p.m., Fishback Stadium, Washougal HS
Last week: Ridgefield beat Kalama 35-14; Washougal lost to White Salmon 14-7.
About Ridgefield: The Spudders opened against a pair of 1A teams, just like they did last year.  But instead of losing 34-0 and 39-8, they've posted two solid wins this season. RB Nathan Eggleston had a big game last week, rushing for 140 yards on 24 carries and scoring two TDs. He ranks No. 2 in the county with 289 yards in two games. QB Jonah Roberts was efficient, completing 6 of 8 passes for 112 yards. Cade Morrill caught five passes for 98 yards.
About Washougal: The Panthers defense has played well, allowing just 20 points in two weeks. But the offense has been sluggish and mistake-prone. Garret Duey rushed for 85 yards last week, as White Salmon scored the winning TD in the final minute.
Prep Proletariat says: Ridgefield hasn't faced a defense as strong as Washougal. But Washougal hasn't faced an offense as proficient as Ridgefield. So what wins? Ridgefield's offense, or Washougal's defense?
Prediction: Ridgefield 21-13
HUDSON'S BAY (1-1) vs. WOODLAND (2-0)
When, where: 7 p.m., Beaver Stadium, Woodland HS
Last week: Hudson's Bay lost to Heritage 50-7; Woodland beat La Center 44-0
About Hudson's Bay: Heritage made Bay one-dimensional by shutting down the ground game. The Eagles gained 11 net yards on the ground last week. That put pressure on QB Jeremy Matheny, who threw for 83 yards and three interceptions.
About Woodland: The Beavers have been VERY impressive in the opening two weeks, outscoring two good 1A teams 94-0. It doesn't look like Woodland will skip a beat moving up to the 2A GSHL. Freshman QB Wyatt Harsh has passed for 284 yards. RB Eli Whitmire has rushed for 248 yards. And the defense has been awesome.
Prep Proletariat says: Matchup of two new 2A teams, one moving up from 1A, one moving down from 3A. It seems like the latter should have the edge. But, no.
Prediction: Woodland 34-6
Non-league games
COLUMBIA RIVER (2-0) vs. CENTRALIA (2-0)
When, where: 7 p.m., Centralia HS
Internet radio: kelaam.com
Last week: Columbia River beat Mark Morris 35-0; Centralia beat Aberdeen 56-14
About Columbia River: The Chieftains defense has set the tone early for River, pitching two shutouts. The offense has been steady but not spectacular. The Chieftains are still trying to find its ground attack. Vincent Daniels was the leading rusher last week with 40 yards, even though River played with the lead all game. QB Gabe Evenson passed for 147 yards and three TDs.
About Centralia: The Bearcats piled up 490 yards rushing against Aberdeen, led by Gavin Kerner's 137 yards and two TDs in just five carries. In two games this season, Centralia has not punted. The Tigers rushed for 422 yards in a 47-7 win over Rochester in Week 1. Kerner had 116 yards on six carries in that game.
Prep Proletariat says: A bigger test for the Chieftains' defense this week. The Tigers like to run. That plan didn't work well for Mark Morris last week.
Prediction: Columbia River 27-20
WHITE SALMON (1-1) vs. FORT VANCOUVER (1-1)
When, where: 7 p.m., Kiggins Bowl, Discovery MS
Last week: Fort Vancouver beat the The Dalles (Ore.) 54-28; White Salmon beat Washougal 14-7
About White Salmon: The Bruins like to shorten the game by pounding out yards on the ground and playing solid defense. Josh Lewis is the Bruins' leading rusher. QB Tanner Rabinowitz leads the passing game.
About Fort Vancouver: The Trappers got a huge confidence boost after losing a tough one to Hudson's Bay in Week 1. D.J. Owens had a huge game, rushing for 171 yards on 15 carries. QB Jordan Suell passed for 149 yards, with David Bishop catching five passes for 85 yards. The Trappers built a 54-12 lead in the fourth quarter.
Prep Proletariat says: Mistakes played big roles in Week 1 losses for both teams. Limiting those mistakes will be the key to victory in Week 3.
Prediction: Fort Vancouver 27-22
HOCKINSON (2-0) vs. CASTLE ROCK (0-2)
When, where: 7 p.m., Castle Rock HS
Last week: Hockinson beat Prairie 41-0; Castle Rock lost to Tenino 39-19
About Hockinson: The Hawks have looked impressive in the opening two week under the return of Rick Steele as head coach. Hockinson rolled past 1A Trico League favorite La Center, then shut out 3A Prairie. Tommy Harshaw (269 yards, 4 TDs) and Austen Johnson (245 yards, 2 TDs) have led the offense. Mitch Lines was efficient in his debut at QB, completing 11 of 14 passes for 161 yards last week.
About Castle Rock: The Rockets dug themselves into a hole last week, giving up a TD on the opening kickoff and then fumbling away the ensuing kickoff to help Tenino to an early 12-0 lead. The Rockets' Chris Millward rushed for 95 yards and two TDs, but both scores came in the fourth quarter after Tenino built a 39-7 lead.
Prep Proletariat says: Castle Rock already has one loss to a 2A GSHL team (Ridgefield in Week 1). I think the Rockets will find a tougher time against the Hawks.
Prediction:  Hockinson 41-7
LA CENTER (0-2) vs. TUMWATER (2-0)
When, where: 7 p.m., Tumwater Stadium, Tumwater HS
Last week: La Center lost to Woodland 44-0; Tumwater beat Timberline 35-33
La Center: To say the least, things have not gone well for the Wildcats so far in 2014. La Center challenged itself with a tough non-league slate. The Wildcats have been outscored 72-3 in two games against 2A foes. Now the Wildcats get to play the No.2-ranked 2A team and two-time 2A state runner-up. Not good. And to make matters worse, their league defensive player of the year Max Hiller is injured.
About Tumwater: The Thunderbirds have opened the season with some tough non-league contests. Tumwater beat 3A Capital in Week 1 and 4A Timberline in Week 2. Spencer Dowers threw three TD passes last week. Here's the most impressive stat for the T-birds: They are 27-2 in their last 29 games dating back to 2012. The lone two losses were to Lynden in state title games.
Prep Proletariat says: The league schedule starts next week Wildcats. So things will get better. But by the time you get there you might have been outscored by opponents by more than 100 points. Yikes.
Prediction: Tumwater 48-6
STEVENSON (0-2) vs. ESTACADA (0-2)
When, where: 7 p.m., Estacada (Ore.) HS
Last week: Stevenson lost to Hoquiam 19-6; Estacada lost to Sweet Home 45-13
About Stevenson: The Bulldogs have dropped two games by nearly identical scores (they lost 18-6 to Washougal in Week 1). Last week's game got off to a good start as Stevenson led 6-0 at halftime. But the Bulldogs struggled to move the ball after the intermission as Hoquiam rallied to win. QB Colton Van Pelt passed for 60 yards. RB Josh Anderson rushed for 42.
About Estacada: This is the home opener for the Rangers, who had their practice Monday canceled because poor air conditions caused by the nearby forest fire.  Estacada is coming off a 3-7 season in 2013.
Prep Proletariat says: Going into this one a little blind with little info on Estacada. But it would appear Stevenson will face a less stingy defense than it had in the first two weeks.
Prediction: Stevenson 22-19
NORTH BEACH (2-0) vs. SETON CATHOLIC (1-1)
When, where: 7 p.m., Doc Harris Stadium, Camas
Last week: Seton Catholic lost to Blanchet (Ore.) 36-0; North Beach beat South Bend 54-0.
About Seton Catholic: The Cougars could muster little momentum against a tough Oregon squad last week. QB Will Noce-Sheldon rushed for 87 yards and passed for 59.
About North Beach: The Hyaks of Ocean Shores have rolled in the opening two weeks, outscoring opponents 106-0. They opened the season with a 52-0 win over Ilwaco, a former 1A Trico rival of Seton. North Beach is a Class 2B school.
Prep Proletariat says: That Ilwaco result for North Beach is not very encouraging for Seton Catholic.
Prediction: North Beach 40-12
Saturday's game
CAMAS (2-0) vs. ROGERS-PUYALLUP (1-1)
When, where: 4 p.m., Sparks Stadium, Puyallup
Internet radio: elisportsnetwork.com
Last week: Camas beat Federal Way 49-6; Rogers lost to Tahoma 48-41
About Camas: A new bunch of Papermakers, but really the same ol' Papermakers. Camas has been very impressive in the opening weeks, particularly last week against Federal Way. WR James Price has 14 catches for 211 yards. QB Liam Fitzgerald has passed for 428 yards. And the defense has been as stellar as usual.
About Rogers: The Rams, coming off a 4-5 season, like to operate in space in the spread offense. That might explain their 48-41 loss to Tahoma. WR Kyler Ooley is their big playmaker. QB Griffen Stacey threw for 500 yards and six TD passes, all to Ooley. Ooley had 11 catches for 326 yards and 496 all-purpose yards. BUT the Rams also allowed 579 passing yards to Tahoma's Amandre Williams. Crazy.
Prep Proletariat says: The Papermakers are always up for a challenge on defense. But you remember last year's Camas win over Battle Ground? 85-38. This might end up looking like that. Good thing this game is being played Saturday at 4 p.m. It MIGHT be over by 9 p.m.
Prediction: Camas 49-24
Other games, Friday
2A GSHL: R.A. Long (1-1) at Mark Morris (0-2), 7 p.m.
Non-league: King's Way Christian (0-2) at Kalama (0-2), 7 p.m.