Week 1 high school football game previews and predictions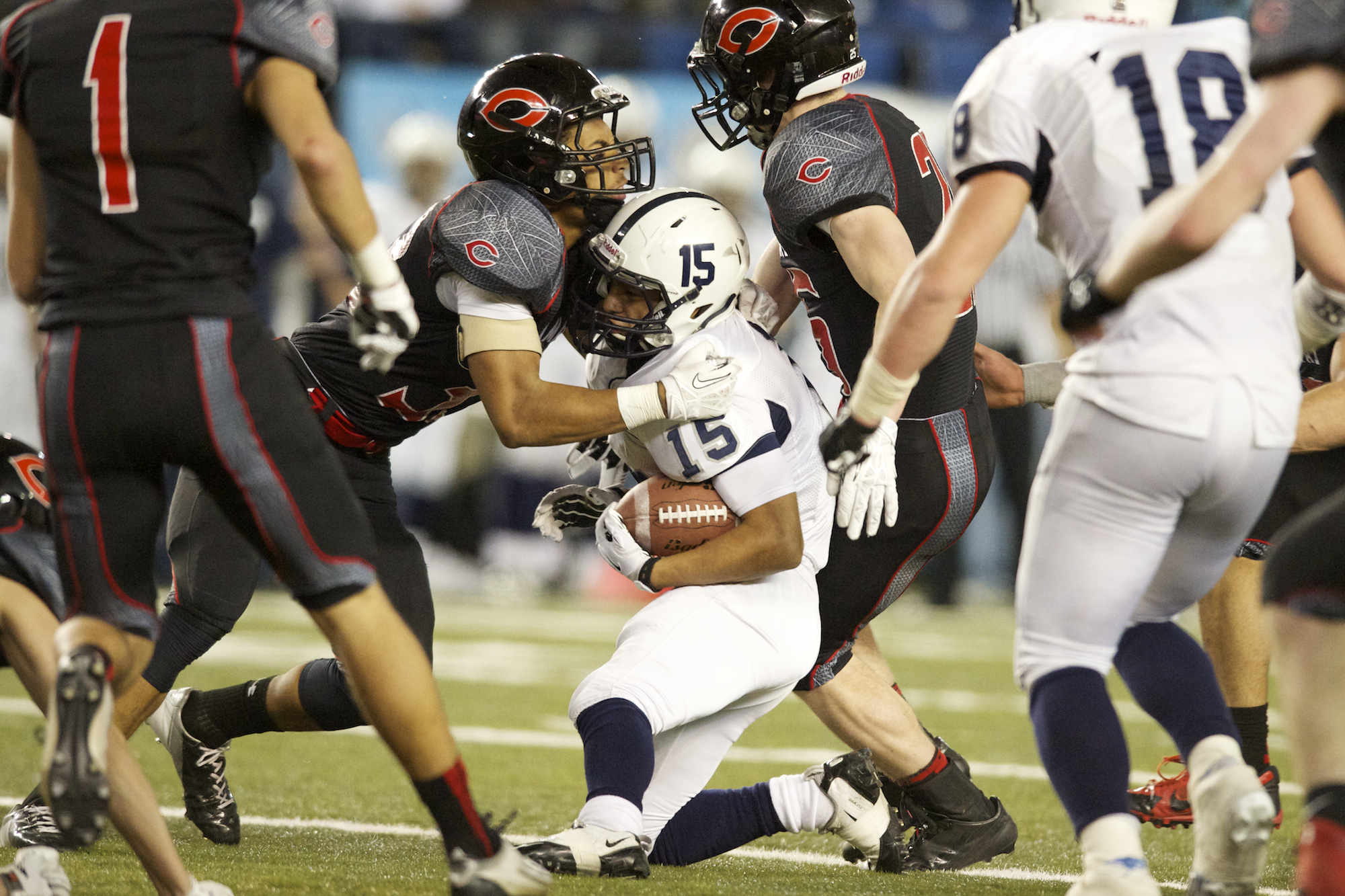 In the four or five years, I've been picking winners in high school football for The Columbian, my success rate has been better than 80 percent.
So that gives me confidence going into Week 1 of the 2014 season.
It's the only thing giving me confidence.
Week 1 is the hardest week to pick winners for many reasons.
First of all, you never really know how a team is going to fare until it actually gets on the field and plays against fresh competition. Even the coaches don't know for sure.
They might have a good idea after two weeks of practices. But until they strap on the helmets and go toe-to-toe with another team, there are a lot of unanswered questions.
Then, while we're trying to figure out what we've got right here in Clark County, many local teams are playing squads from other areas of the state.
So you've got to take the limited information we have about the local teams, then compare that to the even more scant information from out-of-area teams, and take our best guess.
Oh, and then you add in competitive games. I can't remember the last time I had a week of picks that didn't include one game with the default running clock score of 48-6.
Lots of variables to factor in. But we're up to taking our best shot, and hope our past track record holds up in 2014.
Friday's games
EISENHOWER vs. EVERGREEN
When, where: 5 p.m., McKenzie Stadium
Internet radio: elisportsnetwork.com
2013 records: Eisenhower 7-3; Evergreen 4-5
About Eisenhower: The Cadets from Yakima are starting over in 2014. Gary Jimenez, the team's defensive coordinator, was promoted to become Eisenhower's third head coach since 1989. The Cadets went 7-3 last season and missed the postseason with a senior-led team. Cadets have one returning starter on offense and one on defense. So Jimenez expects some growing pains early at Ike.
About Evergreen: The Plainsmen have a roster loaded with athletes. WR Justice Murphy is a Utah commit. RB Rey Green is getting looks from big schools as a junior. Former QB Kobey Eaton has moved to WR. The Plainsmen will look to some talented newcomers — RB Billy Nelson (from Roosevelt of Portland) and QB Jerrin Williams (from North Salem). Put that all together, and we could see some big improvement from Evergreen in 2014.
Bottom line: Evergreen traveled to Yakima to play the Cadets in 2011 and lost 55-31. But that game will seem like ancient history if the Plainsmen realized some lofty expectations this season.
Prediction: Evergreen 27-14
KENT-MERIDIAN vs. BATTLE GROUND
When, where: 7 p.m., District Stadium, Battle Ground HS
2013 records: Kent-Meridian 3-7; Battle Ground 4-5
About Kent-Meridian: The Royals are looking to replace a QB who accounted for 19 of the team's 30 TDs last season. Sophomore Ben Woods is the leading candidate to lead K-M's quick passing game. The Royals return six starters on offense, and nine on defense. Still, they are projected to finish last in the 4A South Puget Sound League's Northeast Division by the Tacoma News Tribune.
About Battle Ground: The Tigers lost a lot of key seniors from last year's team, but coaches feel players committed to offseason training to produce results with their younger players. A key spot where that may show up for the Tigers is up front.
Bottom line: Kent-Meridian runs a quick passing offense, but the Tigers are used to seeing that in the 4A GSHL. The key for Battle Ground is as it always seems to be for the Tigers: avoid mistakes and giving up big plays. The Tigers put up a ton of points and yards last year, but also gave up a lot.
Prediction: Battle Ground 33-24
SKYVIEW vs. WALLA WALLA
When, where: 7 p.m., Borleske Stadium, Walla Walla
Internet radio: KTEL 1490 AM.
2013 records: Skyview 6-5; Walla Walla 6-4
About Skyview: The Storm lost some key players off last year's team that reached the state playoffs. But they return starters in key spots: the offensive line and quarterback. QB Zac Shomler threw 20 TD passes last season after taking over as the starter early in the season.
About Walla Walla: The Blue Devils missed the postseason in 2013 after finishing behind state champion Chiawana and state quarterfinalist Richland in the Mid-Columbia Conference. Walla Walla runs the pistol offense and boast of a lot of team speed. Noah Porter and Willie Hayes are the top returning rushers, and Mitchell Huffman and Reid Magnaghi are the top receivers. The Blue Devils start a lot of two-way players, so early season conditioning will be important.
Bottom line: Both teams suffered similar losses to Richland last season — Walla Walla lost 21-6 in the regular season, and Skyview had its season ended with a 21-9 loss to Richland in the state playoffs. Our inclination is to lean toward the team that didn't have to travel across the state. But, instead, will go with the team with the experienced QB.
Prediction: Skyview 23-20
MOUNTAIN VIEW vs. AUBURN
When, where: 7 p.m., Auburn HS
2013 records: Mountain View 9-3; Auburn 6-4.
About Mountain View: The Thunder return a 1,000-yard rusher in Preston Jones. But his transition from summer baseball has left him short of the required number of preseason practices. So he won't be playing in the opener. Mountain View has an experience senior QB in Lex Reese, but a young offensive line.
About Auburn: The Trojans like to run the ball first, run the ball second and run the ball third. They have the offensive line to do that, and they like to rotate the ball to eight different ball carriers. Sound familiar?
Bottom line: Expect a quick game, as both teams like to run the ball. This game will be won up front, and the experience edge goes to Auburn.
Prediction: Auburn 26-20
CHIAWANA vs. CAMAS
When, where: 7:30 p.m., Doc Harris Stadium, Camas
Internet radio: 93.7 FM Tri-Cities
2013 records: Chiawana 13-1; Camas 13-1.
About Chiawana: The Riverhawks from Pasco lost 13 starters from its state championship team, but still returns a good amount of talent: all-conference WR Dre Dorton and RB Austin Urlacher, who earned second-team all-conference honors despite suffering a season-ending injury at mid-season. Logan Ellsworth, who was an all-conference punter and linebacker, takes over at QB.
About Camas: Opening the season against Chiawana will bring back some bitter memories of last year's state title game when Camas lost a 13-point lead in the final minute. The Papermakers return only one starter from last year, but several players made significant contributions off the bench last season.
Bottom line: Chiawana welcomed the rematch with Camas, although the Riverhawks hopes to make Camas travel to Pasco this season. So the Papermakers have that edge going for them. This should be a classic prep opener. Chiawana would like to win this game. Camas need to exorcise a demon.
Prediction: Camas 26-20
PRAIRIE vs. HERITAGE
When, where: 8 p.m., McKenzie Stadium
Internet radio: elisportsnetwork.com
2013 records: Prairie 4-5; Heritage 1-8
About Prairie: Coach Terry Hyde is preaching patience as Prairie as this year's group of Falcons is young. These early season games will be key to Prairie's development. But the Falcons do return playmaker Denzel Hamiel at quarterback.
About Heritage: There will be a new look at Heritage. Veteran coach Chuck Hawthorne was hired to replaced Jack Hathaway, who resigned during spring drills. Hawthorne is trying to change the culture at Heritage and get his players to buy into his discipline-based approach.
Bottom line: Both teams open the season with a lot of questions. Each hope to have some answered in Week 1.
Prediction: Prairie 20-13
R.A. LONG vs. COLUMBIA RIVER
When, where: 7 p.m., Chieftain Stadium, Columbia River HS
2013 records: R.A. Long 8-2; Columbia River 8-3.
About R.A. Long: The Lumberjacks had a big year in 2013 with a senior-led team. This year's squad is much younger and greener, and will be put to the test in their season opener at River.
About Columbia River: The Chieftains reached the state playoffs with a team that started the season with one returning starter. That's not the case this year, as River has plenty of experience back, especially at skill positions, led by WR/DB Nathan Hawthorne.
Bottom line: The Lumberjacks will have a tough time chasing down River's playmakers.
Prediction: Columbia River 34-13
FORT VANCOUVER vs. HUDSON'S BAY
When, where: 7 p.m., Kiggins Bowl
TV/webcast: Fort Sports, cable Channel 328; 360preps.com
2013 records: Fort Vancouver 1-8; Hudson's Bay 0-9.
About Fort Vancouver: Cal Szueber returns as coach after three seasons leading the program at Portland Christian. Fort returns senior QB Jordan Suell, who has two big targets in seniors Will Doty and Jacob Brugman. If the Trappers can add a running game to go with that, they could be much improved.
About Hudson's Bay: The Eagles take a new approach with co-head coaches Andy Meyer and Rick Skinner. The new coaches brought a new enthusiasm to Bay as 70 players turned out. Numbers will be a big help.
Bottom line: Fort has won twice in last 33 games — both over Bay. That can't sit well with the Eagles. But those two wins by Fort came in Week 9. Playing in Week 1 could bring challenges of their own.
Prediction: Fort Vancouver 20-12
LA CENTER vs. HOCKINSON
When, where: 7 p.m., Nautilus Field, Hockinson HS
2013 records: La Center 11-1; Hockinson 5-4
About La Center: The Wildcats only have five starters back, but they will have 13 seniors on the roster. Max Hiller, the Trico defensive player of the year, returns as does second-team all-league QB Wyatt Aguirre.
About Hockinson: Rick Steele, who built the Hockinson program from its start, returns to head coach after one year away. The Hawks boast an athletic defense and strong offensive line from a team that fell a tiebreaker short of reaching the district playoffs last year.
Bottom line: La Center has gone after tough non-league opponents to get ready for a Trico season that may not be as deep as in years past. Hockinson has three non-league games to get ready for a big 2A GSHL opener against Mark Morris.
Prediction: Hockinson 28-20
RIDGEFIELD vs. CASTLE ROCK
When, where: 7 p.m., Castle Rock HS
2013 records: Ridgefield 0-9, Castle Rock 4-5
About Castle Rock: Injuries derailed the Rockets' season last year, and depth will remain an issue in 2014. Austin Darvell and Talib Meeks lead the ground attack for Castle Rock.
About Ridgefield: The Spudders ride an 11-game losing streak into 2014 after last year's winless campaign. Yet Ridgefield is just two years removed from being a playoff team. The hard lessons learned on the field by younger Ridgefield players should in a bigger, stronger and more experience Spudder squad in 2014.
Bottom line: Ridgefield got better after dropping back-to-back games to 1A foes to open 2013. That improvement should continue.
Prediction: Ridgefield 23-16
WASHOUGAL vs. STEVENSON
When, where: 7 p.m., Stevenson High School
2013 records: Washougal 5-4; Stevenson 3-6
About Washougal: Another coach makes a return as Dave Hajek returns to the sideline for the Panthers. Washougal is looking to replace all-league running back Bobby Jacobs, and will use a quartet of runners in the backfield. A veteran offensive line will provide running room for those backs.
About Stevenson: The Bulldogs have one of the more experienced rosters in the Trico, led by second-team all-league tight end Josh Miller.
Bottom line: While Stevenson expects to contend for a playoff berth in the Trico, moving up to take on the 2A Panthers will be a big test in Week 1.
Prediction: Washougal 19-13
KALAMA vs. WOODLAND
When, where: 7 p.m., Woodland HS
2013 records: Kalama 7-3; Woodland 8-2
About Kalama: The Chinooks bounced back from a rough 2012 season as a group of young players developed as the 2013 season wore on. Many of those players are back as juniors, and Kalama hopes to get contributions from several freshmen.
About Woodland: The Beavers are back on the 2A-1A yo-yo, returning to the 2A ranks after two successful season in the 1A Trico. Several key seniors graduated last season, but one big returning player is running back Eli Whitmire.
Bottom line: Woodland has pounded its I-5 rival each of the past two seasons. This one should be a lot closer than 40-0 or 55-6. But we still like the Beavers.
Prediction: Woodland 33-20
SETON CATHOLIC vs. KING'S WAY CHRISTIAN
When, where: 6 p.m., King's Way Christian High School.
2013 records: Seton Catholic 1-8; King's Way Christian 8-1.
About Seton Catholic: This is the fourth year of the Seton program, meaning this year's seniors have been with program from its start. QB Will Noce-Sheldon and DL C.J. Farrell earned all-league honorable mention.
About King's Way Christian: The Knights are playing their first season as an 11-man program and will play an independent schedule, often against many 2A and 1A JV teams. King's Way has success as an 8-man team, but must find new leaders in this new era for King's Way football.
Bottom line: This is the first time Vancouver's two private schools will play in 11-man football, the start of what could be an intriguing rivalry in years to come. Seton is looking to get better, and King's Way is looking to get where Seton was a couple of seasons ago.
Prediction: Seton Catholic 40-14
Saturday's game
UNION vs. FEDERAL WAY
When, where: 6 p.m., Federal Way HS
Internet radio: elisportsnetwork.com
2013 records: Union 8-3; Federal Way 10-3
About Union: First-year coach Gary McGarvie inherits an experience squad from Cale Piland. Leading the way is quarterback Nolan Henry and running backs Caleb Browning and Alex Berfanger, and lots of experience up front.
About Federal Way: The Eagles return seven starters on offense and seven on defense from a team that reached the state semifinals last year, falling to Chiawana. Leading the way is RB/DB Chico McClatcher, who may be on the most explosive players in the state. The Eagles also have a strong defensive front.
Bottom line: Another classic prep opener between two top 10 teams.
Prediction: Union 27-24
Other games
Mark Morris at Kelso, 7 p.m. Friday
Goldendale at White Salmon, 7 p.m. Friday