Columbian staff takes stab at predicting how prep football teams will fare this season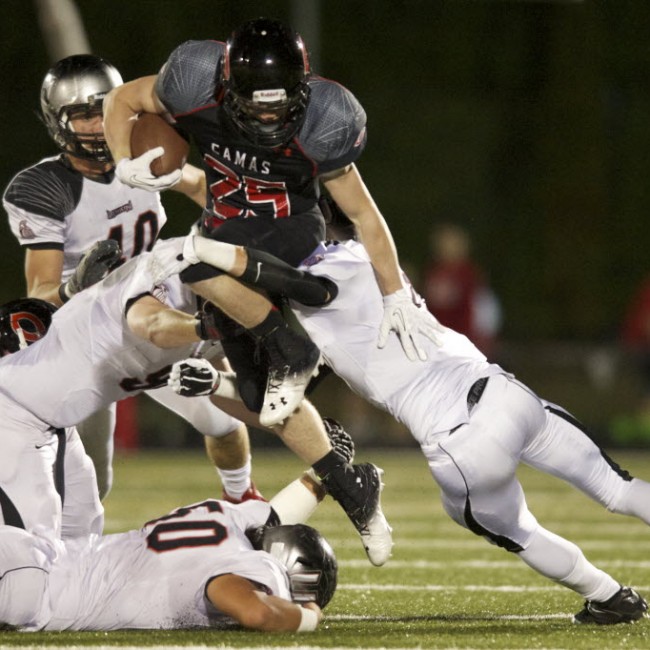 The 2014 high school football gets started on Wednesday with the first practices in preparation for the season openers on Sept. 5.
To help get fans fired up for the 2014 season, The Columbian sports staff got together and tried to pick winners of every football game involving teams from the 4A Greater St. Helens League, 3A GSHL, 2A GSHL and 1A Trico League from Week 1 to Week 9.
That's 125 games. Some teams had incomplete schedules, according to the website tricoathletics.com. So Stevenson and Seton Catholic only had eight games listed.
We started with myself, prep coordinator Tim Martinez, picking the winners in each of those 125 games. Meanwhile, prep reporter Paul Valencia did the same. Then we compared the two lists.
Paul and I disagreed on 26 picks, which is about one in five. Then we took those 26 games, and asked sports editor Micah Rice to break the tie. He did that, agreeing with me 16 times. Take that, Valencia!
After we had both completed this, Paul said to me "I bet you did more research on this than I did." He was wrong. Or maybe he was right, but that doesn't mean either of us did a lot of research.
This was a first impression kind of thing. We looked at how a team fared last season and whether they had a lot of starters returning. Other factors also were also considered like if a team was moving up or down in classification, or if the team had a new coach. Also, reputation or recent program history was also considered.
We'll probably learn more about the teams after practices begin on Wednesday. So will area coaches.
This was a gut feeling. And our guts aren't always right.
So here they are. Read them. Debate them. Use them as motivation. Store them away and bring them back out in November and mock us on just how far off the mark we were.
The football season is full of surprises. And we love surprises.
4A GREATER ST. HELENS LEAGUE
| TEAM | OVERALL | LEAGUE |
| --- | --- | --- |
| Union | 9 – 0 | 6 – 0 |
| Camas | 7 – 2 | 5 – 1 |
| Skyview | 7 – 2 | 4 – 2 |
| Evergreen | 6 – 3 | 3 – 3 |
| Mountain View | 4 – 5 | 2 – 4 |
| Battle Ground | 4 – 5 | 1 – 5 |
| Heritage | 1 – 8 | 0 – 6 |
3A GREATER ST. HELENS LEAGUE
| TEAM | OVERALL | LEAGUE |
| --- | --- | --- |
| Columbia River | 7 – 2 | 3 – 0 |
| Prairie | 4 – 5 | 2 – 1 |
| Kelso | 5 – 4 | 1 – 2 |
| Fort Vancouver | 3 – 6 | 0 – 3 |
2A GREATER ST. HELENS LEAGUE
| TEAM | OVERALL | LEAGUE |
| --- | --- | --- |
| Mark Morris | 7 – 2 | 6 – 0 |
| R.A. Long | 6 – 3 | 5 – 1 |
| Hockinson | 5 – 4 | 4 – 2 |
| Woodland | 5 – 4 | 3 – 3 |
| Hudson's Bay | 2 – 7 | 2 – 4 |
| Washougal | 4 – 5 | 1 – 5 |
| Ridgefield | 1 – 8 | 0 – 6 |
1A TRICO LEAGUE
| TEAM | OVERALL | LEAGUE |
| --- | --- | --- |
| La Center | 8 – 1 | 5 – 0 |
| Kalama | 6 – 3 | 4 – 1 |
| Castle Rock | 5 – 4 | 3 – 2 |
| Stevenson | 2 – 6 | 2 – 3 |
| White Salmon | 1 – 8 | 1 – 4 |
| Seton Catholic | 2 – 6 | 0 – 5 |