Prosser-Grandview supply best non-ending to basketball game this season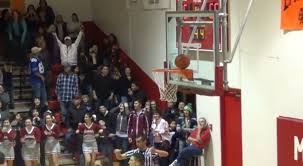 Grandview was playing at Prosser in boys basketball on Saturday.
The game was tied at 65-65 in the waning seconds of the fourth quarter. Prosser had the ball, working for the final shot.
But before the Mustangs could get a good shot, Grandview created a steal, which started a fast-break to the other basket as the final seconds ticked off the clock.
Just before the clock hit 0:00, a Grandview went for the game-winning lay-up, and this happened.
By rule, this is a dead ball. Overtime.
Grandview eventually won the game 72-70 in overtime, to remain unbeaten on the season.
How did the game end?
Grandview's Isaiah Gonzalez made a steal and drove the length of the court for a layup at the overtime buzzer.
And this time the ball went in the hoop.