Arizona high school football state semifinals get rained out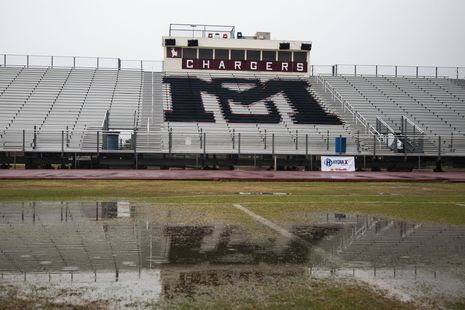 Yeah, you read that rain. They aren't playing football games in Arizona because of rain.
The Arizona Interscholastic Association announced Friday morning that state football semifinal games scheduled for Friday and Saturday would be postponed until Monday because of rain.
In fairness to the AIA, it is a LOT of rain. Like five inches in the next 36 hours in some places. Many home fields are under water, as most high school fields in Arizona are natural grass.
Still, it strikes some folks as odd that the AIA is making this move for "safety of the players" when games are played in September when temperatures are in excess of 100 degrees.
One coach says it's all about money. With some games expected to draw as many as 10,000 fans, they say the AIA doesn't want to risk a reduction in gate receipts.
"It's ten bucks a head," Mesa Desert Ridge coach Jeremy Hathcock said. "This is ridiculous.  How are we going to practice on Thanksgiving week if we win?"
Hathcock was referring to playing semifinals on Monday, then playing a championship game next Friday — that's the situation some teams will be facing.
Here's a link to the Arizona Republic story.