State quarterfinal football previews and predictions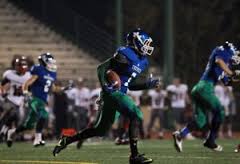 So last week, we predicted local teams would go 5-2 in the state first round.
It turns out that WE ended up going 5-2, incorrectly predicting wins from Woodland and Union.
All three of this week's game will determine semifinal berths, with games expected to played in the Tacoma Dome next week.
This week, we are predicting local teams to go 2-1, going with the unbeaten teams in each match-up.
Daring, I know.
FRIDAY'S GAMES
O'DEA (11-0) vs. MOUNTAIN VIEW (9-2)
When, where: 7 p.m., McKenzie Stadium
Internet radio: portlandsportsbeat.com
Play-by-play live chat: www.360preps.com
Last week: O'Dea beat Mount Si 49-7; Mountain View 55-0.
About O'Dea: O'Dea of Seattle is one of the more accomplished programs in the state, with three state runner-up finishes in the past decade. Camas fans will recall it was the Irish who ended the Papermakers' playoff run in the semifinals in 2011 in Camas' final year at 3A. Two of O'Dea's non-league wins came against 4A playoff teams: Gig Harbor (35-7) and Issaquah (49-7). Junior RB Myles Gaskin had 231 yards and five TDs on just 14 carries last week against Mount Si. Gaskin has received offers from Washington and Washington State and is drawing interest from Oregon, Oregon State and Arizona.
About Mountain View: The Thunder like to pound out the yards on the ground. Austin Mace, 3A GSHL offensive player of the year, leads the team with 1,205 yards and 10 TDs. Preston Jones has rushed for 1,002 yards and 16 TDs, and Nicholas Wright added 711 yards and 11 TDs. Jones picked up the bulk of the carries last week with 22 carries for 181 yards. Wright continued to deliver big plays with 140 yards on nine carries. The Thunder line and backs dominated so much QB Lex Reese only attempted two passes. Mountain View may need more from Reese this week.
Bottom line: If there's something Mountain View fans can hang their hopes on, it's the matchup of common opponents. O'Dea beat Seattle Prep 42-0, while Mountain View beat Prep 55-0. O'Dea beat Kelso 49-7 two weeks ago. The Thunder beat Kelso 55-0. But last week's win over fifth-ranked Mount Si was pretty impressive for O'Dea.
The pick: O'Dea 34, Mountain View 21
SATURDAY'S GAMES
CAMAS (11-0) vs. EASTLAKE (9-2)
When, where: 3 p.m., Eastlake HS, Sammamish
Internet broadcast: www.carlclick.com
Last week: Camas beat Cascade 63-28; Eastlake beat Union 34-27.
About Camas: The Papermakers returned the bulk of the roster from last season's team that reached the Class 4A semifinals. All but two of Camas' games have ended with a running clock. One of those was played in Oregon, which doesn't have the running clock rule. Camas won that game 48-7. Camas is led by QB Reilly Hennessey, an Eastern Washington commit who has passed for 2,570 yards and 30 TDs this season. Nate Beasley leads the running game with 1,121 yards and 24 TDs. Beasley came up big last week against Cascade with a season-best 217 yards on 10 carries and 4 TDs.
About Eastlake: The Wolves are led by QB Blue Thomas, who threw for 1,221 yards in nine games with 12 TDs in the regular season. He completed 10 of 21 passes for 143 yards in windy conditions last week vs. Union. RB Troy Lewis, who had 840 yards and 12 TDs in the regular season, rushed for 98 against Union. First-year coach Don Bartel turned the Wolves from a 3-6 team last year into an 8-2 team this season. The Wolves forced six turnovers from Kentwood in the state preliminary round, and turnovers also played a key role in the Wolves' win over Union in back-and-forth game.
Bottom line: Eastlake and Camas had two common opponents: Lakes and Union. Eastlake beat Lakes 36-7 and Union 34-27.Camas beat Lakes 49-0 and Union 44-6. We predict Camas' run of running-clock games ends this week, but not the Papermakers' run of victories.
The pick: Camas 38, Eastlake 14
LA CENTER (11-0) vs. MOUNT BAKER (9-1)
When, where: 6 p.m., Civic Stadium, Bellingham
Internet broadcast: kgmi.com
Last week: La Center beat Blaine 35-14; Mount Baker beat Woodland 42-7.
About La Center: Beating the Wildcats involves stopping the Wildcats. No team has been able to do that this season, although Blaine came close by keeping the Wildcats' offense off the field. Health is the key for La Center. Conner Fulton (1,432 yards and 23 TDs) was limited a bit by a shoulder injury last week. Max Hiller (560 yards, 7 TDs) did not play because of a knee injury and his status for this week is uncertain. QB Wyatt Aguirre filled the void by rushing for 148 yards last week. Aguirre (845 yards passing and 16 TDs) could play a bigger role with his arm this week.
About Mount Baker: The Mountaineers' lone loss this season came against Lynden (27-20), a 2A state- playoff team. Mount Baker has scored 41 points or more in eight of nine wins. The Mounties grounded out 333 rushing yards against Woodland, including 178 from RB Liam Short. Not a good stat for a La Center team that gave up 205 yards to Blaine's Cody Muder last week. Mount Baker intercepted three passes last week, but La Center brings a different challenge.
Bottom line: Mount Baker ended La Center's season last year with a 24-9 win in the quarterfinals. Common opponents are Blaine and Woodland. Mount Baker beat Blaine 52-19, while La Center won 35-14. The Mounties beat Woodland 42-7, while the Wildcats won 52-21. So this should be a battle. If Wildcats are at or near full strength, we like their chances. If not …
The pick: La Center 28, Mount Baker 27