State first-round football playoff previews, predictions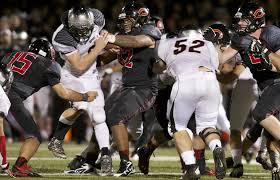 So last week, we went 5-2 with our playoff picks.
On the surface, that's looks pretty solid. Except the two misses were big misses: Union and Skyview.
Somebody suggested that in the playoffs, we should just take the safe route and pick every local team to win.
Last week, that would have been a good strategy as local teams went 7-0.
But if we picked every local team to win every playoff game … well, what would be the point of making a pick at all?
Picking playoff winners can be a challenge because we don't really have an idea of how our local teams match up with teams from other areas of the state, and vice versa.
But after last week, we've got a little better idea of where the strong leagues are and where they are not.
For example, in the 4A playoffs, the Wesco Conference (comprised of teams in and around Everett) went 1-4, with the four losses being lopsided ones. The lone win was Cascade's 31-28 win over Auburn Riverside.
Auburn Riverside is from the South Puget Sound League North Division. The SPSL North went 0-4 last week, with three lopsided losses.
On the other end, the 4A KingCo Conference went 4-1 last week, with four lopsided wins. That makes Union's 51-21 win over Issaquah, a KingCo team, even more impressive.
The big challenge this week is trying to figure out how strong the teams from the east side of the street. Teams from the east side typically just play other teams from the east side, so it's hard to assess how good east side teams are.
Basically, you've just got to go with history. And history says when Greater St. Helens League teams head east in the playoffs, it doesn't end well for the GSHL teams.
So if you wonder why we went against Skyview and Columbia River, that's why. So now it's on the Storm and Chieftains to prove us wrong.
FRIDAY'S GAMES
UNION (8-2) vs. EASTLAKE (8-2)
When, where: 7 p.m., Eastlake HS, Sammamish
Last week: Union beat Issaquah 51-21; Eastlake beat Kentwood 52-7.
About Union: It's the second road trip against a KingCo opponent for the Titans. If it goes like the first, it would be good news for Union. The Titans dominated Issaquah, building a 44-0 lead by halftime and 51-0 in the third quarter. The Titans returned two fumbles for TDs and scored a safety on defense. Leon Siofele rushed 16 times for 125 yards and 4 TDs — all in the first half. Siofele has rushed for 1,853 yards and 23 TDs on the season.
About Eastlake: The Wolves are led by QB Blue Thomas, who threw for 1,221 yards in nine games with 12 TDs. His top target was Jeffrey Feinglas, who caught 27 passes for 602 yards. RB Troy Lewis led the 4A KingCo with 840 yards and 12 TDs in nine games. First-year coach Don Bartel turned the Wolves from a 3-6 team last year into an 8-2 team this season. The Wolves forced six turnovers from Kentwood last week. Eastlake finished second to Bothell in the 4A KingCo Crest Division. Wolves have not lost since 45-18 setback to Bothell on Sept. 27.
Bottom line: Both teams put up impressive wins last week. But here is the difference. Eastlake routed Kentwood, a South Puget South North Division team. The SPSL North went 0-4 last week, including three lopsided losses. Union beat Issaquah, a KingCo Conference team. KingCo teams went 4-1 last week, including four lopsided wins. We picked against the Titans last week. We won't make that mistake twice.
The pick: Union 31, Eastlake 20
SKYVIEW (6-4) vs. RICHLAND (9-1)
When, where: 7 p.m., at Richland HS
Last week: Skyview beat Curtis 38-10; Richland beat Ferris 35-7
About Skyview: The Storm rallied from 0-2 to start to the season to finish 5-4 in the regular season, then scored an impressive win over Curtis in the state preliminary. Senior Michael Knox stepped up in the running game to fill void of injured all-league Nate Arriola. Knox had 147 yards on 28 carries and two TDs. Sophomore Josh Seyneave added 70 yards and a TD. QB Zac Schomler completed 12 of 18 passes for 242 yards, with 10 going to Jacob Dennis (200 yards).
About Richland: Bombers QB Zach Whitby threw 20 TD passes this season and averaged about 200 yards passing per game. The Bombers forced seven turnovers from Ferris last week. A fumble on the Ferris 32 turned into a 14-0 lead for Richland in the second quarter. A fumble on the ensuing kickoff made it 21-0. Four running backs combined for 255 yards for the Bombers last week, led by Anthony Galat's 129. Whitby threw for 147 yards. Richland has won six in a row since it's only loss, a 42-7 setback to Chiawana in Week 3.
Bottom line: The Storm were very impressive last week. Skyview may be the most improved team in Clark County since Week 1. But the Storm don't have history on their side. GSHL teams traveling east have not found the best of luck.
The pick: Richland 31, Skyview 23
SATURDAY'S GAME
CASCADE (9-1) vs. CAMAS (10-0)
When, where: 4 p.m., Doc Harris Stadium
Last week: Cascade beat Auburn Riverside 31-28; Camas beat Monroe 55-20
About Cascade: Less than two years from an 0-24 losing streak, once-proud Cascade of Everett is back in the state playoffs for the first time since 2007. Led by quarterback Josh Smith, who transferred from Chiefland, Fla. over the offseason, the Bruins finished the regular season 8-1 and beat Auburn-Riverside on a last-second field goal to punch their ticket to state. Cascade is a run-first offense which likes to run behind 6-foot-5, 280-pound tackle Randin Crecelius and is led by its dual-threat signal-caller Smith (727 rush yards, 14 TD) and compact running back Kejuan Coleman (888, 8). Smith can also throw the ball (103-165, 1,745 yards, 16 TD) and often finds speedy wideouts K.J. Brady (35 rec, 637 yards, 5 TD) and Kaleb Dobson (33, 743, 7).
About Camas: The Papermakers returned the bulk of the roster from last season's team that reached the Class 4A semifinals. Every game that Camas has played this season has ended with a running clock, except the game the Papermakers played in Oregon, which doesn't have the running clock rule. Camas won that game 48-7. Camas is led by QB Reilly Hennessey, an Eastern Washington commit who has passed for 2,399 yards and 27 TDs this season. Nate Beasley leads the running game with 940 yards and 20 TDs. Zach Eagle is the top receiver with 42 catches for 855 yards and 7 TDs. James Price has 29 catches for 719 yards and 8 TDs.
Bottom line: Here's what you need to know about Cascade. The Bruins had to rally to beat Monroe in a Week 9 district playoff 28-21. Monroe was no match for Camas, falling behind 49-0 at halftime. So while Cascade might be the Cinderella story of the 2013 season, we predict the Bruins will arrive at Doc Harris Stadium in a carriage and depart in a pumpkin.
The pick: Camas 56, Cascade 13
SEATTLE PREP (5-5) vs. MOUNTAIN VIEW (8-2)
When, where: 4 p.m., McKenzie Stadium
Internet radio: www.portlandsportsbeat.com
Last week: Seattle Prep beat Kennedy 28-21; Mountain View beat Mountlake Terrace 31-21.
About Seattle Prep: Prep entered the playoffs with a losing record, but the Panthers have better in the second half of the season, winning their last three and four of their last five. RB Sam Kopf was a one-man wrecking crew against Kennedy, rushing 31 times for 300 yards and three TDs. He also caught two passes for 61 yards and another TD. "We're peaking at the right time," Kopf said. He rushed for 250 on Oct. 31. Last week's win was the Panthers' first this season against a playoff team. Kennedy finished the season 5-5. Prep finished fourth in the 3A Metro Mountain Division. Prep's losses to three teams ahead of them in division standings were by average score of 42-5.
About Mountain View: The Thunder like to pound out the yards on the ground. Austin Mace, 3A GSHL offensive player of the year, leads the team with 1,134 yards and 10 TDs. Preston Jones has rushed for 821 yards and 14 TDs, and Nicholas Wright added 571 yards and 9 TDs. Wright has emerged late in the season as a big-play maker, although he left last week's game early with an injury. The Thunder are 2-1 against teams in the state 16-team bracket, beating Bonney Lake (36-21) and Columbia River (34-28) while falling to Peninsula (52-45).
Bottom line: The goal of the Thunder is simple: stop Kopf. It's not easy simple for the Panthers, as Mountain View can bring different weapons. It's another strength-on-strength game with both teams liking to run the ball. That worked well for Mountain View last week.
The pick: Mountain View 27, Seattle Prep 21
COLUMBIA RIVER (8-2) vs. KAMIAKIN (8-2)
When, where: 4 p.m., Lampson Stadium, Kennewick
Last week: Columbia River beat Cleveland 22-15; Kamiakin beat University 28-21
About Columbia River: The Chieftains struggled to beat Cleveland last week. River's chances of advancing in the playoffs depends on the health of Jonathan Branson or the emergence of backup Gabe Evenson. River's offense has gone through Branson and the read option. He rushed for 625 yards and 8 TDs and passed for 1,138 yards and 13 TDs. But he left with a shoulder injury midway through a Week 9 game vs. Mountain View and did not play vs. Cleveland. River hopes to get him back Saturday.
About Kamiakin: The Braves' two losses this season came against 4A teams now in the state playoffs (Richland, 56-49; Chiawana, 40-28). Kamiakin won six of their seven regular-season games by 20 points or more. But the Braves did struggle against a 2-7 University team last week. It should be noted that University is a 3A team playing in a mostly 4A league, so that skews Uni's record. Kamiakin led 21-0 at halftime, but University rallied thanks to an 82-yard TD pass play with 3:46 left in the game and recovering an ensuing onside kick gave Uni a chance for a game-tying score.
Bottom line: Kamiakin got challenged last week, and that could prove beneficial for the Braves. For the Chieftains, it depends on the health and effectiveness of Branson. If he plays and plays well, they've got a good chance. If not, River faces a big challenge.
The pick: Kamiakin 35, Columbia River 24
BLAINE (5-5) vs. LA CENTER (10-0)
When, where: 3 p.m., Ridgefield HS
Last week: Blaine beat Port Townsend 35-21; La Center beat Elma 54-28
About Blaine: The Borderites came into the postseason with a losing record, but that's a bit deceptive. Their losses include to 3A Ferndale and 2A Lakeside (both playoff teams), Canadian team Lord Tweedsmuir and No. 4 Mount Baker. RB Cole Muder leads the team with 1,275 yards on 232 carries and 12 TDs. The Borderites has two QBs pass for about 600 yards: Nathan Kramme and Marcus Potts.
About La Center: Beating the Wildcats involves stopping the Wildcats. No team has been able to do that this season. La Center has scored at least 46 points in every one of its 10 games this season. Connor Fulton has rushed 1,335 yards and 21 TDs. QB Wyatt Aguirre has passed for 845 yards and 16 TDs. The Wildcats piled up 611 yards of offense last week against Elma to offset four turnovers. Aguirre passed for 161 yards and rushed for 134.
Bottom line: In past years, a matchup against a team from District 1 has proven a challenge for La Center. The Wildcats had their postseason ended by a loss to a District 1 team four times in the past decade. But last year, La Center won a state playoff against a District 1 team (Meridian), and this year's group of Wildcats are different.
The pick: La Center 46, Blaine 20
WOODLAND (9-1) vs. MOUNT BAKER (8-1)
When, where: 6 p.m., Civic Stadium, Bellingham
Last week: Woodland beat Rochester 47-21; Mount Baker was idle
About Woodland: The Beavers rebounded nicely from their first loss of the season by rolling over Rochester last week. Eli Whitmire was his usual efficient self, rushing for 142 yards and three TDs on just eight carries. He also returned a punt for a score. QB Hunter Huddleston passed for 97 yards and two TDs and rushed for another 142. Woodland went north last year and lost in a game that went right down to the wire. For Mount Baker to draw the No. 4 from District 4 and get the sixth-ranked Beavers, that's a tough draw.
About Mount Baker: The Mountaineers' lone loss this season came against Lynden (27-20), a 2A state-playoff team. Mount Baker has scored 41 points or more in seven of its eight wins. Mount Baker beat Woodland 21-14 in the first-round last year on its way to a semifinal appearance. That win was Mount Baker's first in the state playoffs since 1999. Izaiha Schwinden is the Mounties' leading rusher with 837 yards and 11 TDs.
Bottom line: Expect another battle in Bellingham. Woodland heads north looking to avenge last year's loss. We think they'll get it.
The pick: Woodland 27, Mount Baker 24